Beautiful and accessible
Sassoitalia® is a natural system for creating beautiful hard landscaping quickly and economically. With Sassoitalia®, colourful natural aggregates such as marble, limestone, washed pebbles, and crushed stone are combined with the colours of nature, giving designers and artisan applicators free rein to create outstanding and unique landscapes.
BENEFITS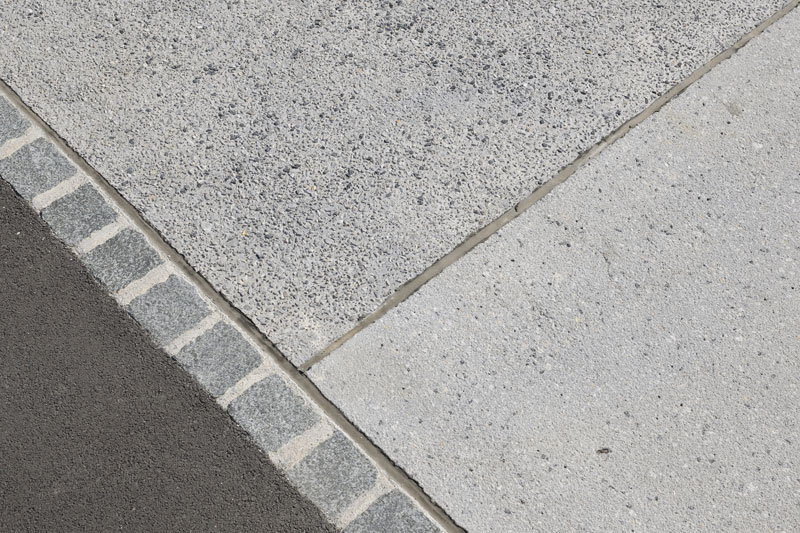 It is unique and can have custom finishes
Designers and clients can choose both the concrete colour and the type, colour and texture of aggregates. Ideal Work Colour Mix is available in 5 standard colours which become ten or more when grey cement is replaced entirely or partially by white. The aggregates could be from Ideal Work's own collection or more local suppliers where empathy with traditional colours and finishes is required. Aggregates can be washed, round pebbles or crushed, angular stone which is better for slip-resistance. Depth of exposure of the aggregate, controlled by the Ideal Work surface deactivator, also dramatically affects the appearance.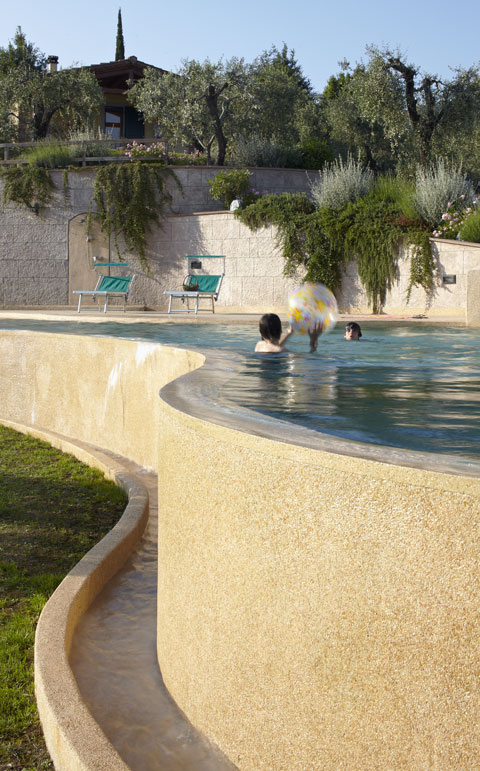 It is extremely adaptable
SassoItalia® needs a cast thickness of just 3 cm. This results in an exceptional adaptability that makes it ideal for renovating existing floors. In these cases, it is sufficient to apply a primer, IDEAL BOND, to make the slab adhere to the underlying concrete base. It is also possible to apply SassoItalia® onto fresh concrete ("fresh on fresh"), especially in the case of small areas. It does not need any maintenance upkeep and its original features remain unchanged over time. It is also ideal for indoor use where it can also be ground and polished!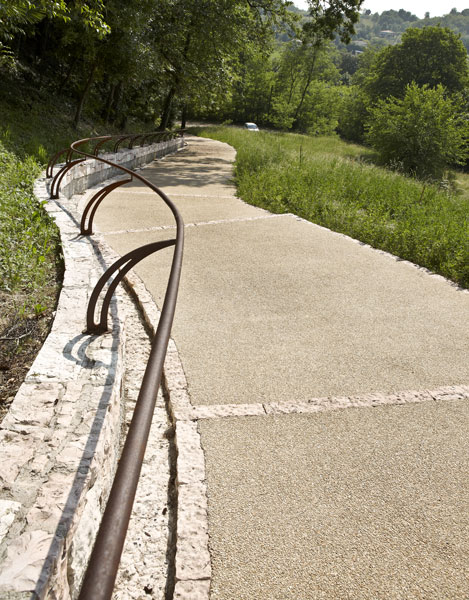 Suitable for all climate condition
The surface of Sassoitalia® can be treated with special protective coatings which inhibit dust, prevent moisture ingress and guarantee longevity of appearance and durability by resisting most external agents. Special coatings also protect Sassoitalia® from the effects of freeze/thaw cycles or salt water spray. In all cases the treatments are applied quickly and economically by the artisan installers at the conclusion of the works.
HOW
Surface preparation
A. If an existing slab, the surface should be made rough to provide a mechanical key.
B. The surface to receive the Sassoitalia® should be well watered the day before application to kill any suction which could affect the curing and adhesion of the system.
Sassoitalia concrete application
1. Application of the cement-based bonding agent – Ideal Bond
2. Application of the Sassoitalia mixture (Colour Mix, cement and aggregates) to a thickness of 2 to 4 cm.
3. Finishing and levelling of the surface.
4. Application of the Surface Deactivator.
5. Between 12-24 hours after application, wash the surface with a pressure washer or mono brush to remove the slurry on the surface.
6. After a few days, application of the chosen protective sealer. Choice will depend on anticipated type and volume of traffic and the local environment. Ideal Work recommends Ideal Sealer, Aquapel-s or Petrotex-s.