Beautiful and accessible
SassoItalia® is a natural pavement, of great scenic effect, which can be created in a short time and at a really affordable price. With SassoItalia®, you can create geometric shapes, colour effects, and special combinations with other materials such as: precious marble, brick, river stones and natural stone, giving you free rein on your creativity and for the layers at Ideal Work.
BENEFITS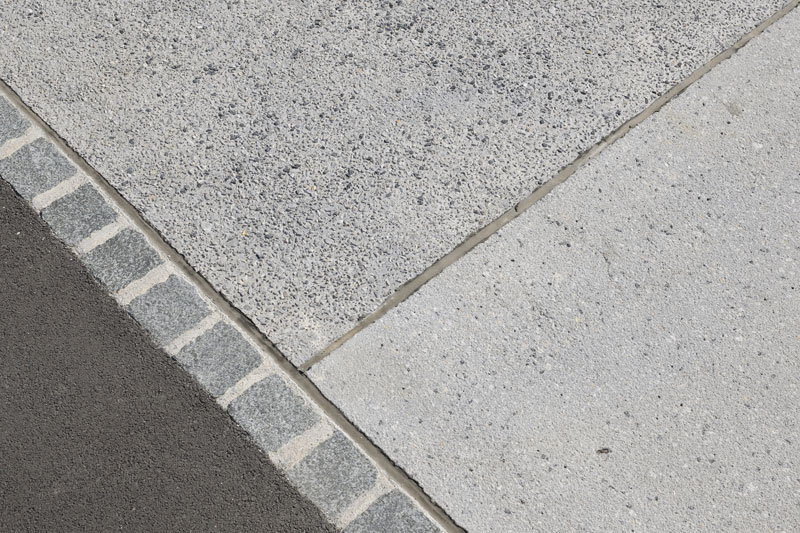 It is unique and can have custom finishes
Colours of the concrete and aggregates can be decided by the designer or the end user using the various combinations available. You can use local aggregates or one of those proposed by Ideal Work®. In this case, different types are available: washed or crushed gravel of various dimensions and sizes. The base colour of the slab is defined by a particular reinforced fibre blend called COLOUR MIX. There are 5 colours available which can become 10, using white or grey cement. Additional colours can be created by mixing grey cement and white cement, or mixing different COLOUR MIX bases with each other. Thanks to the various available surface deactivator versions, it is also possible to decide on the final exposure level of the aggregates.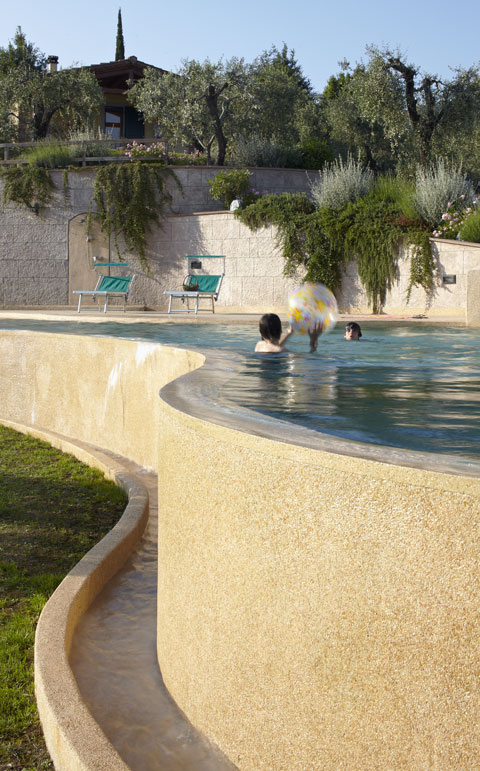 It is extremely adaptable
SassoItalia® needs a cast thickness of just 3 cm. This results in an exceptional adaptability that makes it ideal for renovating existing floors. In these cases, it is sufficient to apply a primer, IDEAL BOND, to make the slab adhere to the underlying concrete base. It is also possible to apply SassoItalia® onto fresh concrete ("fresh on fresh"), especially in the case of small areas. It does not need any maintenance upkeep and its original features remain unchanged over time. It is also ideal for indoor use where it can also be ground and polished!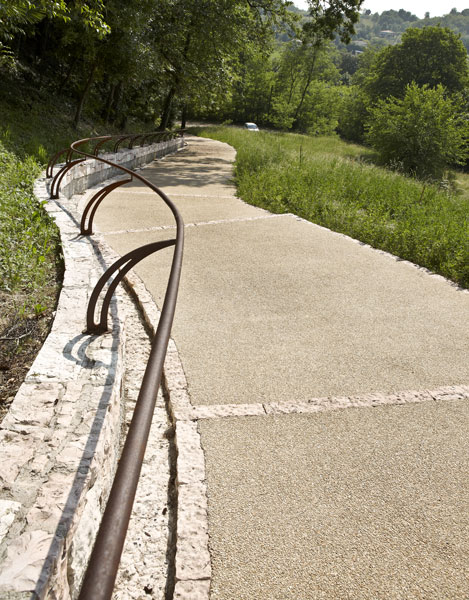 It is suitable for any climate condition
The surface of SassoItalia® can be treated with special protective anti-dust and anti-absorption resins, to guarantee a long-lasting beauty. If you live in areas known for their cold climate, subject to freeze/thaw cycles or those in contact with sea water, you can apply special sealants onto your SassoItalia® floor, which make it completely resistant to external agents. These surface treatments are added during the laying process, in a very simple and fast way for both you and your applicator.
HOW
Surface preparation
A. The concrete screed should be rough or, if already pre-existing, scarified.
B. The surface should be generously soaked one day before the application of Sassoitalia concrete.
Sassoitalia concrete application
1. Application of the cement bonding agent – Ideal Bond.
2. Application of the Sassoitalia mixture (Colour-mix, cement, aggregates) with thicknesses from 2 to 4 cm.
3. Finishing and smoothing of the surface.
4. Application of the Surface deactivator.
5. Within 12-24 hours proceed with washing of the surface using a pressure washer and a mono brush.
6. After a few days, application of a protective sealer is recommended. The type of sealer is chosen according to the amount of traffic and the environment. The sealers that we recommend include Ideal Sealer, Aquapel-s and Petrotex-s.