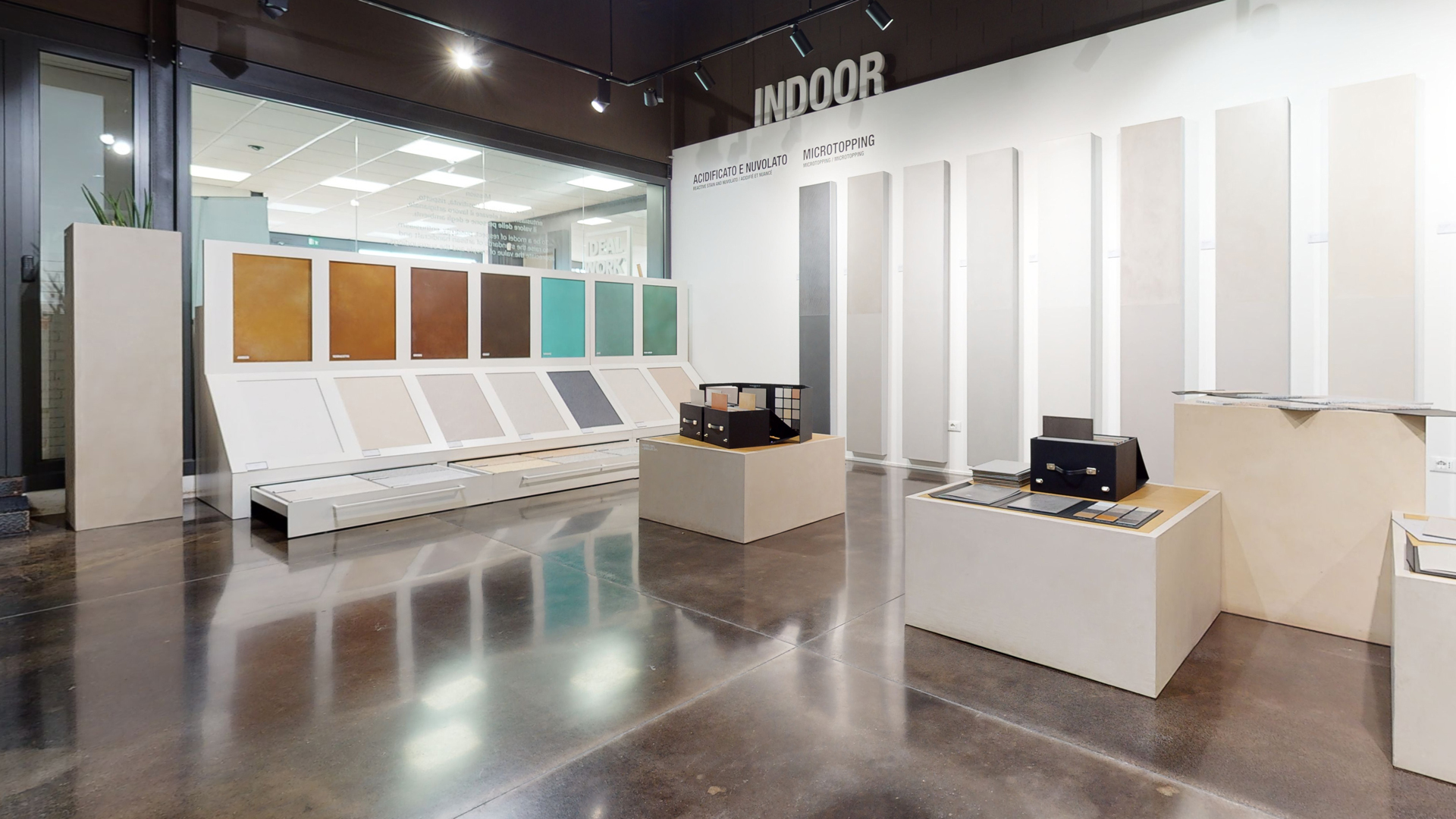 Ideal Work® systems can be used to improve both home and work environments, creating attractive, relaxing spaces. We also believe in protecting the environment as there is no more necessary and irreplaceable force than nature. At Ideal Work®, respect is one of our core values. Respect for our work and that of others, respect for the quality of materials, production processes, results and the people who, every day, choose Ideal Work®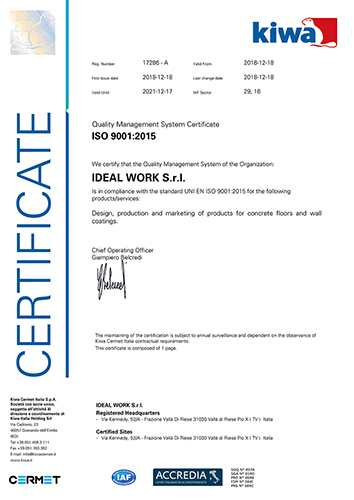 Certification as a guarantee.
Ideal Work® is a is a UNI EN ISO 9001:2015 certified company.
This certification is testimony to the commitment to improve processes to increase both customer satisfaction and business performance. Kiwa Italia is the Certification Body accredited by Accredia in major industrial and service sectors.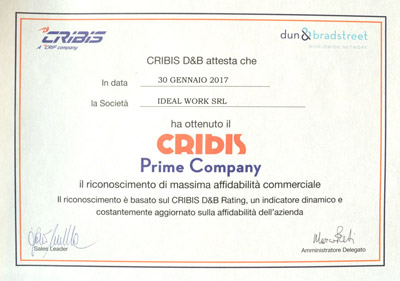 Security of Reliability.
Ideal Work® is one of the few companies awarded Rating 1, the top level of certification for financial and economic reliability given by Cribis, Dun and Bradstreet. This certification is only granted to companies that meet strict criteria based on timely payments, capital strength and economic viability. This prestigious recognition makes Ideal Work® an extremely secure and reliable partner for customers and suppliers alike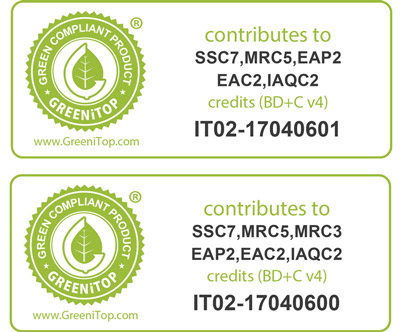 Sustainability as a responsibility.
Nowadays, sustainability is not a choice but rather a necessity which no company should ignore. Ideal Work® has chosen to join the Green Building Council of Italy, which promotes renewal design, construction and use of buildings, and aims to nationally introduce the LEED Certification System (Leadership in Energy and Environmental Design) to promote the widespread implementation of a culture of sustainable construction.
Quality Policy.
IDEAL WORK Srl Designs, produces and sells products for concrete floors and decorative surfaces. In order to pursuit its main goal – the client's satisfaction, Ideal Work provides products and services according to the client's need, always gives an exhaustive and punctual answer and is able to turn one's demand into the company's priority for the future.
All this is possible thanks to the company's constant growth and modernization, to a non-stop collaboration with the suppliers and to the employees' motivated commitment, gratified by an attentive and prompt management.
To pursuit out goal, we stick to the following guidelines:
Full attention to the client/applicator
We always try to establish a close relationship with the client to understand their needs; we try to become a partner for their success through our technical support, our constant training courses and the technical assistance we offer.
Reliability and efficiency
We are able conquer our client's trust thanks to the high-quality products and services we offer and by always demonstrating our efficiency, responsibility and foreseeing capability.
Innovation
Ideal Work is constantly researching new products, equipment and innovative technologies and is able to offer its partners new and innovative materials and application techniques.
In order to accomplish the above mentioned goals, the Management is involved in:
-• Organizing and optimizing the company processes according to a Quality Management System model which complies with the standard UNI EN ISO 9001
-• Communicating and supporting on every level the Quality Policy to interested parties
• Promoting throughout the whole organization, the awareness of the importance that all the company processes should be aimed to the client's satisfaction
-• Ensuring that an attentive context analyse is led in order to satisfy the interested parties' expectations and that the related risks are considered, in order to organize prevention and mitigation actions.
-• Engaging, raising awareness and training all the employees for the products' technical features, so that anyone can express themselves with great professionalism.
-• Monitoring the performances and the management system in terms of efficiency and effectiveness
-• Creating fruitful relationships of collaborations with the suppliers
IDEAL WORK Srl is a successful company composed of people with great values:
-• Honesty and integrity;
-• Courage and enthusiasm in facing new challenges;
-• Open-mindedness, respect for others and availability.
-• Critical spirit, determination and will for a constat improvement.
-• Responsibility in terms of commitment, results and quality towards clients, partners and employees.