Restructuring the living room: ideas for modern floors and coatings
There are many ways to renovate a living room: the important thing is to follow your own personal style and personality. To revolutionize a space sometimes changing the living room's surfaces is enough: surfaces, in fact, can strongly characterise the space from an esthetic point of view, even in case of keeping the same decor. Minimal, industrial, shabby.. Ideal Work®'s solutions offer many different ideas to change the style of your living room and to modernize it in a short time!
Floors for the living room
Ideal Work® floors' colours and effects to renovate a living room are infinite: grey scales and concrete effects for those who opt for an industrial style; natural wood effect for those who love the Scandinavian decor or the shabby chic romance; a variegated and shaded effect for those who enjoy eclecticism and uniqueness or a rough stone effect for the country style lovers! And so much more… as for colours and textures, the choice of Ideal Work® coatings to renovate a living room is extremely wide and diverse:
– Microtopping® is a seamless coating for the living room able to give the space a tactile and silken modern concrete effect. Available in a wide range of shades, Microtopping® perfectly matches any kind of context, from the industrial to the more traditional one.
– Acid Stain is created thanks to the use of some particular acids from metallic salt compounds which penetrate into the concrete and react with the free lime, chemically changing the colour to produce unique and permanent variegated effects. This solution is ideal for those who look for a modern and eclectic living room.
– Lixio® is an Ideal Work® solution that recreates the beauty of the Venetian floor. With a thickness of just 5 mm, it allows to create an original seamless floor with some exclusive and high quality Italian marble aggregates; the perfect solution for a timeless, elegant floor for the living room.
Wall coatings for the living room
Just like the floors, the walls play an important role in the space's stylistic characterization: today there are many different coatings able to give three-dimensionality and character to the living room wall. From a rough and vibrant effect to a sand or metallised effect; Ideal Work® offers a number of solutions to cover the living room's walls:
– Microtopping Wall Textures is perfect for the living room because it offers the possibility to customize and make your own house unique thanks to a wide selection of textures: jute, hemp, wood, net, fossil and much more effects to give a modern look to any minimal, essential space!
– Stamped Wall allows to recreate the beauty of antique bricks, of stone, tuff, rocks or wood with an ancient, a techno, an essential or a refined effect. It is therefore ideal as an indoor coating for the living room, where it can create new effects on the existing walls. Moreover, its low thickness and its quick and non-invasive application minimize the discomforts of the installation work.
– Purometallo is Ideal Work®'s latest product; it's a coating for the living room able to give any wall a shiny metallic effect: gold, copper or iron, either with a polish or a satin finish. Purometallo makes any surface shiny and bright.
– Artificial Rocks are perfect for those who look for an innovative solution to modernize their living room: in fact, they allow to create rocky surfaces perfect to customize fireplaces, arches, stairs, door frames or window frames. Artificial Rocks ensure a great scenic effect and a realistic outcome.
The colours for the living room walls
When restructuring a living room it's important to take into account the colour choice as much as the kind of coating. The colour of the walls is in fact capable of giving the environment a defined character: a light colour gives brightness, while a dark colour such as bordeaux or peacock blue gives a touch of vintage refinement. Among Ideal Work®'s solutions Microtopping® Wall Textures is a coating for the walls of the living room able to create modern surfaces with particular textures and effects: a smoke grey Hemp effect or a beige grey Leaves effect for an industrial style wall, a brick red jute effect for a warm wall or a grey wood effect wall for a Scandinavian style. And for those who dare, Ideal Work®'s new solution Purometallo allows to obtain some shiny metallic reflections to embellish the living room with an even more unique look.
The advantages of coating walls and floors
The advantages of Ideal Work®'s solutions for restructuring the living room are a lot: thanks to their low thickness, these surfaces allow to renovate floors and walls without demolishing the existing surfaces, whether they're made of tiles or other materials. Ideal Work®'s solutions are extremely customizable thanks to a wide range of colours, finishes and textures, for a living room able to represent one's own personality and taste.
What can be coated besides walls and floors?
Ideal Work®'s solutions aren't only suitable for floors and walls: Microtopping®, for example, guarantees a high adhesion to the substrate, which allows it to give a modern concrete effect to any surface, both horizontal and vertical. Microtopping® can be used to easily coat stairs, fireplaces, tables, chairs and other pieces of furniture, as well as floors and walls.
Stamped Wall can also be used to coat and recreate the beauty of stone, rocks, bricks or tiles on various elements of the living room such as columns, fireplaces, arches and much more.
Ideas and images of a modern living room
If you're looking for inspiration to create a modern living room, here are some of Ideal Work®'s implementations:
Private Residence in Pordenone
In this surreal space where white rules, Lixio® in its Carrara white shade covers the whole environment. The result is a minimalist house.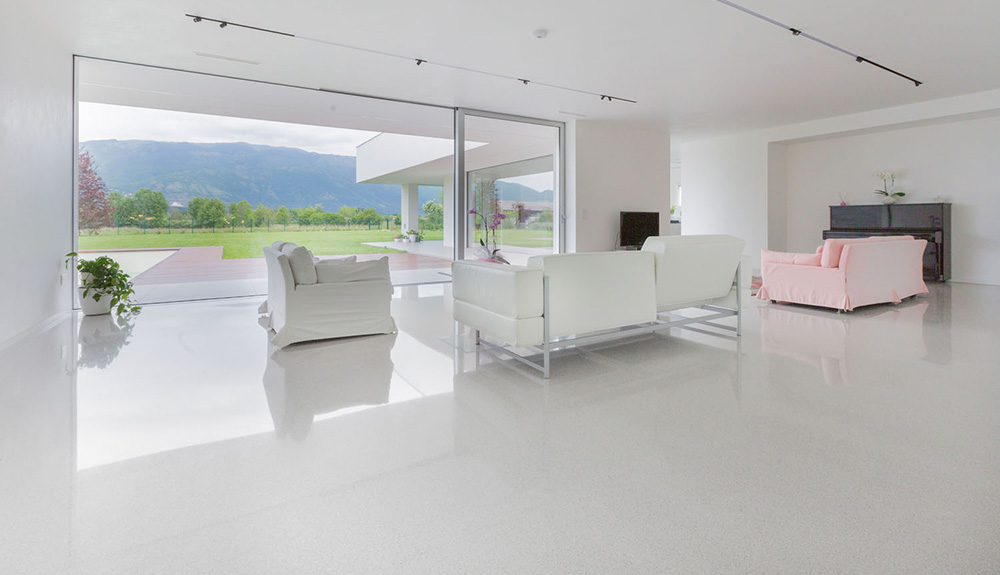 Private House
This house needed a coating for the living room with an elegant finish, able to match the other materials of the house in a simple and natural way. That's why Microtopping® has been chosen: this Ideal Work® indoor coating embellished the house's minimal environment with refined details. Perfect to create a sophisticated and yet cosy space.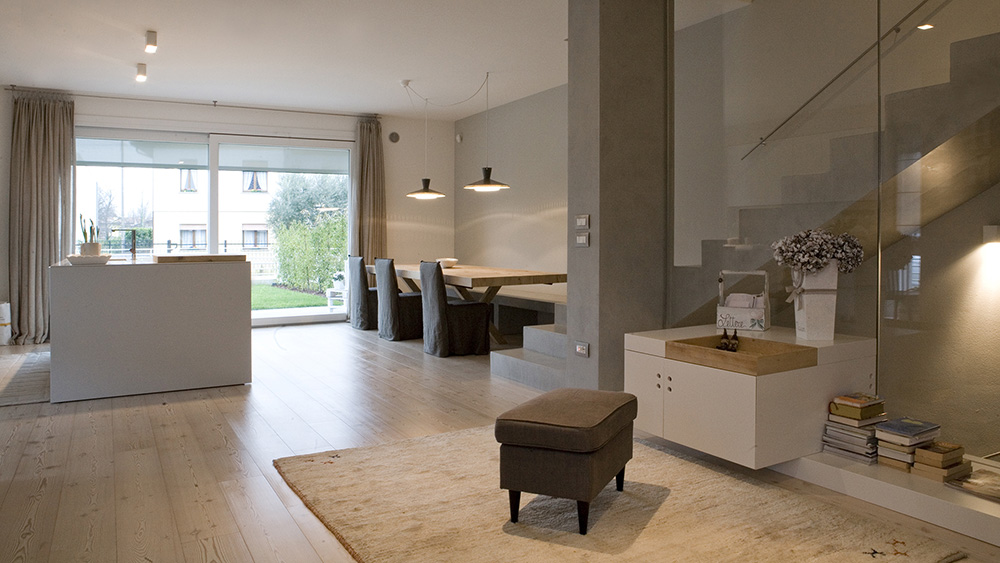 Private Residence in Bodrum
In this large open space that includes of kitchen, living room, bathroom and terrace, Microtopping® becomes an elegant background for the colorful pop decor. For a fluid living room with a vibrant young style!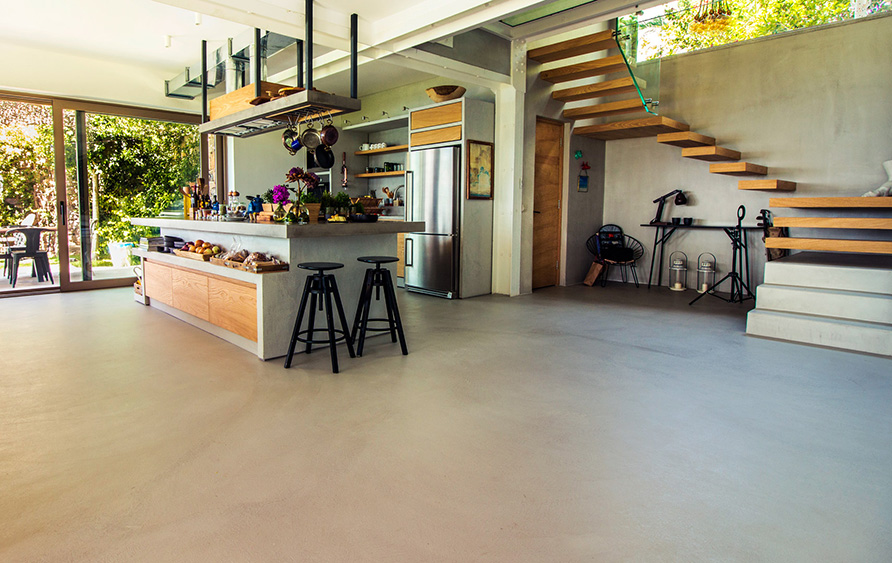 Private Residence in Krk
This modern residence in Krk stands out for its mix of different styles and materials: chosen for covering the living room floor, Microtopping® perfectly matches the kitchen's ceramic tiles and the wooden furniture.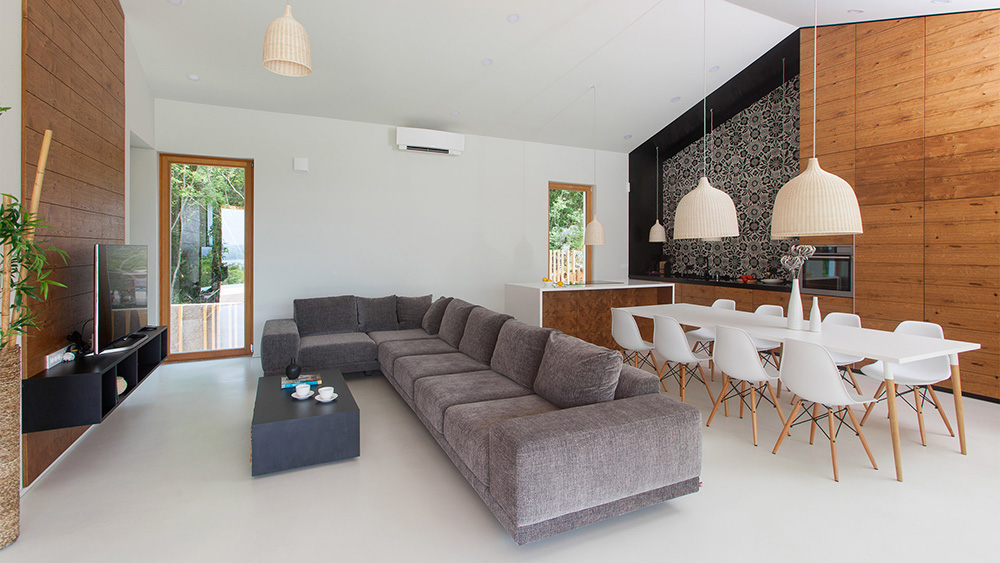 Discover other project Ideal Work!