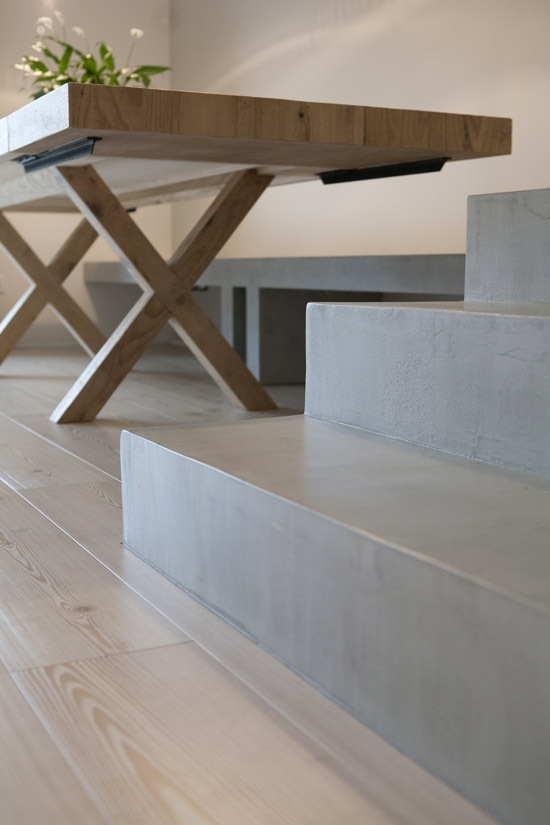 The interior coating that gives your home a new aesthetic
A new private residence, located in Castelfranco Veneto in the province of Treviso, required an interior coating with an elegant finish which would sit harmoniously alongside the other materials used, creating a simple, modern and natural look. The designer's plan was based on a sophisticated mixture of styles and materials, giving the home a contemporary aesthetic and a pleasant textured effect.
Microtopping was therefore used: the interior coating from Ideal Work enhances the minimalist environment with sophisticated details, creating an elegant and welcoming design space. The contrast with the wooden floor and the rough fabrics of the furnishings gives the house a truly original look. Microtopping was also used as a coating for some innovative furnishing accessories. The kitchen bench is particularly striking, as are the columns and the staircase which mark out the vast open space of the living area.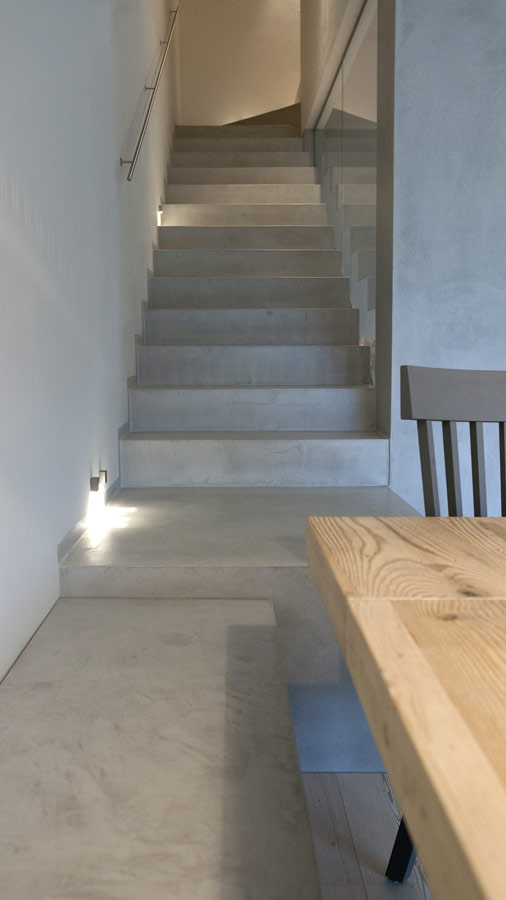 The design, developed by SPAZIO VOLUME COLORI, a design studio run by Paola Aceti, manages to strike the right balance between simplicity and sophistication. The interior is refined and easy on the eye, but its elegance is far from rarefied: the materials themselves, including Microtopping, contribute to the effect of 'thinking outside the box'.
The stairs and pillars, as well as the large bench beside the table and the house's two bathrooms, were all fully coated – from the walls to the floors with no breaks – with Microtopping, the innovative interior coating from Ideal Work. The base colour, silver grey, contrasts nicely with the parquet floor and adds originality. This "ironic" approach embraces cross-pollination and the mixing of materials and styles, from Nordic to modern and from shabby-chic to eco-chic, which all co-exist here in perfect harmony.
The client was extremely satisfied with the work, carried out by authorised and trained Ideal Work applicators. It took a couple of weeks to finish the stairs and bathrooms and just two days for the bench. Microtopping once again proves itself to be the ideal choice for indoor and outdoor use in both vertical and horizontal orientations thanks to its excellent flexibility and workability.
Date: 2014
Place: Castelfranco Veneto, Italy
Designer: Studio Paola Aceti
Solutions chosen for Private Residence