Outdoor thin-bed concrete flatwork systems: types and features
The outdoor thin-bed concrete flatwork coatings allow you to cover your external surfaces without demolishing the existing flatwork.
This is an important feature in residential renovations: it allows to avoid invasive restructuring of the garden (which usually involves the use of excavators) to dismantle the old flatwork, that causes piles of rubble and dirt to get rid off. Moreover, it avoids the risk of waterproofing damages.
An additional advantage is the possibility to keep the level of both the internal and external floor unaltered. This is very important when it comes to deal with rainwater.
What kind of thin-bed flatwork can you choose for your external area?
There are many different outdoor thin-bed concrete flatwork you can choose from:
– Rasico®, the thin, seamless innovative external concrete covering with an original texture;
– Stenciltop®, a decorative external flatwork, created through the use of a stencil in order to reproduce a realistic stone, brick, cobblestones or tiles pattern;
– Sassoitalia®, the most classic and typically Italian external concrete flooring. Created with a mix of concrete and some exclusive Venetian seeded aggregates, it creates a beautiful external flatwork able to perfectly match the landscape.
In addition to these options, there is also the possibility to choose amongst the internal floors; they can in fact be applied to the external area without any problem: Lixio® (the Venitian floor), acid-stained and cloud-effect Architop®, microcement.
Let's see in detail the various types of outdoor concrete flatwork, characterised by different thickness and features:
Textured concrete floor (Rasico®)
Rasico® floor system is one of Ideal Work's external concrete flatwork solutions. It's an outside concrete floor characterised by a thickness of only 3-4 mm, created to quickly cover an old floor and thus turn it into a new, seamless surface without any demolition. It's therefore ideal for renovations.
Its distinctive trait is an original texture that can be customized during the application. The colour can also be chosen among a selection of 29 neutral and elegant tones (from dove-grey to brown, from silver to zinc grey).
Rasico®'s outdoor concrete flatwork solutions are extremely resistant even to heavy traffic and very durable. Its minimal look perfectly matches the nordic style's essentiality and at the same time the eclectic freshness of the Mediterranean style, according to the chosen colour.
It goes with modern and contemporary furniture. Very suitable for the following external applications:
– Residential areas
– Pooldecks
– Hotel external areas
– Patios
– Observation decks.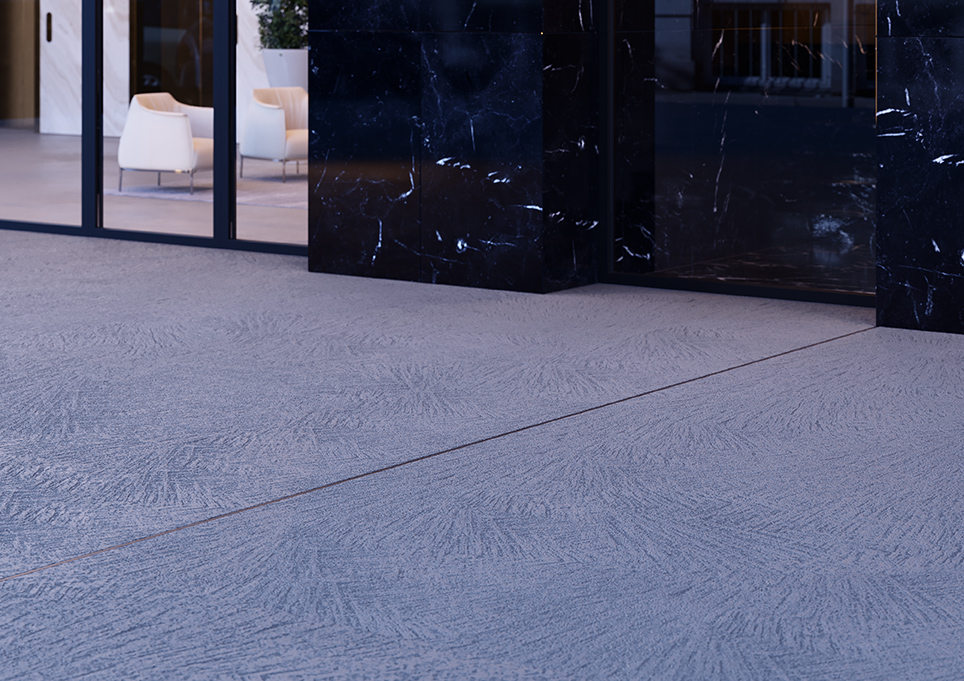 Thin-bed aggregate floor (Sassoitalia®)
Sassoitalia® is one of Ideal Work's external concrete flatwork solutions. It's made of a mix of concrete and various types of aggregates. The thickness here is very thin: with only 3 mm you can create an external concrete floor and therefore cover your old floor without any demolition.
Sassoitalia® allows free rein to creativity; you can create original shapes and many colour combinations whilst still matching other materials such as:
– Fine marbles
– Bricks
– Pebbles
– Natural stone.
There are 10 available colours that can be combined with white or grey concrete and customized with different aggregates. Hay, camel, sand: all the shades are delicate to guarantee a very natural and scenic effect, able to harmoniously integrate with the surrounding context. Thanks to these features, Sassoitalia matches any style:
– from country to modern
– from Mediterranean to baroque
Quick to install, it's a practical and durable external concrete floor, suited to any weather condition. Designed for external applications such as:
– Residential areas
– Squares
– Public sidewalks
– Boulevards and historical centres
This coating can be used also in case of particular landscaping constraints.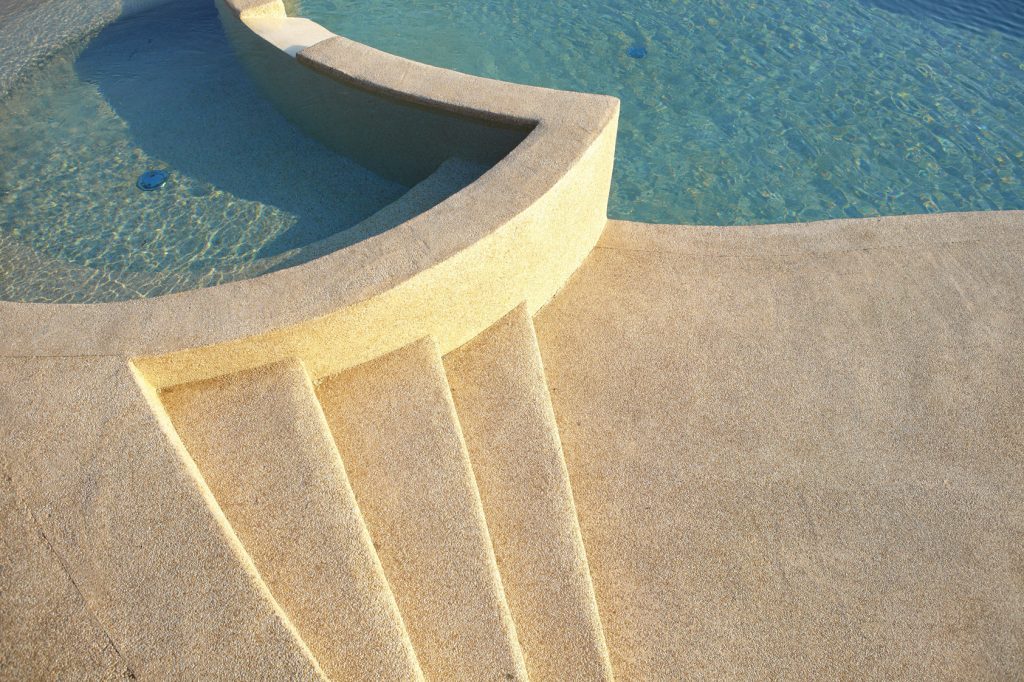 Stenciltop floor, for renovations
Stenciptop® is one of Ideal Work's thinnest and most accessible solutions for concrete hard landscaping. With Stenciltop you can create an external concrete paving in a quick and easy way, starting from scratch or renovating an old surface. It is an outdoor concrete covering designed to renovate and give your old existing surface a new look with creative and original textures and motifs.
In just a few millimeters thickness, this solution allows to reproduce in a realistic way:
– stones
– bricks
– cobblestones
– tiles
Thanks to a wide range of colours (29 standard shades), it is highly customizable:
– from sand to tobacco
– to the mediterranean aquamarine
It is also possible to obtain some slip-resistant surfaces, either rough or smooth.
The stencil technique allows to insert some customized decorations such as:
– logos
– artistic decorations
– stylised images
It's a very resistant external concrete floor, able to withstand even the heavy traffic of cars and trucks without deterioration.
It's suitable above all to renovate:
– residential areas
– sidewalks
– pooldecks
– driveways and ramps
– public buildings' and offices' entrances.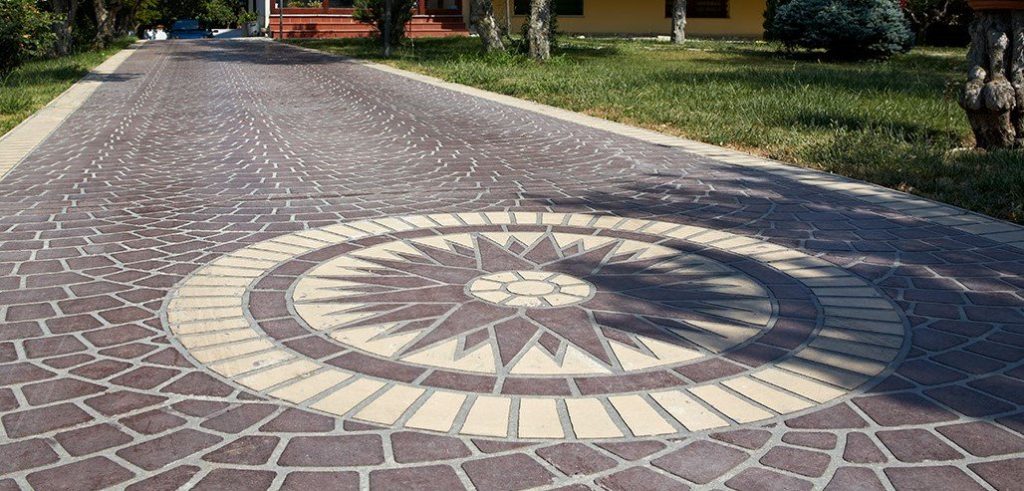 THE ADVANTAGES OF AN EXTERNAL THIN-BED FLOOR
A thin-bed external concrete floor offers various advantages, especially in renovations. If you would like to renovate your old external flatwork because it is damaged or old-fashioned-looking, a thin thickness guarantees:
– a quick installation
– the possibility to cover the existing surfaces without demolition
– the possibility to therefore avoid the disadvantages of a demolition
– a reduced environmental impact.
Not to mention that a new Ideal Work external concrete floor allows a quick and effective renovation of your house's access areas, improving their functionality and look. It gives you the possibility to customize your spaces in an original way, improving the value of your property.
Renovate your old surface with new colours and effects
The outside concrete floors with a thin thickness are perfect to cover the existing surfaces, including old tiles, without removing them. The floor renovation allows to change in a few steps the look of your floor according to your own taste, to the trend, to the desired effect and the inspirational materials; renovating the external hardscape allows you to choose a new colour that matches or creates a contrast with the building's and the external furniture's look. Covering a floor with grout lines with a seamless (monolithic) external concrete slab also eliminates the problem of weeds growing between single stones.
The new floors' short installation time
To remake a floor with Ideal Work's thin-bed external concrete floorings guarantees a short installation time and the possibility to walk on the new surface right after the end of the application process. Only 4-5 days are enough for covering 100 sq. This solution allows you to avoid an annoying and expensive demolition work, rubble and dirt in your garden and eventually the difficulty of transportation and disposal of the accumulated waste.
Treatments you can apply to the coating
Ideal Work's thin-bed external concrete floors are very resistant to:
– abrasions
– oil
– water
– stains
– dust
– weather conditions
– UV rays.
The resistance to these factors depends on the protective treatments it is possible to apply after the coating's installation. They give the surface a high resistance in any weather condition (from warm to cold weather). These external coatings are ideal for places where there are frequent thermal shocks. Unlike tiles and some transpirant floors, there is no risk of detachment. Thanks to these features, Ideal Work's external floors keep their look unaltered over time.
To make an old surface slip-resistant
Ideal Work's external solutions have been designed to improve the security of your home; they limit the danger of slipping and falling in dry or wet areas such as pooldecks.
Rasico® is designed for the wet areas around the pool, thanks to its slip- and fall-resistance. The Stenciltop® surface is also extremely safe and slip-resistant; it's ideal also for school's external areas and all the places where kids and old people walk around.
All Ideal Work's solutions are certified as slip-resistant according to the rule in force. It is also possible to decide with the applicator the floor's roughness degree; for example, with Sassoitalia it is possible to choose the aggregates' final exposition degree; the more protruding aggregates are, the more slip-resistant the surface is.
SOME CONCRETE IDEAS FOR THIN-BED EXTERNAL FLOORS
Ideal Work creates thin-bed external concrete floors for the private areas such as:
– entrances
– houses
– driveways
– pooldecks
– ramps
– stairs
But also for the external areas of:
– public buildings
– offices
– restaurants
– hotels
– boulevard, sidewalks and city centres
Here are some concrete examples of how Ideal Work's outdoor concrete solutions harmoniously match various contexts:
A slip-resistant concrete floor for pooldecks (external harmonious and balanced spaces)
The Rasico® floor, applied to a pooldeck in its Pewter shade, creates a seamless fine and minimalist surface; as you can notice it finely matches with the house's modern furniture and contemporary design, with its squared, strict volumes and the large glass window. Delicacy of colour, seamlessness, roughness and elegant essentiality: every element contributes to shape a well-balanced external space.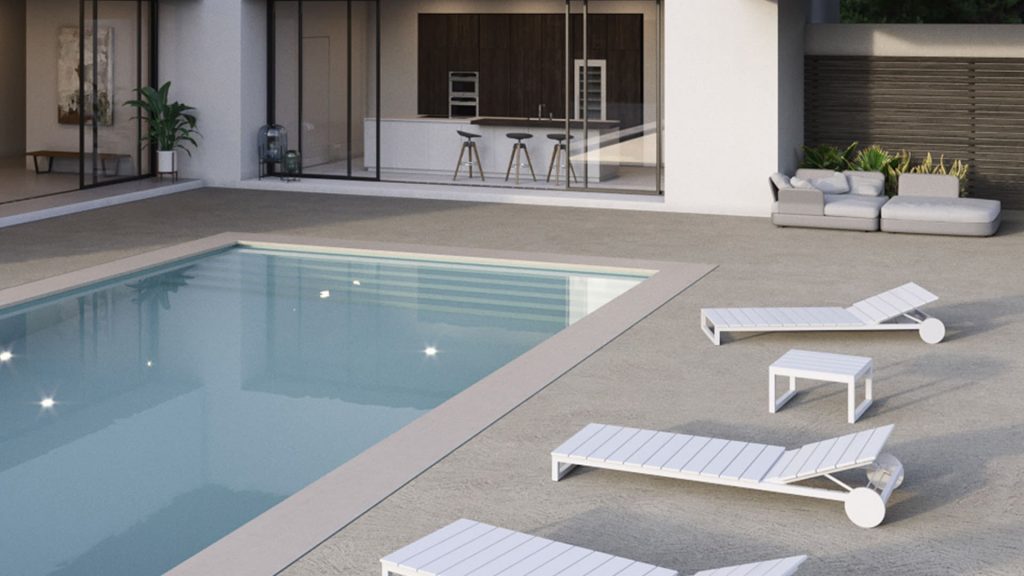 Stenciltop concrete floor for ramps (a country house that merges with the hills)
The outside concrete floor Stenciltop® has been used here to create the slip-resistant ramps of a driveway leading to this scenic country house; the driveway is composed of both Stenciltop® and Stamped Concrete® in the stone effect. The project has been conceived to respect the client's need of a very durable slip-resistant surface able to withstand the traffic of cars and heavier means. By choosing a very neutral and natural colour, the project's aim of respecting the landscape has been reached.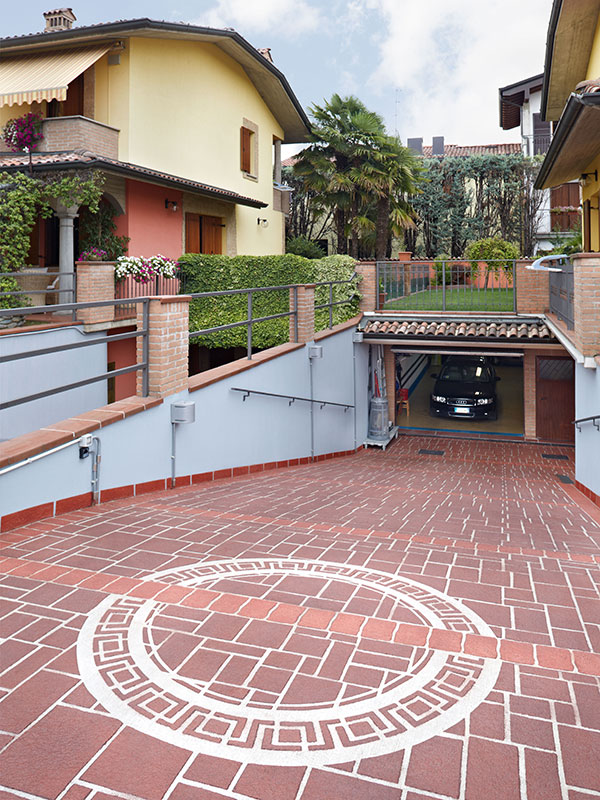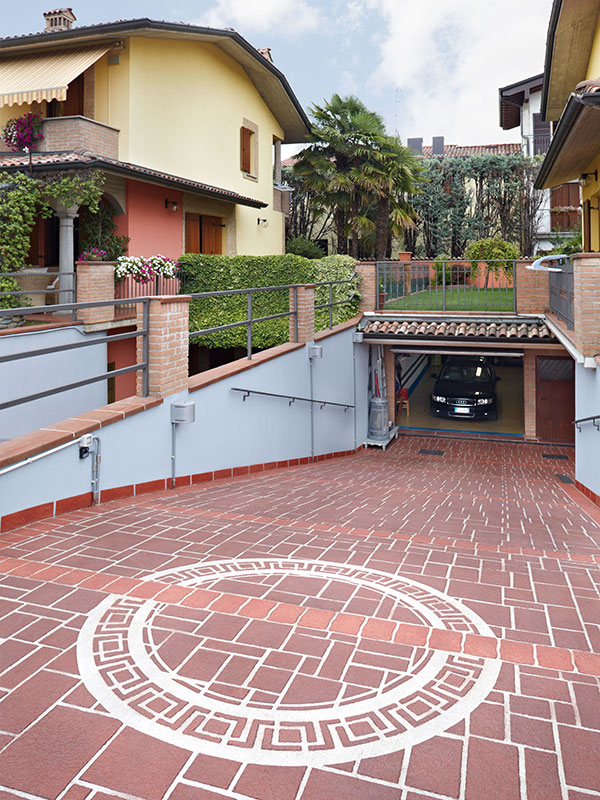 External aggregate floors (Montebelluna city centre)
For this project, the external concrete floor Sassoitalia® has been used to create Montebelluna's city centre main square. Here Sassoitalia has been chosen in white concrete with coloured aggregates that harmoniously match the architectural context and the surrounding landscape. It has been chosen for: its scenic effect, its thin thickness, its weather conditions resistance, its great durability and because it's very easy to clean and maintain.