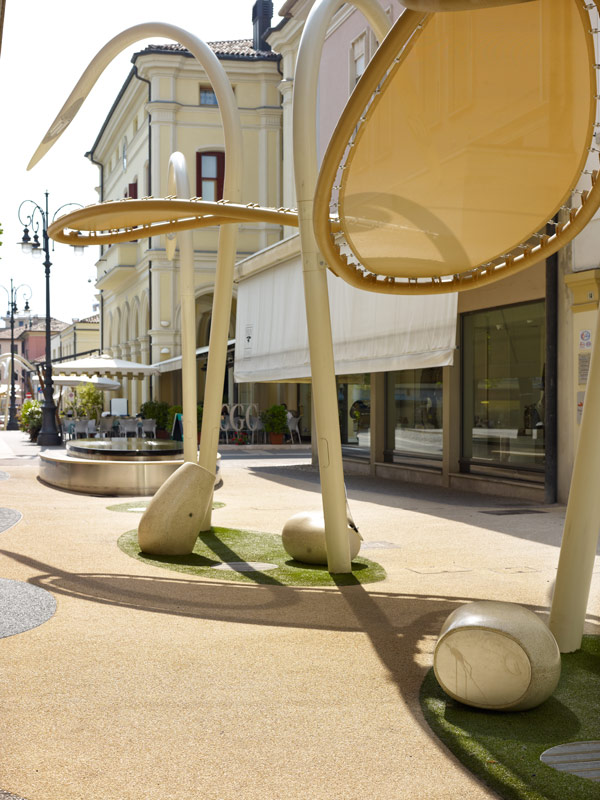 Urban redevelopment of a historic centre using the latest generation of restoration materials
The historic centre of Montebelluna (province of Treviso) dates back to the nineteenth century and is the area's commercial hub. Recently, its paved surfaces found themselves in need of a makeover. Beautiful and natural, with soft ovoid lines that recall the area's links to agresto (a sauce made with the juice of unripe grapes), the new paving marks out the old town, playing on the new urban furniture and opening up a sympathetic dialogue with its surroundings, as called for by the redevelopment plan.
The client's requirements concerned the need to redevelop the central areas so that they could play a strategic role in the development and growth of the town, creating a sense of continuity between the town's open spaces which were previously fragmented and disparate, mainly due to the lack of consistency in the materials used.
From this perspective, it was clear that the old paving would need to be renovated.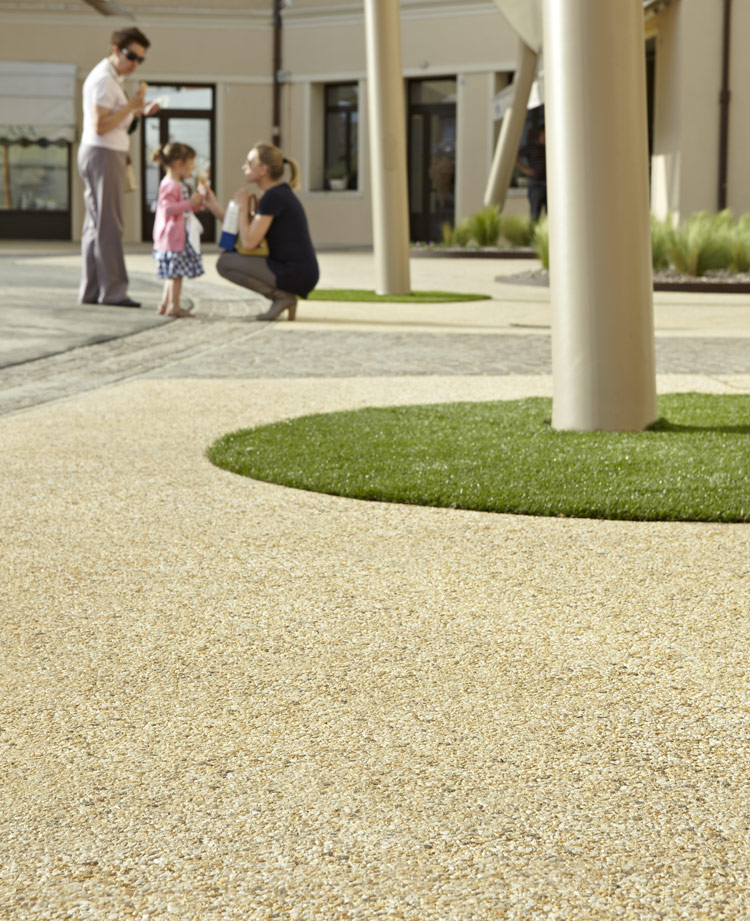 To pave the centre of Montebelluna, SassoItalia from Ideal Work was chosen. This material is ideal for renovating existing surfaces for a number of reasons: in addition to its minimal casting thickness, it has a striking visual impact thanks to its traditional Italian style, it is weather and wear-resistant and is easy to clean and maintain.
SassoItalia can be used to create natural and custom finished floors with a "washed stone" effect in a traditional Italian style. As a monolithic paving system, it is immune to depressions and subsidence and requires a casting thickness of just 3 cm (1.2 inches), which makes it particularly suitable for the renovation of existing flatwork areas, even those which experience heavy foot traffic.
In terms of its composition, the SassoItalia paving created by Ideal Work in Montebelluna consists of a mix of white cement, coloured sands, (Siena Yellow and Alpine Green) and Color-Mix in Straw and Neutral, a specially concentrated fibre reinforced mixture which gives the system its base colour.
Date: 2011
Place: Montebelluna, Italy