Outdoor concrete floors: ideas and advices for ramps and garages
When choosing an indoor floor it's important to consider a number of factors, both from a functional and an esthetic point of view. Generally, an outdoor flatwork should be frost- and weather-resistant. It has to be chosen according to the designated use and to the context in which it is to be installed: if the destination is a garage, a ramp or a driveway, the floor has to be traffic-resistant; if it's the case of a pooldeck, the solution has to be water-, slip- and mould-resistant.
Ideal Work® offers a lot of solutions for garage and ramp floors able to revolutionize the hardscape: all different in the look but sharing an extreme robustness and resistance. Stamped Concrete is perfect for those who look for a stone, a rock, a brick or a wood effect; Sassoitalia® for those who love the tradition of washed pebbles; Rasico® for those who look for a rough and contemporary texture and Microtopping® for those who prefer a silken concrete effect.
Some advice for the garage floor
The garage floor is maybe the most "mistreated" one: it is used to park the car and to carry out the heaviest works. It is thus necessary for the garage floor to be resistant to heavy loads, wear, stains and scratches and to be extremely easy to maintain. Among Ideal Work®'s solutions, Stamped Concrete is the most suitable for a garage: thanks to its monolithic  conformation, it is not subject to indentations or settlement. If treated with a special protective resin, this solution becomes mould, dust, absorption and stain resistant. Moreover, thanks to the wide choice of colours and effects, it can be customized in order to recreate stones, rocks, bricks, wood or earthenware, for an always original garage floor. In addition to Stamped Concrete, Stenciltop is another decorative concrete coating which allows to renovate and embellish an existing concrete floor by redesigning its surface through the use of some simple paper stencils with customized decorations such as corporate logos and other stylised images.
If, compared to Stenciltop and Stamped Concrete's rustic look, you prefer a more modern look, one can choose Cloud-effect Architop® or Acid Stain: the first is characterised by an industrial concrete effect, while the second stands out for its shades and metallic veins. Both are extremely resistant and long-lasting.
Some advice for external ramp floors
For external ramps and garden walkways the floor has to be chosen carefully, due to its impactful esthetic effect. It is also important to choose the right materials in order to match the context and to guarantee a functional and long-lasting performance.
Ideal Work®'s Sassoitalia® resumes the Italian tradition of "washed pebbles" and is made of a customizable mix of aggregates. It's suitable for historical and naturalistic contexts, also in case they are subjected to landscape constraints, since the use of a natural local material allows for a great landscape integration. In addition to the esthetic comes functionality: due to the surface's roughness the result is an slip-resistant floor perfect for ramps, steep roads and north-facing sidewalks.
If one prefers a more modern and eccentric look for their landscape, a good idea could be to mix a the slip-resistant ramp made of straw yellow Sassoitalia® with some other ramps made of amber Acid Stain, to create a contrast between the two surfaces. For those who love the concrete effect, Rasico® is ideal; this new solution allows to create slip-resistant ramps with a contemporary and minimal style.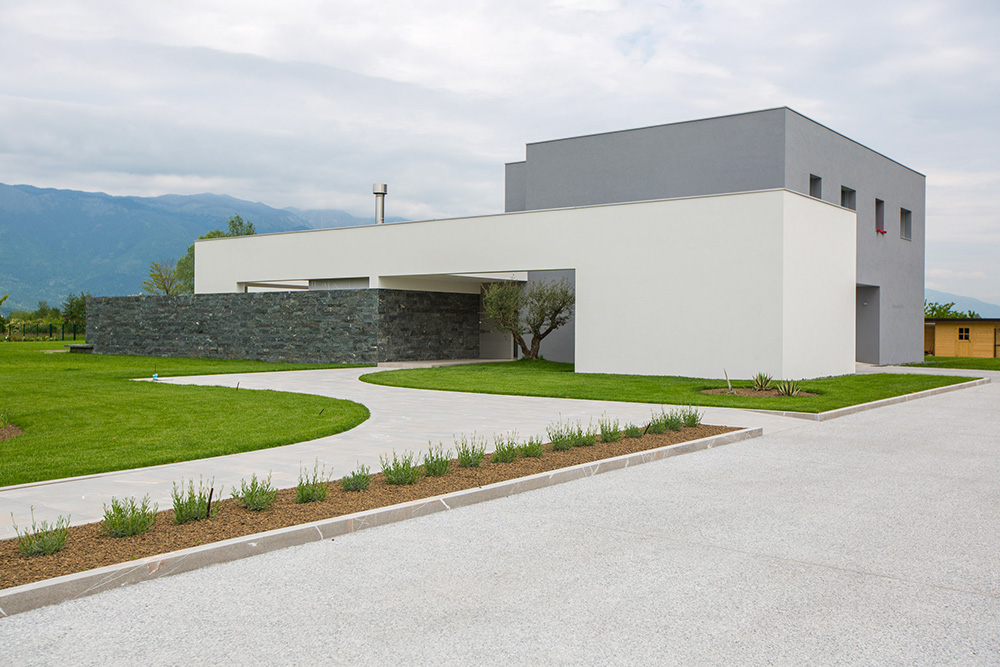 Ideal work's solutions: advantages and features
Ideal Work®'s outdoor solutions are designed to guarantee the best technical performance. Their design is also very much focused on the aesthetics: they offer a wide range of colours and effects, for a great customization of every space. Ideal Work®'s outdoor solutions are particularly suitable in case of garage renovation because they allow to cover the existing surface without removing it and therefore avoiding any demolition.
Concrete surfaces are very resistant to traffic and heavy loads; if treated with specific protection products, they also become slip-, stain-, mould- and water penetration-resistant, which makes them ideal for pooldecks. Perfect for outdoor floors, driveways and garages.
how much does a new garage floor cost?
The price of a new garage floor varies according to the chosen solution and to the type of works the garage must undergo. Obviously the removal of the old floor and the installation from scratch of the new one will be more expensive in terms of time, handwork and discomfort. Ideal Work®'s solutions allow you to avoid this inconveniences thanks to their low thickness, making demolition unnecessary and considerably reducing the installation time.
Some ideas for the garage and the ramp floor
Rustic style country houses, modern and minimalist garages, city private villas.. discover Ideal Work®'s projects to find out some ideas for your garage or ramp floor.
A country retreat that blends with the hills
Nestled within green nature, this house has been the subject of a refurbishment scheme that has preserved its structural appearance, retaining the appeal of a countryside farmhouse. For a great harmony the chosen solutions for the floor of the external ramps have been Ideal Work's Stamped Concrete with Rough Stone effect, 50% Sand and 50% Dove Grey and Sassoitalia® Straw coloured and Istria yellow aggregates.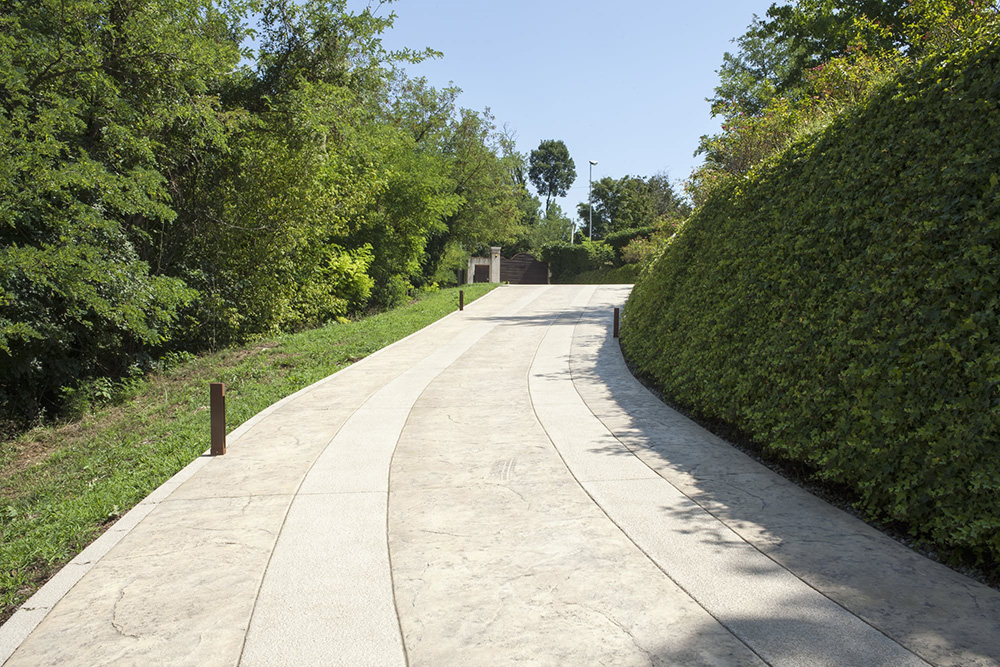 Private Residence Forlì
This villa, located in a residential area of Forlì, needed a resistant floor for the garage ramps able to match the residential context. Stenciltop in its ash grey shade contributed to embellish the square with its impressive design.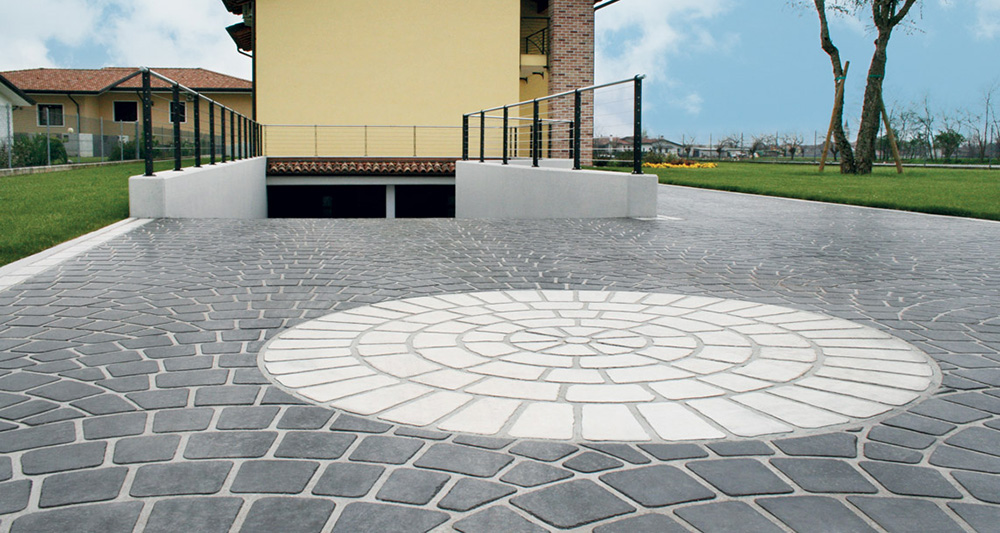 Private Residence in Asolo
We are standing in front of a luxury white and shiny villa with Victorian details. Sassoitalia® surrounds the whole building and, mixed with the cobblestones around the flower beds, it gives the garden a clean and tidy look, embellishing the hardscape with the same elegance as the house's.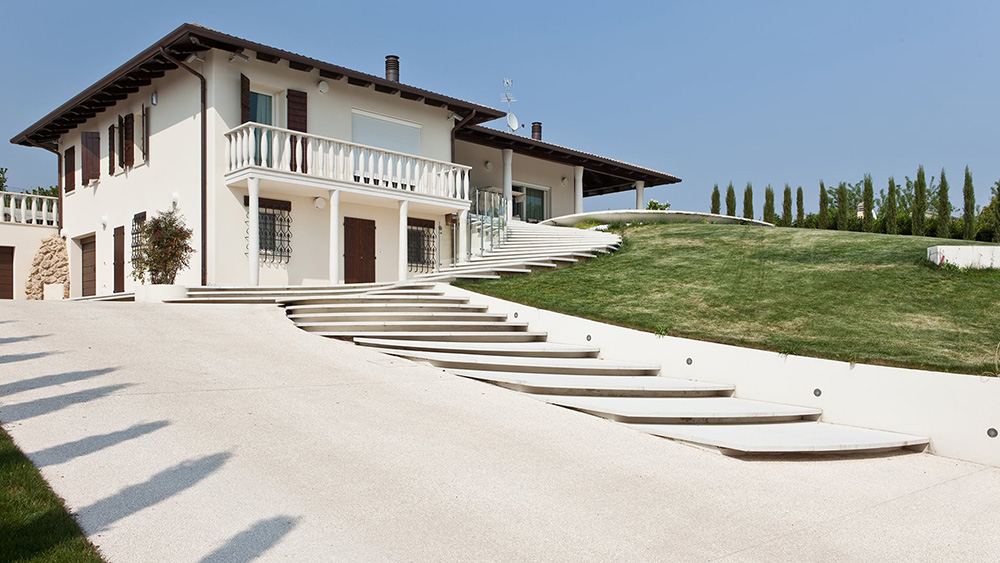 Private houses's hardscapes
Rock slabs, antique stones, wood, tuff… these are the available effects for slip-resistant garage and ramps floors with Ideal Work®'s Stamped Concrete.