Modern and easy to install venetian floors
The origin of the dates back to the Roman times, but it reaches the greatest splendor in the Renaissance Venice. In line with the new tendency that celebrates the "marble effect", the Venetian floor is today going through a new renaissance thanks to its elegance and versatility, which make it the perfect solution for classic style, new-baroque and the most essential environments. The seeded Venetian floor is a seamless coating composed by some marble and stone aggregates, mixed with pebble lime or concrete.
WHERE TO INSTALL A VENETIAN FLOOR
The Venetian terrazzo is not only an elegant floor; it has always been renowned for its high flexibility and its wear resistance. Ideal Work proposes a modern Venetian floor with different effects, along with the more traditional one: it's Ideal Work's Lixio®, available in shiny, satin or rough finishing. An ideal coating for internal renovations but also for residential hardscapes and high-traffic areas such as:
1 – hotels
2 – commercial areas
3 – public places
4 – airports
Thanks to its low thickness, Lixio® can be used to cover the existing floor and therefore avoid the demolition of the old surface.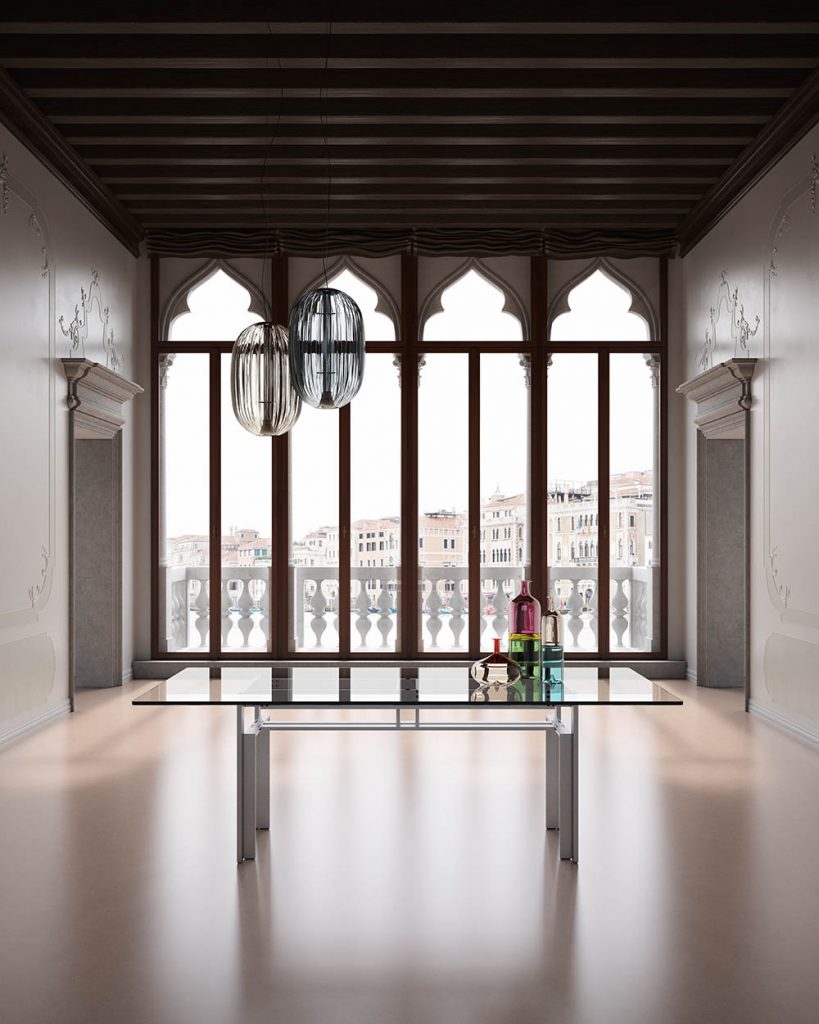 VENETIAN FLOOR AND AGGREGATES COLOURS
The modern Venetian terrazzo is characterised by a high versatility: it is a concrete decorative surface that perfectly matches with both vintage and baroque and modern styles. Ideal Work offers a wide range of colours, all of them customizable according to your own taste and needs: from white marble to ebony black aggregates.. there are infinite possible combinations of colours and effects.
This solution is an easy match with other elements, with which it is able to recreate the beauty and elegance of the luxurious Venetian palaces.
Discover the different colours and effects available by checking out the Venetian seeded aggregate catalogue!
TRADITIONAL SEEDED FLOOR OR IDEAL WORK SOLUTION?
The fine traditional Venetian microterrazzo can now be installed by a very few experts in the field: compared to Lixio®, Ideal Work's modern Venetian floor, the traditional Venetian terrazzo needs a bigger thickness and a longer installation time; in this case, removing the old floor becomes therefore inevitable. Amongst the decorative coatings on the market, Ideal Work's Venetian seeded floor is a modern, more practical solution compared to the traditional one; Lixio® recreates the beauty of marble by using high-quality Italian marble aggregates and by being applied by skilled well-trained applicators, that guarantee a short installation time and therefore a reduced price.
THE ADVANTAGES OF AN IDEAL WORK'S VENETIAN FLOOR
Unlike the traditional Venetian terrazzo, Ideal Work's Venetian floor is seamless, only 5-6 mm thick and therefore ideal to remake a floor, because it doesn't require the demolition of the old floor. Ideal Work's authorized applicators guarantee the ancient charm of the Venetian seeded floor with a reduced installation time at a convenient price. Lixio® is UV rays and wear resistant and it is easy and quick to clean.
The advantages: a low thickness and no demolition needed
Lixio®, Ideal Work's Venetian floor is just 5-6 mm thick: it is therefore ideal to renovate floors because its application doesn't require the old floor to be demolished, nor the doors to be shortened. The low thickness allows the Venetian terrazzo's installation even in case of under floor heating, thanks to its high thermal conduction. Moreover, its easy and quick installation will prevent the heating coil from being damaged (a risk in case of demolition).
Even today the modern Venetian floor's creation technique is similar to the traditional one, with more advanced materials and tools tough. The authorized applicators install a first coat of epoxy resin, an extremely isolating material, and then they spread the mix of aggregates over it, which is subsequently leveled. After 3-10 days, le surface is polished by a diamond tool to obtain the typical shiny effect.
This solution consists of covering the old surface, something that is not possible with the traditional Venetian seeded aggregate, which has to be more than 1 cm thick. For this reason, a simple covering without demolition would not be possible.
The advantages: modern floors without joints
The Venetian terrazzo Lixio® is a modern seamless Venetian floor, composed of a concrete base and a high-quality Italian marble aggregate, which can be mixed to create uncountable combinations of colours and finishes. Ideal Work's Venetian floor is seamless, a feature able to enlarge the space and highlight the furniture. This uninterrupted floor makes the environment look modern and unique, not to mention the hygiene factor; given its seamless nature this floor is in fact very practical to maintain and quick and easy to clean.
A totally seamless space is now possible, by combining the Venetian floor with a micro-cement coating for walls; the complete absence of joints will turn small rooms into visually bigger spaces.
The advantages: the floor's price
Ideal Work's Venetian floor has a convenient price if compared to similar solutions and it allows you to choose a fine marble effect with high quality Italian aggregates and a great freedom of customization. Uncomfortable, long construction sites and annoying dirt and rubbles have now been overtaken by modern solutions. A shorter construction site means a lower price.
Contact one of Ideal Work's experts for a customized quote; renovate your house in a simple and quick way with a modern Venetian floor, customizable according to your needs.
PRACTICAL APPLICATIONS OF A VENETIAN FLOOR
For a house, a hotel or a hardscape: three different projects, all made special by the same surface: Lixio, Ideal Work's new Venetian floor. Discover how to embellish in a customized and unique way your indoor and outdoor spaces, without the worry of construction sites and demolitions.
The Venetian floors of a private Villa in Pordenone
A bright surreal space. It's a modern villa in Pordenone, where Lixio®, Ideal Work's Venetian floor, has been applied indoor, here in its Occhialino shade.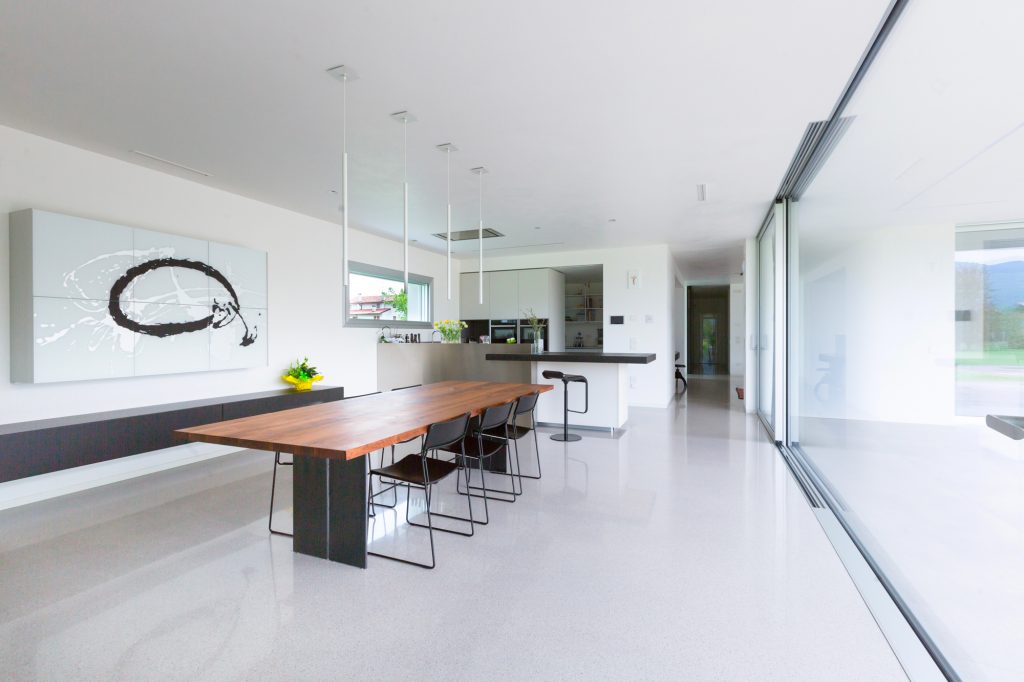 A hotel with the Venetian floor
A bright surreal space. It's a modern villa in Pordenone, where Lixio®, Ideal Work's Venetian floor, has been applied indoor, here in its Occhialino shade.

A terrace in front of the sea, embellished by the Venetian seeded aggregate
The charm of antique palaces for an observation deck facing the sea. Ideal Work's Venetian floor Lixio® has been used to cover the terrace in its Botticino Tortora shade.