The Schüco showroom is a place of precision and pure beauty.
A showroom is an important calling card for any company and for this reason it must represent the brand's positioning and identity as best possible, showcasing their products in the most appropriate way. So why not cover your tables and walls in Microtopping? Schüco did, choosing Ideal Work's innovative cement coating for the meeting room of its Bucharest showroom, thus giving the space an ultra-modern aesthetic.
The interior renovation work was entrusted to the firm Mânadelucru and specifically to architects Dorin Stefan Adam and Madaina Iftimi, who skillfully created a clean and minimalist space. In the homogeneous fluidity created by the room's uniform colours and materials, the coatings of the surfaces – which alternate between smooth, shiny, textured, translucent and opaque – create suggestive light reflections.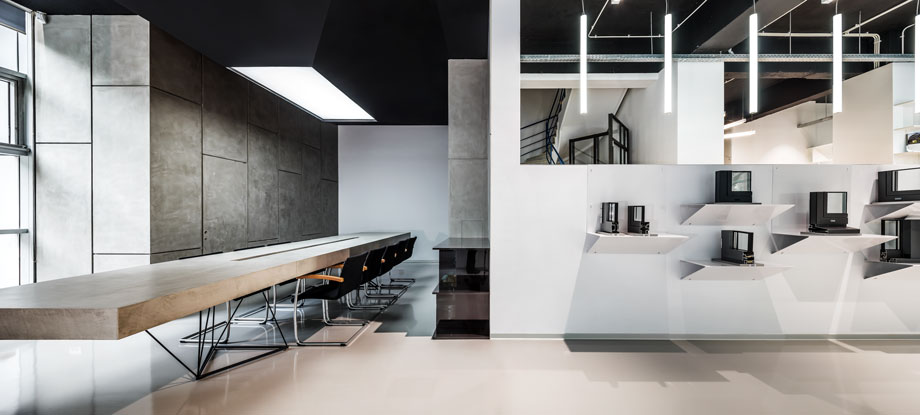 This is where the room's most striking feature comes into play: the light grey meeting table, 4.2 metres (13 feet) in length, covered entirely with Microtopping. Better known and appreciated as a covering for walls and floors, micro-cement also works perfectly as a coating for furnishings and unusual surfaces.
It's workability and excellent adhesive properties allow it to be applied both horizontally and vertically. This explains how it was possible to coat the table and walls with just 3 mm (a tenth of an inch); the result is striking and truly original. The floors and ceilings have the same covering throughout the space, with the exception of the customer area, where the original wood parquet flooring was restored and maintained. The floors were coated in resin, while the concrete ceiling was painted black. In addition to being used as a coating for the meeting table, Microtopping was also chosen as a wall covering, a trick which has the effect of seemingly expanding the interior space.
Date: 2015
Place: Bucharest, Romania
Designer: Arch. Mânadelucru, Dorin Stefan Adam, Madaina Iftimi
Solutions chosen for Showroom Schüco