Pool deck floors are important both from an aesthetic and a functional point of view. Not only should they be waterproof and moisture-resistant, but they must also provide a secure, slip and fall-resistant surface in order to prevent accidents.
Today, there are several pool deck solutions available. We will look at them briefly.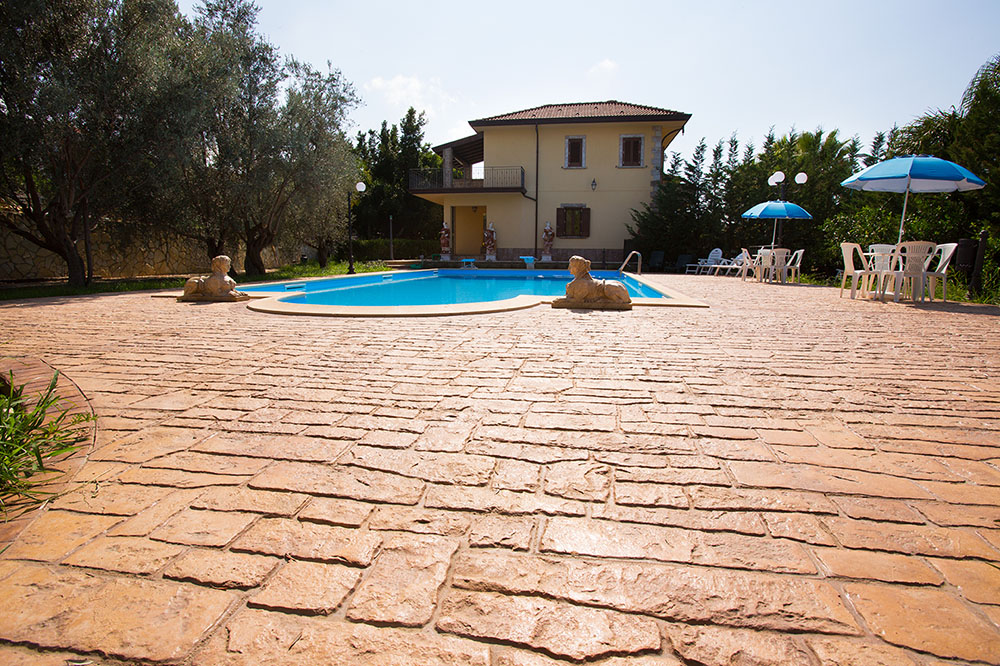 Ceramic tiles
Ceramic tiles are a common option for pool deck floorings. They are available in a range of colours and sizes, which means you can customise the design according your preferences. Furthermore, ceramic tiles are resistant to water and humidity, and when equipped with a non-slip surface, they provide greater safety around the pool.
Travertine
Travertine is a type of natural stone used for pool decks. It's an elegant and beautiful waterproof choice able to withstand the most diverse weather conditions. Travertine needs specific treatments to become slip-resistant.
Wood
Wood is an attractive option for a pool deck floor. However, it requires constant maintenance and needs to be treated regularly to prevent water and weather damage. However, wood is slippery, which can increase the risk of accidents around the pool.
Natural stone
A floor in natural stone, such as granite or marble, provides a durable, slip-resistant surface for pool decks. Natural stone is also resistant to water and bad weather conditions.
Porcelain stoneware flooring
Porcelain stoneware is a popular choice for pool deck floors. It is water, weather and stain resistant, which means it requires minimal maintenance. With treatment it can become slip-resistant.
Mosaic
Mosaic is a more decorative option for pool decks. It is available in a wide range of colours and designs which allow for great custom possibilities.
As it is not slip-resistant, mosaic represents a less safe option. For this reason, it is often combined with other non-slip materials, such as ceramics.
Recycled rubber
Recycled rubber floors are a greener option. Recycled rubber is sustainable because it is made from recycled materials. It is a non-slip and waterproof solution.
Resin
Resin floors are water and weather-resistant. Resin can also be non-slip, ensuring safety around your pool.
Earthenware
Cotto tiles can also be used to cover pool decks. Earthenware is a rustic and elegant choice which provides water and weather resistance. However, cotto tiles require constant maintenance and must be sealed regularly to prevent water damage.
The choice of a pool deck flooring depends on aesthetic taste, budget and functional needs. However, it is always important to choose water-resistant, non-slip materials to ensure safety around the pool. A proper flooring solution can enhance the overall look of the pool and create a functional and safe area to enjoy the experience of lounging and swimming.
For these reasons, our advice is to opt for decorative concrete — a material that meets all the requirements for a safe and beautiful pool deck flooring.
Ideal Work offers various custom possibilities for pool deck floors and walls, from Stamped Concrete to Sassoitalia® and Rasico®.
We have described all the qualities of our products suitable for pool decks in detail in this article.