Seamless concrete floors: why choosing them?
Seamless floors are floors without joints, unlike traditional tiles floors, and are getting more and more popular because they visually enlarge the spaces and therefore make rooms appear bigger. This decorative coating can be created with different materials:
– Ceramic
– Resin
– Pvc
– Porcelain
– Concrete
Another advantage of this kind of floor is that, thanks to the absence of joints, it is easy and quick to clean.
SEAMLESS CONCRETE FLOORINGS' FEATURES
Amongst modern seamless floorings, Ideal Work's micro-cement floor Microtopping® stands out for its concrete effect and for its typical "tactility" and neutrality. Microtopping® is often chosen to coat the surfaces of museums and showrooms because it highlights the exhibited objects and artwork. In a house, the decorative microcement is able to match to the most varied styles and to give them value: given its minimal look, it perfectly matches an essential style, but it goes also with vintage, ancient or baroque styles. It is greatly customizable in colours and shades, and it's very wear resistant. Moreover, it is perfect for an internal renovation because it allows to create a seamless surface without demolishing the existing floor and therefore reduces both the installation time and the price.
The main features of seamless floors are:
A greater hygiene with no dirt on the joints
When choosing a floor, one often doesn't consider joints: made of a porous material, they start to blacken right after the installation because they absorb liquids, dirt, stains etc. Cleaning the floor's joints is not easy, it takes time and constancy, since the problem keeps coming back. Seamless floors, in particular concrete seamless floors like the microcement Microtopping®, are very easy to clean instead; the absence of joints makes it hard for bacteria and dirt to accumulate and be absorbed. All it takes to clean floors in microcement is a wet cloth and a bit of neutral PH detergent.
A seamless floor without demolition
One of the many advantages of a seamless floor like Microtopping® is the fact that in case of renovation there is no need to demolish the old floor. This means a less invasive intervention, a therefore shorter building site and, consequently, a lower price. It is possible to obtain many different kinds of modern seamless floors in a short time and without shortening the doors, thanks to Ideal Work solutions' low thickness (3-6 mm). It is thus possible to simply cover:
– old ceramic tiles
– wooden floors
– marble floors
– concrete floors
– glass and stoneware surfaces
Spaces look larger with a seamless floor
With concrete seamless floors spaces seem larger: the absence of joints makes the environment appear more fluid, instead of caging it in a grid. They are perfect for big rooms, but able to embellish and give value to small spaces too. A small bathroom, for example, if renovated with a seamless floor will seem larger and more modern.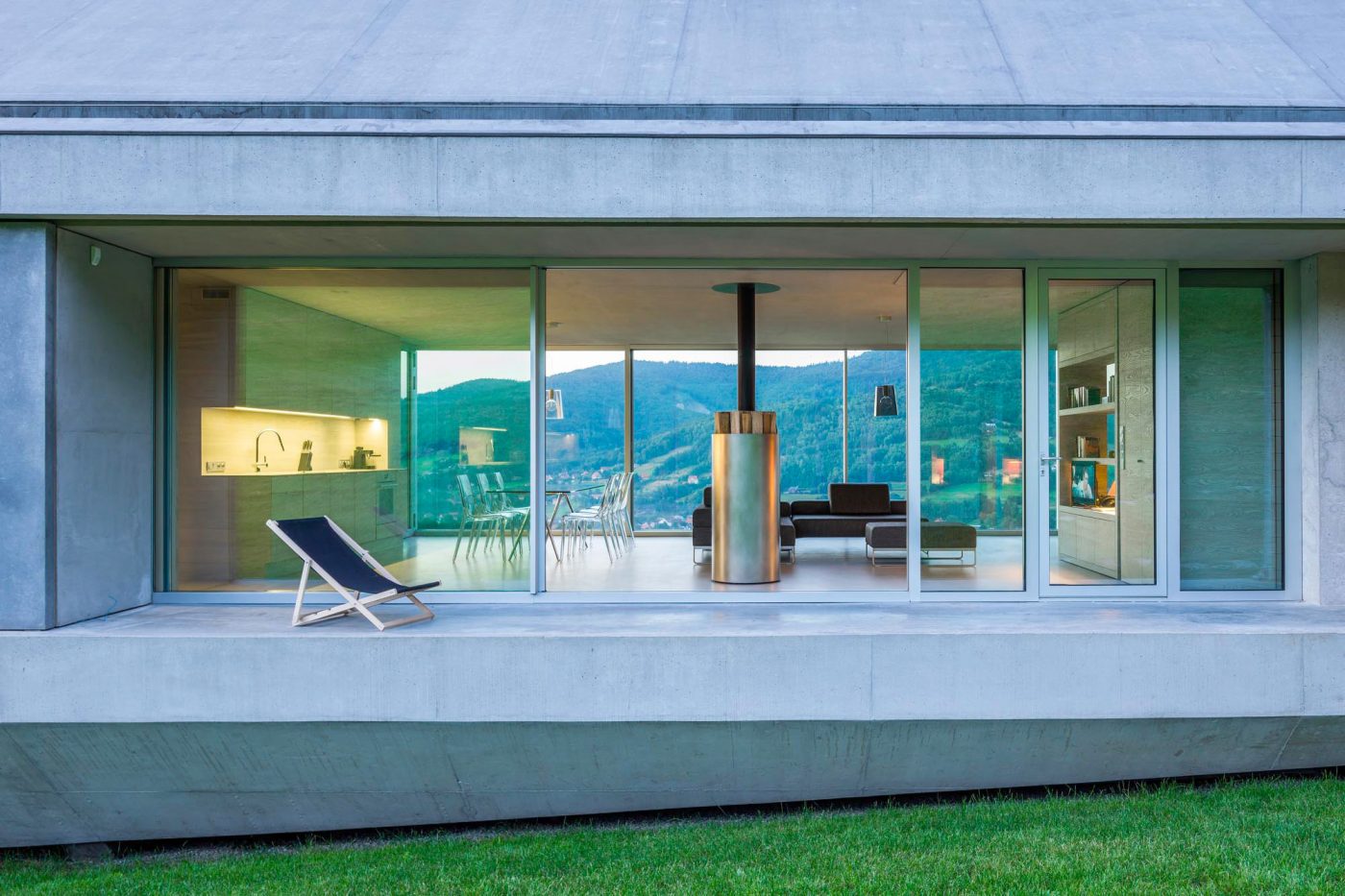 Seamless concrete floors are also perfect to create a sort of continuity between the indoor and outdoor spaces, since they can be applied also outside, with some special treatments that make the surface resistant to:
– wear
– traffic
– chemical agents
– UV rays
– water penetration
– thawing salt
It is therefore possible to choose only one floor to use both indoor and outdoor, creating a modern and unique effect of continuity. This way, the living room will have the same look as the terrace, the porch of elsewhere.
Resistant, long-lasting floors over time
Among the various seamless surfaces, the microcement treated with protective resins is resistant to the quick penetration of many liquids. However, it is better to bear in mind that all the liquids such as:
– wine
– oil
– vinegar
– coffee
must be quickly removed from the surface before they penetrate deeper.
In addition to the esthetic and technical features we've already seen, seamless floors maintain their colour unaltered over time, even when installed outdoor, because the protective treatments protect them from UV rays.
AVAILABLE COLOURS
Ideal Work®'s seamless concrete floors are highly customizable in colours, shades, textures and effects: from the concrete effect to the wood effect, from microcement white to Smoke, through Brick Red and Cappuccino.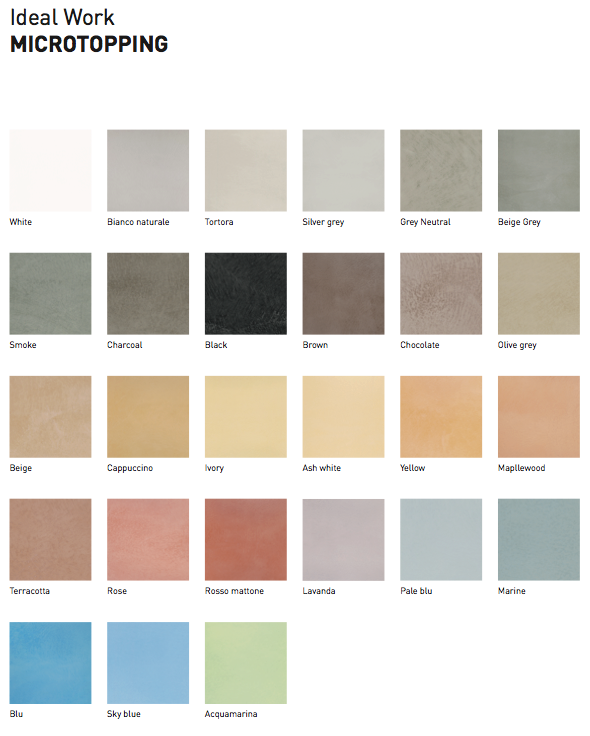 There are lots of available colours and variations. Since seamless floors are an artisanal solution, there is always the possibility to ask Ideal Work's experts for advice; they will create a custom-made solution to satisfy your needs and requires.
Check out Microtopping's colours catalogue to get inspiration for your horizontal and vertical surfaces:
Discover more of Microtopping!
Discover more of Wall Texture Microtopping!
Customizable right up until installation
An additional advantage of decorative concrete surfaces and especially of Microtopping®, is the great customization possibility. It is in fact possible to decide:
– Colours
– Shades
– Grain
– Textures
The handcrafted installation allows to decide the colour and the final effect right up until the very last moment, which would be impossible with other kinds of floors such as slabs and tiles.
SEAMLESS FLOORS INSTALLATION
All Ideal Work concrete floors are handcrafted, and they are installed only by Ideal Work®'s expert authorized applicators. For Microtopping®, the applicators mix all the components by hand, so it's very important to know all the steps of the procedure and the materials in order to obtain a good result. The application of a seamless floor follows several steps:
1 – Polish the existing surface;
2 – Fix possible damaged parts (cracks, holes, indentations…);
3 – Apply Epoxy coat or Barrier-cem in one or more coats, according to the kind of substrate
4 – Clean the surface.
5 – Apply Microtopping
6 – First coat of Microtopping Base Coat
7 – Once dry, sand the surface and remove the dust;
8 – Second coat of Microtopping Base Coat;
9 – Once dry, sand the surface and remove the dust;
10 – Application of Microtopping Finish Coat (1° finish coat);
11 – Once dry, sand the surface and remove the dust;
12 – Possible application of Microtopping Finish Coat (2° finish coat);
13 – Once dry, sand the surface and remove the dust;
14 – After a few days it is very advisable to apply a protective resin. The kind of resin will depend on the traffic and the place of application. Among the various resins, we recommend Ideal Seal, Ideal PU WB, Ideal Pu78.
Concrete applications of seamless floors and coatings
There are multiple solutions for a seamless surface, but Microtopping microcement stands out for its modern and versatile nature; here are some examples of seamless surfaces by Ideal Work:
Seamless floors and coatings in a modern residence
Among Ideal Work®'s seamless coatings Microtopping® stands out for its versatility, which makes it suitable to all surfaces. For a modern house in Piazzola sul Brenta it has therefore been chosen to cover a wellness area from the bathroom, to the walk-in closet, to the front door. It gives the spaces minimalism and linearity.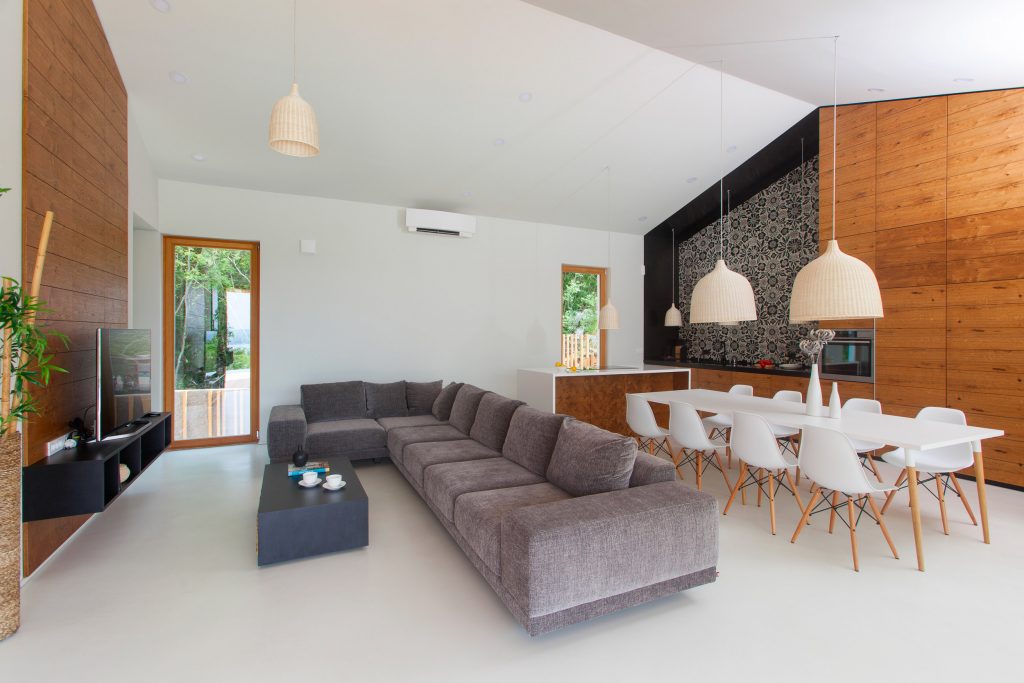 A large seamless floor
With Ideal Work®'s seamless floor Microtopping® it's possible to create large surfaces in a short time, like the Benetton Store in Vienna: a 1200 sq space, totally coated with Ideal Work's microcement flatwork.