How to change and renovate your shower and your bathtub without removing them
A lot of people are worried about renovating their bathroom because of invasive interventions, high costs and long restructuring times. Sometimes, though, changing the bathroom's look gets easy with a few quick tricks: for example, in order to change the shower stall and the bathtub without demolishing part of the room, one can choose a low-thickness solution to cover the pre-existing surface with no need of removing it. In just a few days the bathroom will have a new, great look.
How to renovate the bathtub without removing it
Changing the bathtub without removing it is a great solution to save up time and avoid too invasive construction works. There are many ways to change the bathtub without removing it or removing the tiles:
– Overlapping a new bathtub on the old one
This method allows you to obtain a new bathtub in a very short time: thanks to this technique, the existing tub will be covered by the new one and the new pipes can get connected to the already existing ones. Such a solution guarantees several remarkable advantages in terms of saving, cleanliness and time, since it allows to avoid long and invasive demolishing works.
– Replacing the bathtub with a new one: this is the most traditional solution and it implies the removal of the pre-existing tub in order to replace it with the new one. It also requires a plumber and a tiler intervention.
– Covering the bathtub with microcement: microcement is a seamless low-thickness (3 mm) facing able to cover any vertical or horizontal surface without demolishing it. It is therefore suitable to cover the old bathtub to give it a new look in a very short time.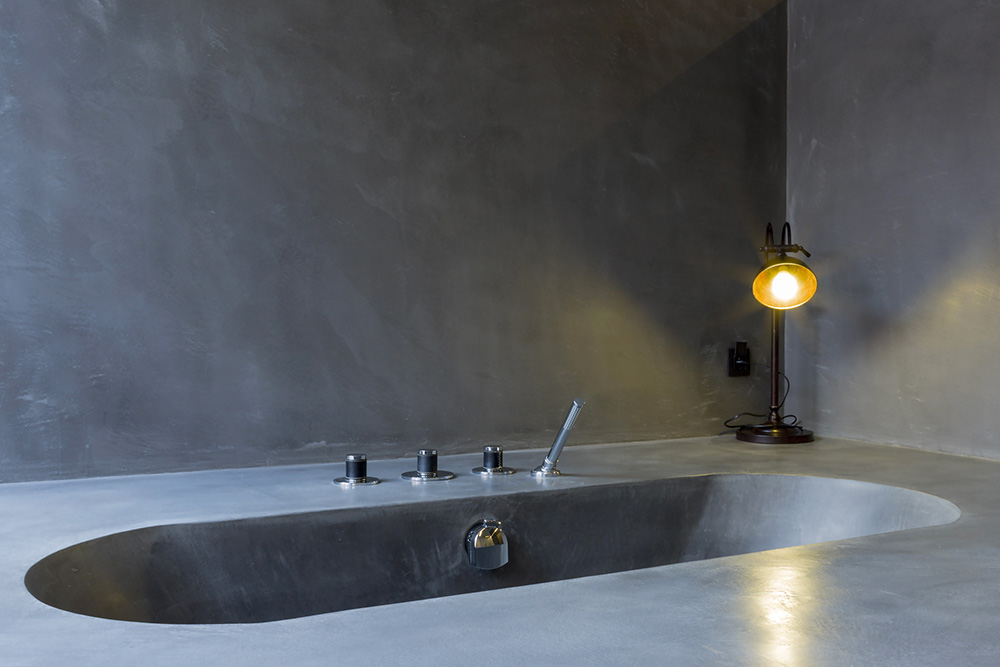 – Painting the bathtub with varnish: this is a valid solution in case of a lack of time, budget or to simply renovate the bathroom's look. For such demands, there are specific kinds of varnish and enamel. This solution, however, doesn't guarantee the same durability of the previous options.
Why covering the bathtub with microcement
Ideal Work®'s Microtopping® microcement is a decorative facing that allows to create a seamless 3mm-thick surface perfect for restructuring, because it is designed to renovate the spaces without demolitions.
Microcement also allows to renovate the old bathtub without replacing it, which involves several advantages in terms of costs and time, and allows to avoid invasive demolition works. In just a short time it is possible to change the bathtub: one can choose to cover just the inside of the tub, or also the adjoining walls, changing the whole room's look. The available endless customization options allow to choose the tub's color according to that of the bathroom; it is also possible to cover the sink, the walls and much more.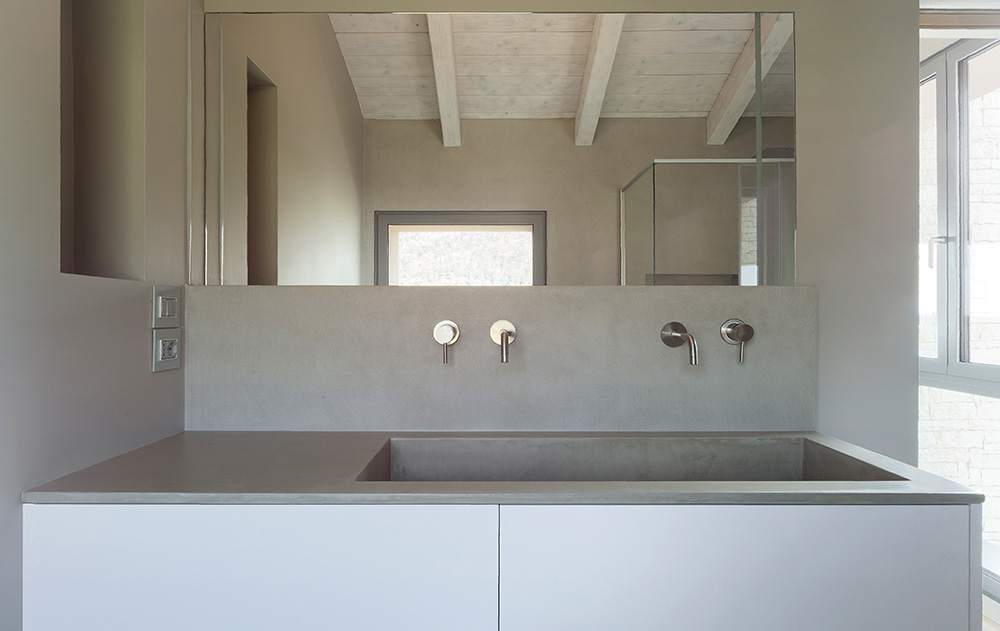 Covering the old shower to modernize it
Giving the old shower a new look is now possible and within a short time, avoiding annoying and expensive demolition works. Ideal Work®'s surfaces are perfect to cover the shower stall because they allow you to change the shower's look without removing the old tiles; Ideal Work®'s Microtopping® is a concrete-effect covering perfect for your shower, whilst Stamped Concrete gives the surfaces a stone-effect for an alluring rustic style. Ideal Work®'s solutions can be applied indoor but also outdoor, thanks to some specific treatments that make the surfaces waterproof and resistant to weather conditions, chemical agents and water penetration.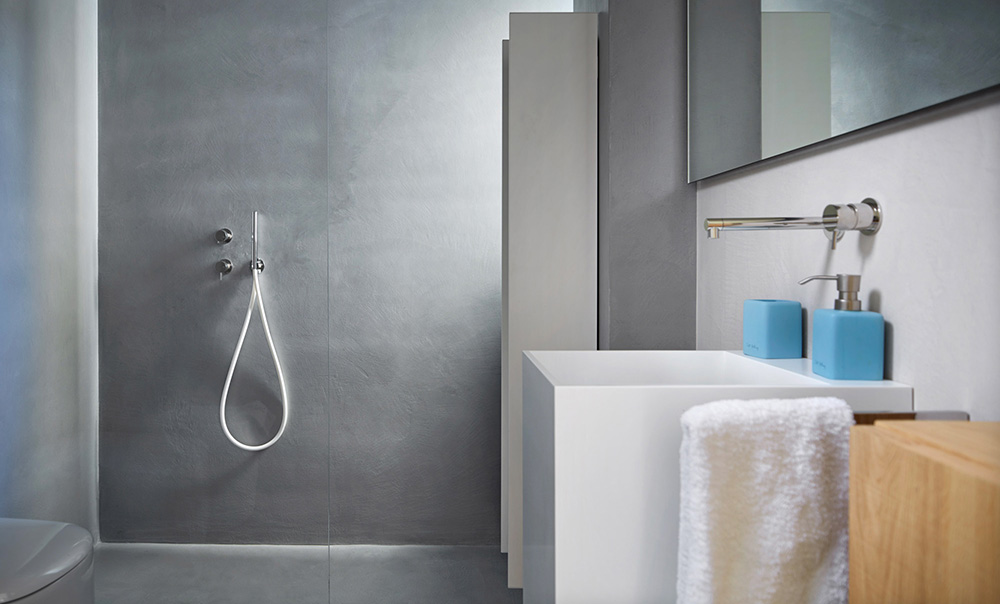 New, modern shower bases
In addition to the tub and the shower walls, the shower base is also subjected to deterioration. In case of cracked shower base or in order to modernize the shower's look, Ideal Work®'s surfaces are perfect to create a modern, floor level shower base. In fact, some special treatments make the surface resistant to chemical agents and water penetration. For a modern, long-lasting look.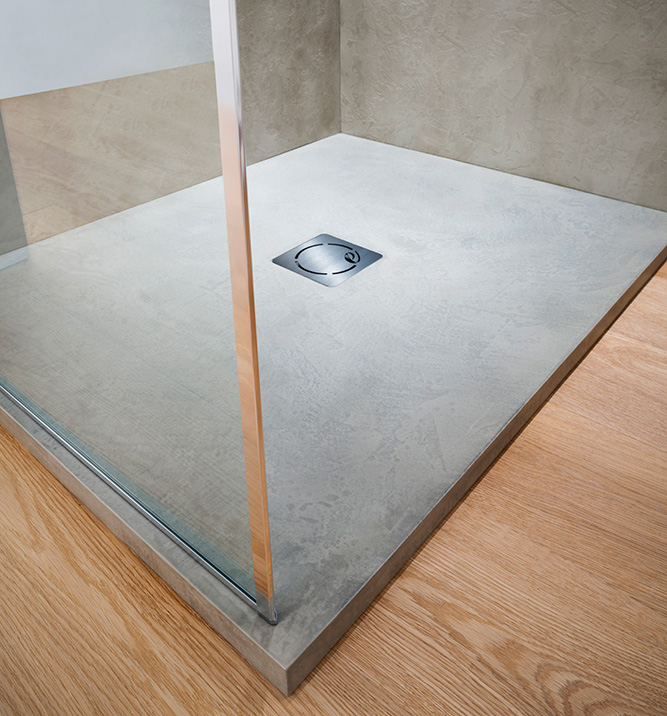 Microcement's textures and effects
Ideal Work®'s Microtopping® is a seamless bathroom covering, perfect to renovate the bathtub and the shower stall and to give the bathroom a new look in a short time. It is in fact a modern shower facing, fully customizable in the colour and in the texture: from black to white, from terracotta to aquamarine, from rough concrete effect to the finest textures of Microtopping® Wall Textures, able to recreate the effect of several textiles such as jute and hemp or other materials such as web and fossil effects.
Renovating the whole bathroom with microcement
A fluid, seamless space: with Ideal Work®'s Microtopping® your bathroom turns into a modern, design space. Only 3 mm thick, Microtopping® can cover any horizontal or vertical surface, allowing to coat the bathtub and even the whole bathroom without demolishing the existing surfaces. It offers a wide range of customization options: its endless available colour shades and textures allow to create uncountable combinations, according to one's own taste. Microtopping® Characoal matches natural wood and bronze details for an industrial bathroom; Microtopping® White matches a baroque decor for a Belle Époque style, whilst Microtopping® Black matches some white polish bathroom fixtures and accessories for an optical style bathroom. The combinations are endless!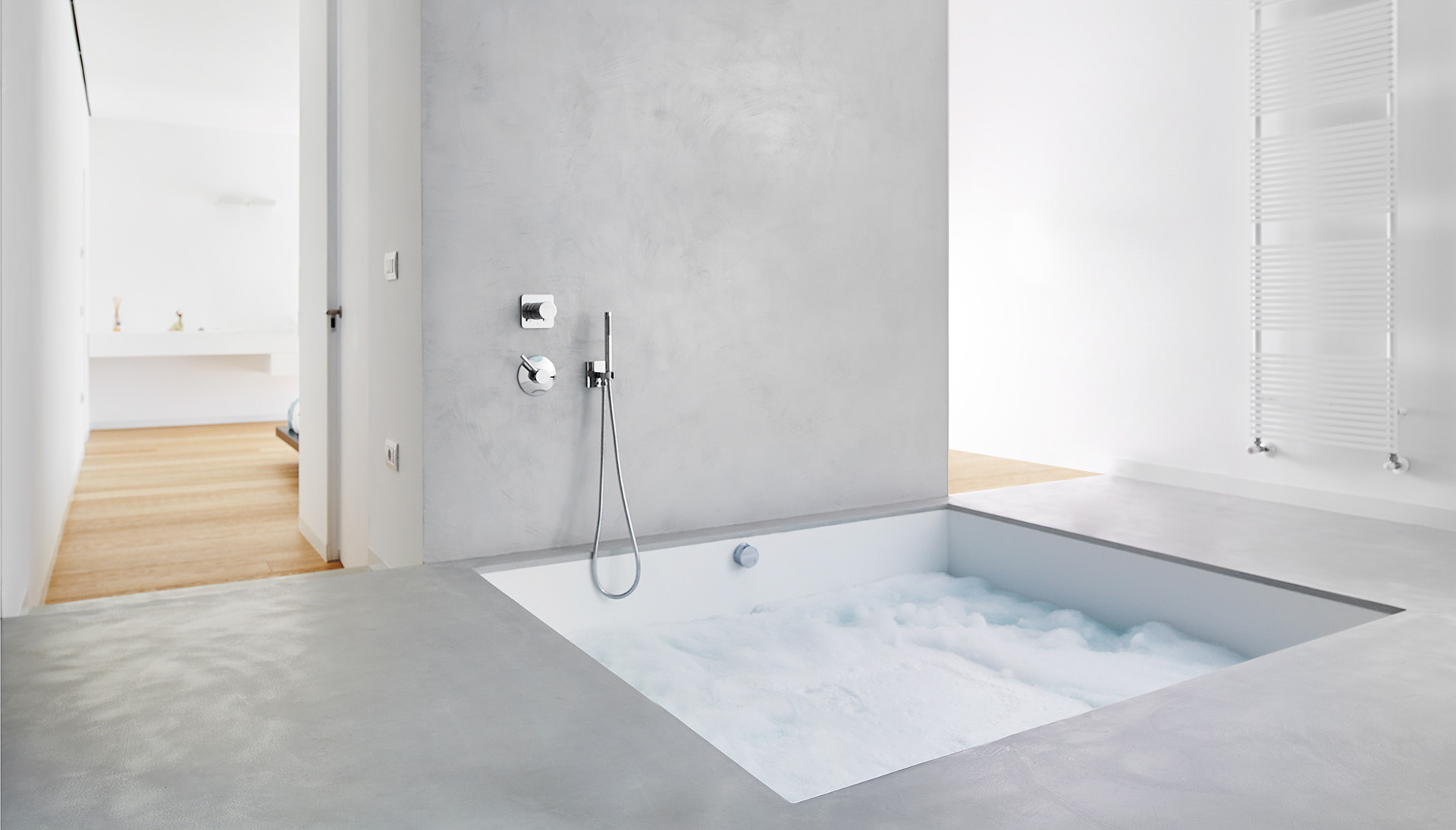 Discover the project: microcement coatings for interiors