How to give colour to an old floor with Stenciltop
If front of an old floor there's a choice to make: painting the surface or choosing an innovative way to renovate it without removing it. Let's check out Stenciltop's features and why it is a better, innovative surface compared to the simple painting to renovate the old floor.
What is Stenciltop?
Ideal Work's Stenciltop is a special treatment designed to embellish the pre-existing floors with just a few millimeters thickness. The Stenciltop method consists in a decorative concrete coating applied through a spraying process that allows to revolutionize the surfaces in a quick way with impressive designs and textures. The final result is a long-lasting decorative floor.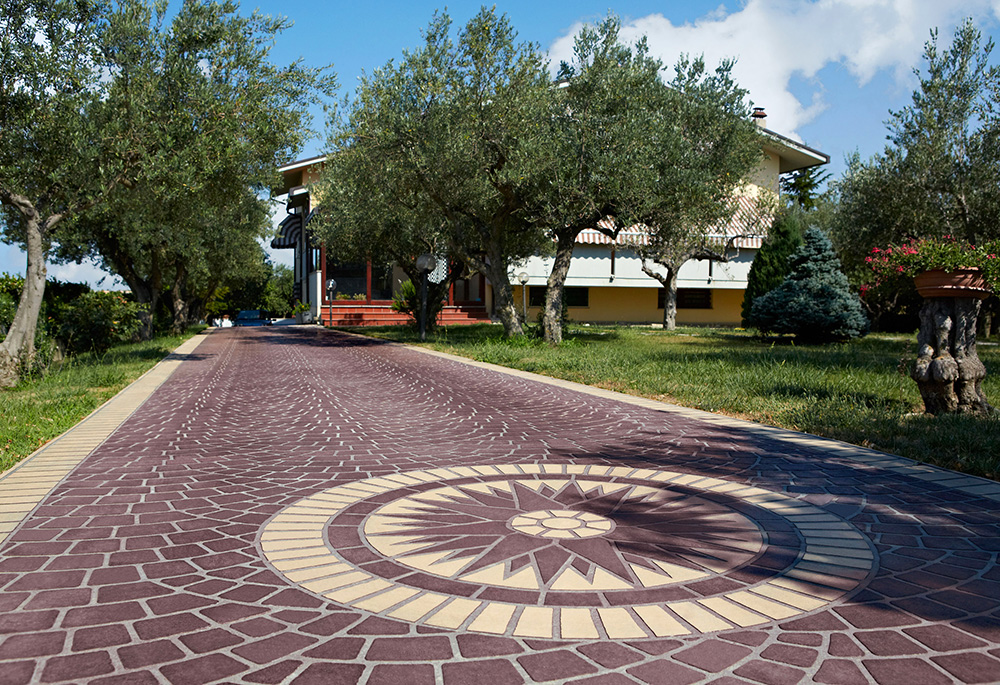 The coating process follows a few steps:
1 – Preparation of the substrate
2 – Trowel application of the mix: Colour hardener + Ideal Binder + water 1:1
3 – Placement of the paper stencil
4 – Application through a spraying process of the mix: Colour hardener + Ideal Binder + water 1:2
5 – Paper stencil removal
6 – Cleaning
7 – Resin application
On what kind of floor can it be applied?
This treatment is ideal for several surfaces such as:
1 – Sidewalks
2 – Crosswalks
3 – Pooldecks
4 – Walkways
5 – Access ramps
Thanks to its versatility, stenciltop can be applied to surfaces of all sizes. It is also equipped with a protective yellowing-resistant resin that protects the surface from water, oil, abrasions, weather conditions, UV rays and makes it ideal for outdoor installations.
Stenciltop can be applied also on tiled and interlocking floors.
Better to coat a floor with concrete or to colour it?
This doubt has a simple solution, when considering durability. Stenciltop line, in fact, allows to obtain a long-lasting outcome thanks to its extreme abrasion-resistance. Furthermore, with a few simple maintenance precautions, it is possible to maintain the floor intact over time. Here are some examples:
1 – Clean the floor by sweeping or mopping its surface with a regular pressure washer or other similar systems;
2 – Wash it with water and a regular neutral (non acidic) detergent;
3 – According to the traffic density, apply a new coat or protective resin;
4 – Every 5-8 years is it advised to do an extraordinary maintenance.
Colouring a concrete floor, instead, doesn't guarantee the same result and implies multiple interventions over time. As a result, the final outcome will be compromised.
By considering the implementation times of both the solutions, stenciltop is, again, the best option. An Ideal Work installers team is able to accomplish the floor installation on 200 m2 in about 2-3 days and the surfaces will be walkable just a few hours after the end of the process. Choosing the concrete varnish, makes the whole process longer; in fact, at least 1 or 2 days must pass between the first and the second coat of varnish in order to complete the drying process and therefore the floor will be walkable after a number of days.
Not to consider weather conditions. This is another weak spot for floor varnish. In this case, the surface is not protected by a protective resin, unlike stenciltop, which becomes resistant to abrasion and to cycles of freezing and thawing.
Renovating an old floor sometimes means changing the initial project in order to give free rein to creativity. Stenciltop offers a wide range of decorations and textures recreating stones, bricks, cobblestones and tiles in a realistic way.
Slip-resistant and fall-arrester surfaces with stenciltop.
In addition to the impressive designs it offers, this innovative treatment allows to obtain also some particular finishes such as the following:
1 – Slip-resistant
2 – Fall-arrester
3 – Smooth
Coloured concrete floors don't allow to obtain these results and are more bound by the initial project. In addition to the creative aspect, the most influent element for floor varnish is the impossibility to create a slip-resistant floor, a key feature for the stenciltop line. Thanks to a wide selection of 29 standard colours everyone is free to create their own customized slip-resistant floor for many different surfaces such as ramps, walkways, patios or big squares.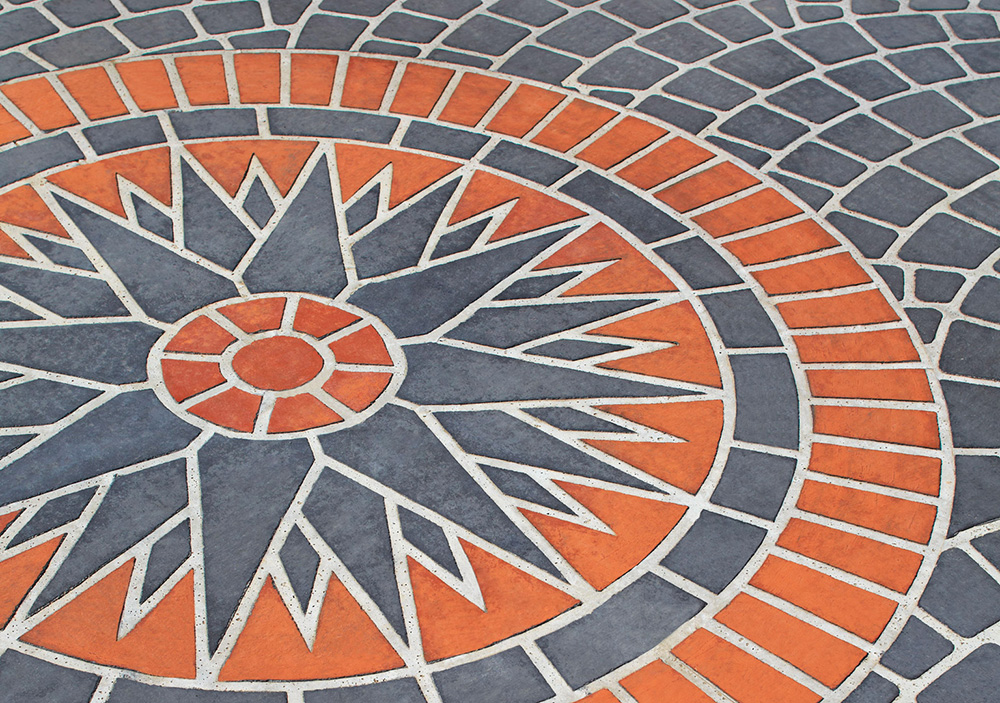 What are the available colours and effects?
For those who have always dreamt a decorated floor, the stenciltop line is perfect. It offers 900 combinations of finishes and base colours! Let us remind you, though, that it is always recommended to consult your own trusted Ideal Work installer to obtain a good advice on your project, according to his experience. If you want to recreate a stone effect outdoor floor, stenciltop is a guarantee!
Designs and decorations on the floor
Decorations, decorations, decorations! It has never been as easy as with stenciltop. Ideal Work's catalogue offers various types of rosette structures and greek decorations for floors and it also allows to create one's own customized designs, such as:
1 – Corporate logos
2 – Stylised images
3 – Art decorations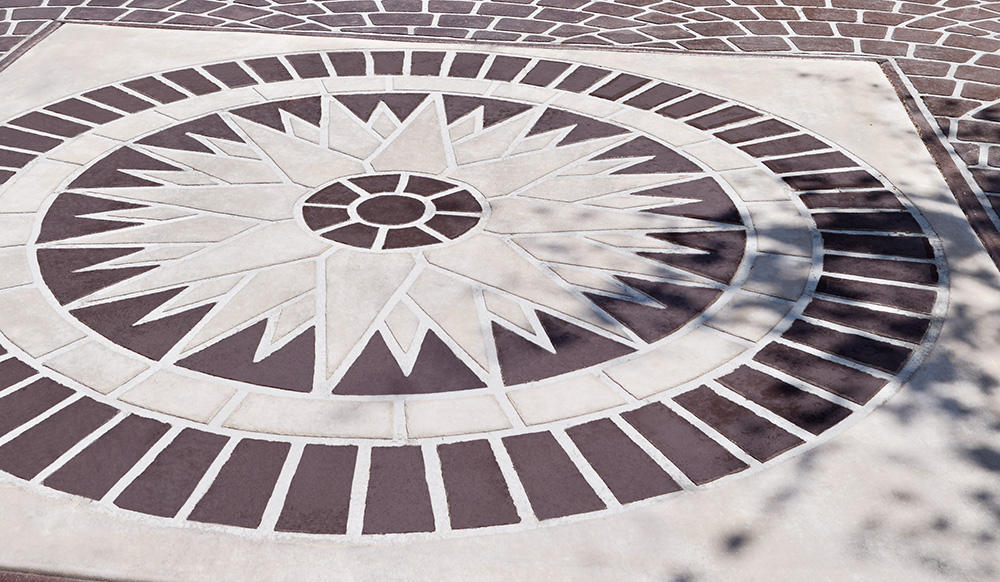 Outdoor decorated floors is not something that can be achieved with floor varnish. It's hard and complicated to guarantee an adequate final outcome. We recommend an easier and more beautiful solution from a stylistic point of view.
An example of a floor that has been renovated with stenciltop
The external floor of a private villa in Forlì. In this case, Ideal Work installers expertly coated the floor with stenciltop, using ash grey with white to create dynamism with a circular shape.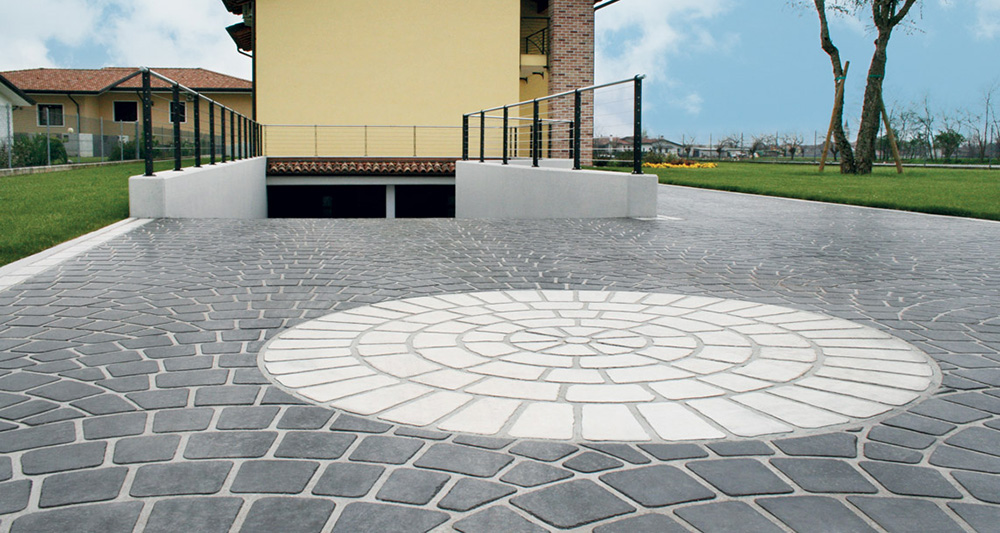 Check out the renovation project of this private villa in Forlì