Tailor-made architecture: a customised project. Interview with Federico Delrosso.
1. What reasons led you to create your own firm?
I was born in a family that worked in the construction industry and it felt natural for me to undertake a career as a surveyor first and then as an architect. My education was composed of two stages: a first training phase in an office when, not yet 18, I had my first experiences on a number of construction sites where my dad was working. I wanted to earn some money to keep up my passion for motoring. This first phase lasted about 12 years until I graduated in Architecture at the University of Milan, where I also moved my firm in 2008.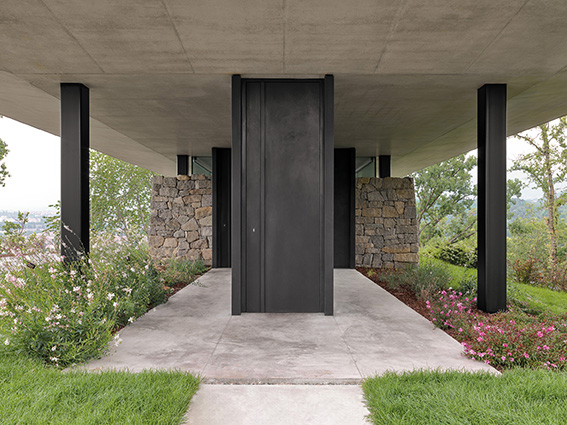 2. What are your areas of expertise and which is your distinctive feature?
I follow any kind of project. I consider myself a self-taught person and I don't look back to the great masters of the past. I rather draw inspiration from the exponents of Modernism and from more recent projects. My work ranges from interior and product design to architecture in commercial, residential and hospitality fields but I always adopt a tailor-made approach built on the client's demands and on the project's main goal.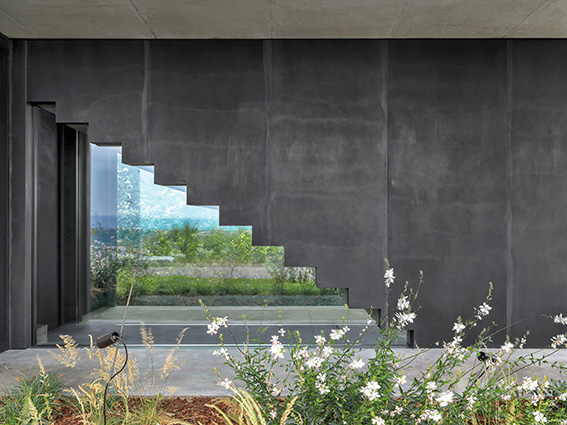 3. What does the word "beauty" mean to you, according to your profession?
I believe in a universal beauty that mainly depends on lightness and on the homogeneity of shapes, which is not related to a specific time or function. It has its own identity that survives the passage of time.
Subjective beauty, instead, lies in shades.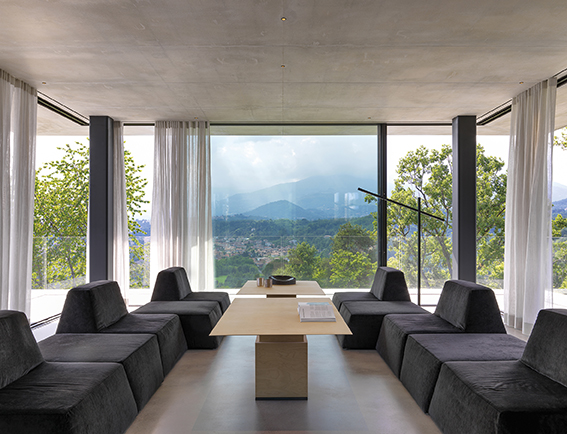 4. What vision and what purpose guide you?
My work is based on the creation of human-sized volumes and spaces able to give a strong sense of lightness and belonging and yet to gradually unveil what's inside, more complex and more structural. My firm's hallmark is the ability to make architecture's complexity invisible and imperceptible, in an effort to harmonise every project with the surrounding environment.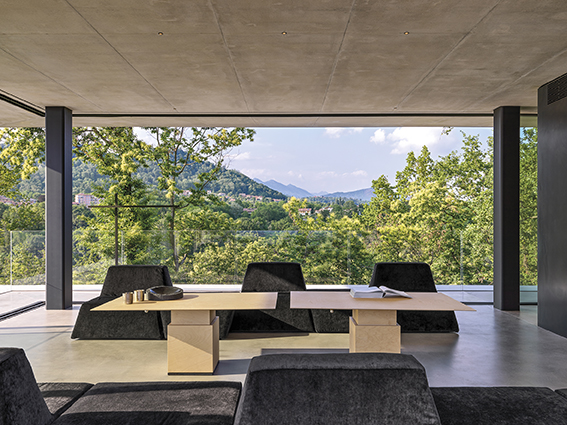 5. What are the evolutionary perspectives of your professional field?
In the architecture field, one is constantly growing and maturing. I hope one can always aim at enlarging their own perceptions and put people's real needs at the centre, instead of responding to marketing needs.
It's also important to adopt a naturality that can be perceived through the senses, avoiding the excessive use of plastic materials and yet maintaining a deep connection with the natural context, a truly important element that is often forgotten or overlooked when creating massive built-up areas that don't suit the environment.
Another big problem is represented by the territory's and the cities' planning time, which can no longer reflect the community's real needs because they are always changing, as the Covid taught us.
6. In some of your projects you decided to use Ideal Work's products. For which aesthetic/technical reasons?
I discovered Ideal Work some years ago thanks to some of the technicians I work with. What I appreciate the most is the possibility to create uniform concrete surfaces, very similar to cement but only a few millimeters thick. Ideal Work's products can be used to create both floors and vertical coatings and a big advantage is that they can be applied at the end of the construction works. This makes them ideal also to restructure any pre-existing surface by imperceptibly altering its thickness.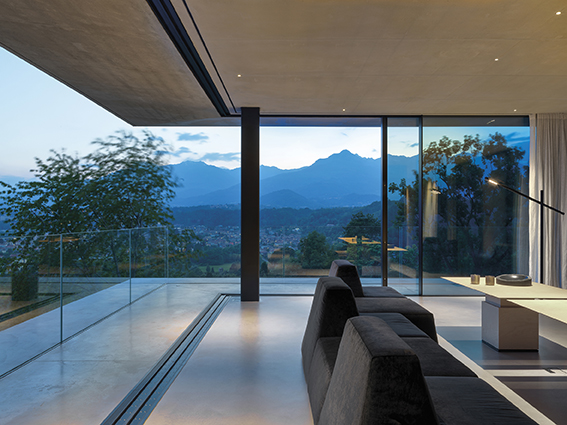 7. What are the main differences between the past operating modes and those you think will come in the future?
If you're referring to the design practice, I think not much will change. We architects always work according to our profession's core values: to create spaces at the service of man.
What will certainly change, especially after the particularly difficult time we're going through, will be the perception of the value of architecture. More specifically, residential architecture will be given more importance, with greater attention to quality, flexibility and the presence of external spaces to allow people to live comfortably even in limiting conditions. Another change will interest large working and co-working spaces, which now offer a high availability but that I hope will soon be converted into "home-offices".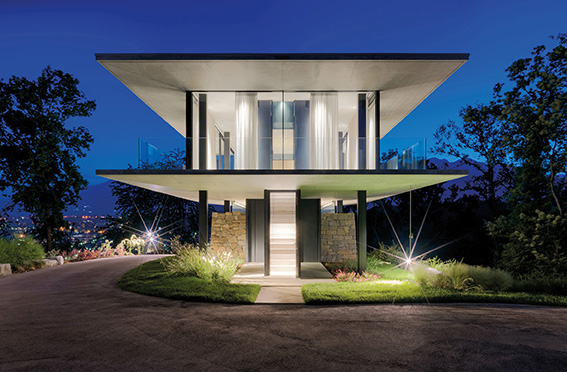 8. What advice would you like to give to those who work in the architecture and design fields?
We Italians are hard workers and we are also particularly good at what we do, but often companies and suppliers tend not to focus much on their own identity and on their products' distinctive features, instead trying to cover as many market areas as possible. This way, they fragment and deplete the offer.
I think it's important to invest in targeted communication able to highlight the distinctive features and the peculiarity of each company's own products in order to open the way to new opportunities.
Federico Delrosso, architect and designer born in Biella, has worked at international level since 2001 in his architectural firm based in Milan, Federico Delrosso Achitects. He deals with architecture, interior and product design.
Respectful of natural and urban contexts and of each place's spirit, intended as an energy and a consciousness engraved in the memory of any space, Federico Delrosso conceives refined projects characterised by lightness and a minimal-naturalist approach.
The uniformity of materials, often kept at a rough state for a more natural look, along with the study of light, perceived as an emotional component, tangible in every project, represent the essential elements of his stylistic research and of his own idea of architecture.
Architecture is, in fact, conceived as the bringer of a "soul that has to be researched in every detail between light and shadow, in order to achieve a delicate balance to harmonise the space".
In the design field, Federico signs a number of important furniture and lighting collections for brands such as Davide Groppi and Henry Timi.
The wall lamp Mima (2007, for Davide Groppi) qualified for the XXI Golden Compass 2008 and became part of the permanent collection of the ADI (Industrial Design Association). The floor lamp Hashi, designed by Davide Groppi, was selected for the ADI INDEX 2019 and will compete for the Golden Compass 2020. Hashi also won the Excellence prize 2019 in Lombardy.
In 2012 he qualified as a finalist for the prestigious Best of Year Award, organised by the magazine Interior Design (USA) thanks to his design of the Notime Restaurant in Montecarlo. A similar award had already been won in 2016 in the kitchen category by the project Cucina Trapezio, along with other mentions concerning the product field.
He gave several lectures in Russia, Mexico, Dubai, Ecuador, China, Turkey and in 2014 was invited to Moscow's Architecture Bienniale where he gave a lecture entitled "Light and Architecture". He was then appointed a member of the Presidential Council of Chicago's IIDA (International Interior Design Association).
Federico Delrosso has been mentioned in national and international magazines such as Elle Décor, Interni, Interior Design, Wallpaper and in 2013 his monograph "Pushing the Boundaries (Skira)" was published, where he presented a series of projects carried out in over 20 years of activity.
His passion for construction and his constant striving to overcome theoretical and practical limits led him to conceive the new material Slim25mm for Tabu and Marmocode, an innovative assembling of marble scraps with which he designed a collection of accessories for Henry Timi's fd802 table.
Eclectic architect with a multidisciplinary approach, he took part in the Dining by Design event in New York with his Dining Tank installation. He created the Porifying walk installation for DepurArt Gallery which then became part of the permanent collection of Milan's Museo Acqua Franca. In 2016, on the occasion of the XXI International Exhibition of Milan Triennale Design after Design, he opened a personal exhibition named 'Residual Spaces'.
In the context of the Architecture Biennale of 2018, he presented his architectural installation 'Work in Progress', part of the Time Space Existence exhibition organized by the GAA Foundation and displayed in the European Cultural Centre.
Officially selected by the Milan Design Film Festival 2018, 'Dreaming the Real' is a film directed by Luca De Santis and curated by Davide Giannella. It follows Federico Delrosso's one and a half-year-long trip through his own visions and imagination drawn from more than 20 years of his career, thanks to the images of the Teca House construction site.