Renovating the kitchen's countertop with microcement
Usually people think that in order to give the kitchen a new look it's necessary to change every element of it. Changing the right detail is actually enough to renovate and modernise the whole room, though. For example: renovating the countertop could completely change the kitchen's look by making it more modern in an easy and non-invasive way. The countertop represents a central element in the kitchen and some innovative solutions allow to renovate it even without replacing it.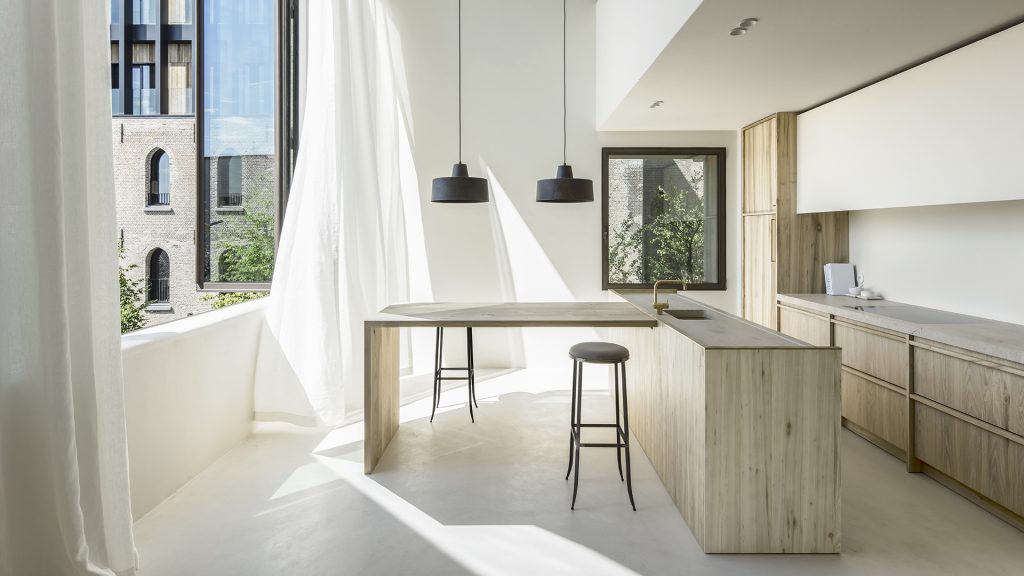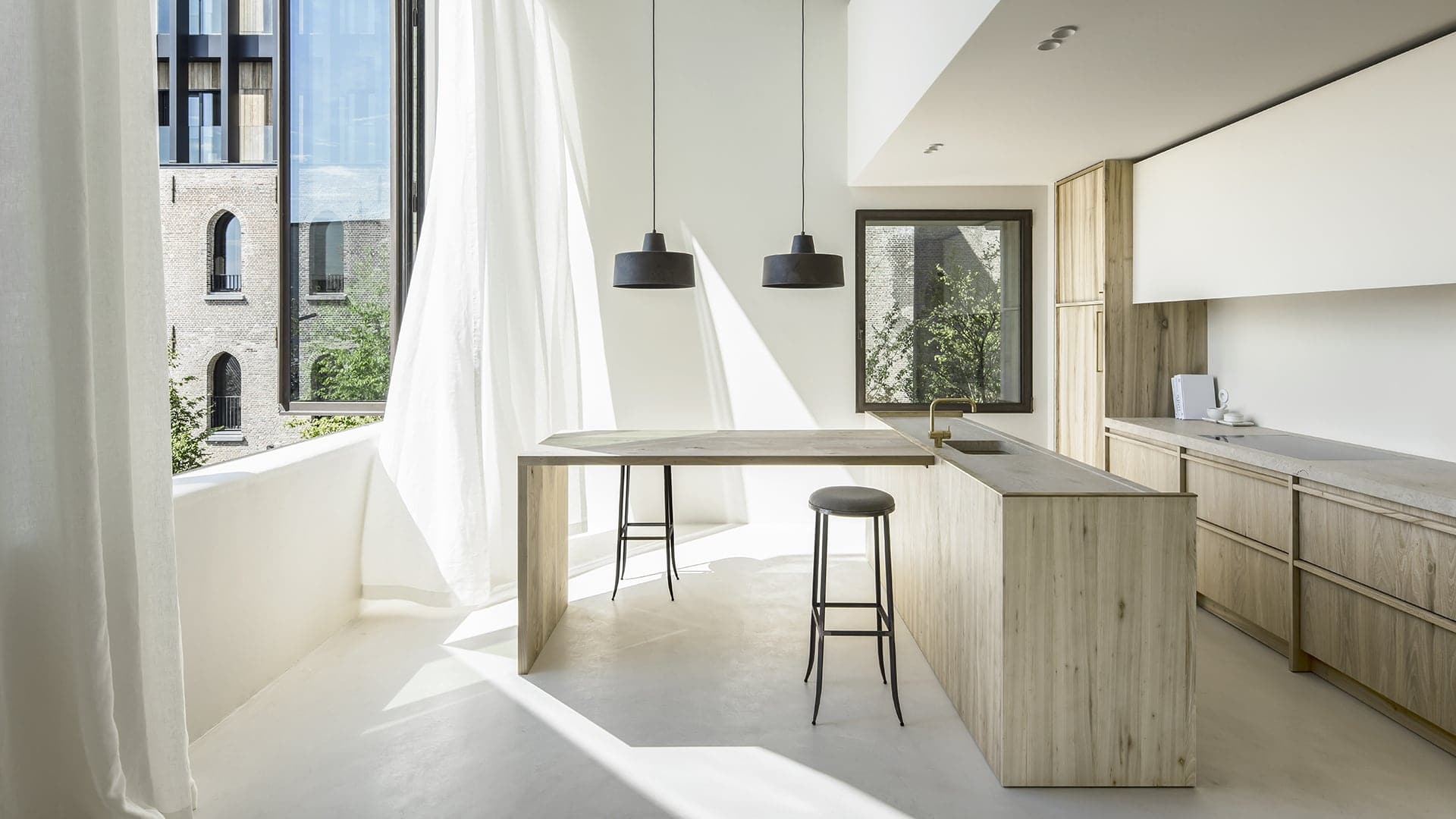 Different solutions for a countertop
To renovate the kitchen's countertop, the marketplace offers several materials with different features:
– Granite: a granite countertop has a "natural" look, less fine than marble, suitable for rustic locations. It's harder than marble, heat-resistant and it's very practical. However, it can gets damaged by coloured or acid liquids.
– Resin: a resin countertop is resistant and durable; it guarantees a modern continuous aesthetic effect but it's very sensitive to scratches and scraping, which, on such a smooth and shiny surfaces, are more likely to be noticed.
– Marble: a marble countertop, the noblest material, has an impact of great value and elegance. It's long-lasting but sensitive to coloured and acid liquids that may alter its shininess and colour. Its natural porosity makes it hard to clean.
– Laminated: a cheap and long-lasting solution that hardly withstands high temperatures. In case of water infiltration in the joints, the countertop may present unaesthetic swellings.
– Steel: a steel countertop, a very ductile material, matches the sink and the stove and it's perfect for modern and minimal spaces. Hygienic and impact-resistant, it's however less resistant to scratches. It requires a constant cleanliness to avoid annoying fingerprints and stains.
– Ceramic: a ceramic countertop is an elegant and fine solution; its performance is that of a heat- and wear-resistant material, very resistant to scratches, too. In case of impacts, though, it could chip.
– Tiles: a tiling countertop is suitable for country and classic spaces; it offers great performances in terms of durability and impact-resistance. It's not seamless but interrupted by joints; for this reason, it's not practical to clean.
– Cement (microcement): a cement countertop or, even better, a microcement countertop is a great contemporary solution. Not only suitable for industrial spaces, it also matches modern minimal environments and a classic or rustic style with extreme versatility. The microcement coating is seamless and highly customizable thanks to a wide range of colours and effects. If specifically treated, a microcement countertop can be very durable and resistant to heat, impacts, stains, water and oil penetration. It doesn't release harmful substances in the air.
Countertop: better to replace or to coat it?
Among the best ideas to renovate the kitchen, changing the countertop is one of the easiest and fastest.
What about coating the countertop instead of of changing it?
The most indicated material in this case is a microcement coating. Covering the old countertop with microcement, instead of replacing it, is convenient for many reasons:
– AESTHETIC VALUE: a microcement countertop immediately modernises the space and gives it a fresher look; it matches several materials and fits in environments of different styles: from minimal to industrial, from classic to rustic, from Scandinavian to vintage etc. There's also a wide range of colours and textures to express one's own taste and to perfectly combine microcement with the decor's shades.
– PRACTICAL ADVANTAGES: choosing to coat the kitchen's countertop instead of replacing it allows to use the old countertop and therefore optimises the renovation time and costs; not to mention le reduction of inconveniences caused by the dismantlement of the old countertop and the assembly of the new one. Microcement adheres to any pre-existing surface and can be applied with only 3 mm thickness.
The advantages of a microcement kitchen's countertop
Microcement is an excellent solution for coating the kitchen's countertop because with just 3 mm thickness it can be applied to any surface, renovating an interior in an easy and quick way. Thanks to specific treatments, a microcement countertop is waterproof and resistant to scratches, impacts and high temperatures, as proved by the severe tests it has undergone to verify its performance. Furthermore, a seamless surface is easy to clean. Microtopping does not release harmful substances in the air and its colour does not change over time.
A microcement countertop allows you to renovate your kitchen without changing it, because it gives the space a touch of beauty and originality while matching any decor style and any material. A wide range of colours and textures is available; after a few years, if you decide to change colour it's possible to polish the surface and apply a new, thin layer of microcement.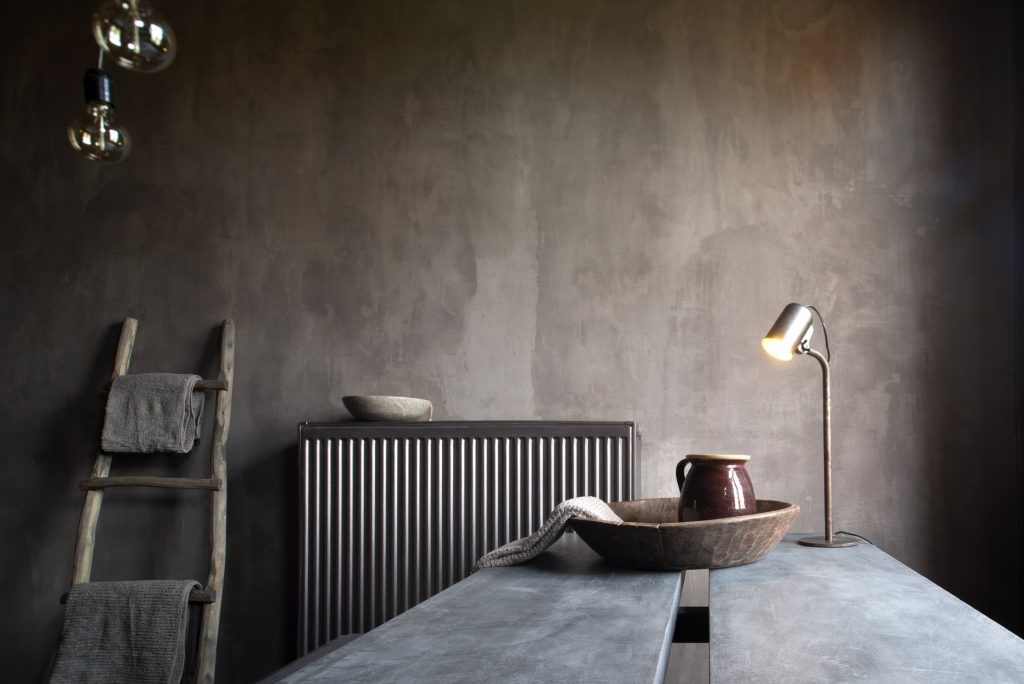 Microcement kitchen's countertop, which one to choose?
With Ideal Work®'s Microtopping® microcement it's possible to obtain endless combinations of colours and effects, all of which are customizable thanks to the manual application. From the most neutral colours to the brightest shades, with many different effect: rough cement, wood, cloud-effect, satin or shiny: the possibilities for coating the kitchen's countertop with Microtopping® are limitless
We recommend, for example, a white microcement coating to give the kitchen a sense of purity, to highlight by contrast a minimal decor.
The grey colour offers the most authentic concrete effect and it's ideal to decorate kitchens with a modern and industrial style.
Lavender microcement perfectly match a white shabby-chic furniture; brown matches metals (for example brass) and sky blue is perfect for a beach house.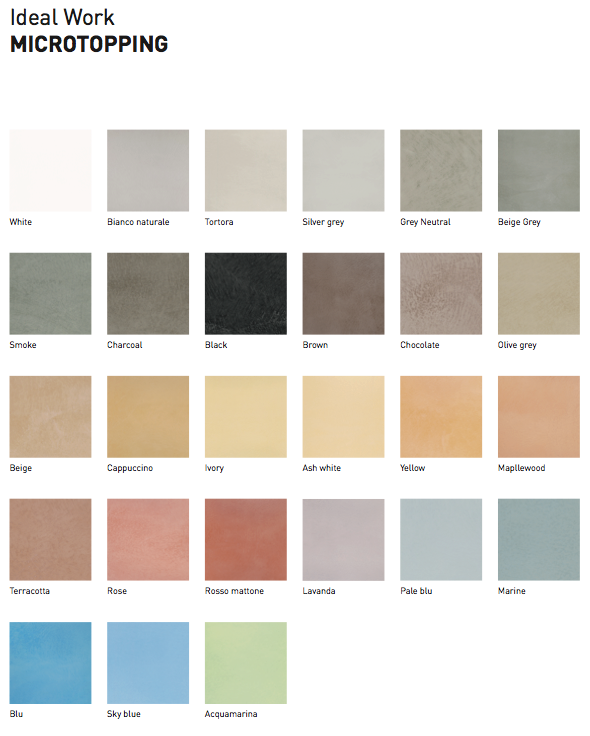 A seamless countertop
Microcement allows to coat the kitchen's countertop to obtain a seamless surface. The absence of joints gives it a modern aesthetic, in addition to a higher hygiene and an easier and quicker cleanliness of the countertop compared to the tiles.
Coating the kitchen's countertop and much more
With microcement it's possible to cover the countertop but also much more. Its great ductility allows it to be applied to several kinds of substrate without removing the old surface. It's therefore possible to apply microcement to other elements of the kitchen in order to create pleasant combinations of colours and effects, all customizable according to the project and one's own personal taste. With microcement you can coat walls, floors and even the whole kitchen. As opposed to other materials (such as marble, granite or glass), microcement is a very versatile material that allows to renovate the kitchen without changing it!
Here are some examples of how to apply microcement to your kitchen
Renovating the kitchen with microcement is easy, quick and it considerably reduced the expenses and the inconveniences of a demolition work. Thanks to its great versatility, microcement can be applied with only 3 mm thickness on any kind of pre-existing support and on any element of the kitchen. Microcement can therefore coat the countertop, the walls, the wall units and the floor. Moreover, it offers to a wide range of colours, effects and textures, all customizable according to the kind of space, your personal taste and any specific need.
Coating the whole kitchen with microcement
How to renovate the kitchen without changing it?
Ideal Work®'s Microtopping® microcement used to coat an entire Ikea kitchen is an example of how to give an original design touch to any space.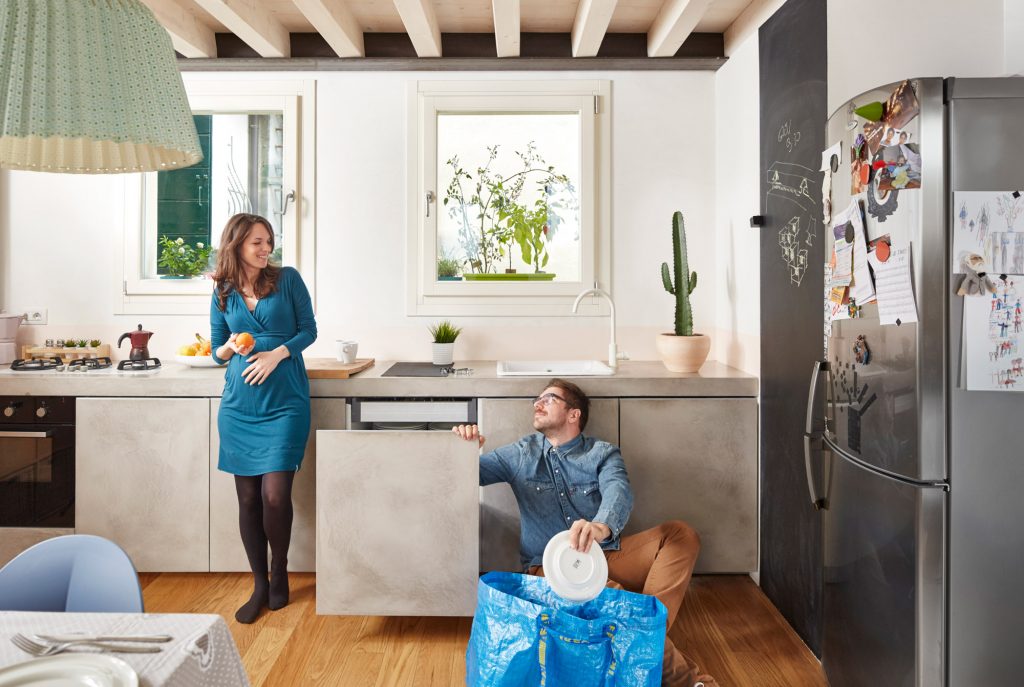 Ideal Work's applicators coated the whole kitchen, creating a concrete effect that perfectly matches the wooden floor.
Microtopping has also been used on the stove. It's waterproof, scratch-resistant and it withstands high temperatures without getting damaged. Microcement is a very practical solution: its seamless surface is easy and quick to clean.