Renovating the interior with low thickness concrete floors
"Low thickness floors" means ultra thin floors with just a few millimeters thickness (3-6 mm). These concrete floors are perfect to renovate the existing surfaces without demolition. They allow to cover:
– old ceramic tiles
– wood
– marble
– concrete
– glass
– stoneware
Without the unease and the costs of annoying dismantle works to remove the old surface and without cutting the doors.
What kind of low thickness floors can be installed indoor?
Ideal Work's indoor low thickness floors are modern floors which differ in effects and thickness. The available effects are:
– Continuous (seamless) effect
– Tactile concrete effect or absolute smooth effect
– Marble effect
– Metallic effect
– Ancient effect
– Velvet effect (cloud-effect)
With Ideal Work® it's possible to obtain various effects for orignal, unique spaces. The solutions for creating a floor are the following:
– Ultra thin (2-3 mm)
– Very thin (3-4 mm)
– Thin (5-6 mm)
Let's see the various types of indoor concrete floors, with different thickness and features:
Microcement floor (ultra thin coating)
Amongst the ultra thin floors, Microtopping® series is the most appreciated since it allows the greatest design freedom. Microtopping is a microcement coating able to renovate with only 2-3 millimeters thickness the old surfaces with a fine, seamless result. Or it can be used to create a new super thin decorative floor.
The chromatic and aesthetic available variations are infinite: it's possible to choose the intensity, the shade, the veins and whether or not to insert some decorative elements. Its neat, pure and essential look makes Microtopping the ideal coating for design, minimalist interiors.
This modern floor has a very innovative and fashionable aesthetic which perfectly matches wood, a warm traditional material, very similar to concrete for maintenance and performance. Used as a background element or as the main protagonist of a space, it's the most versatile coating, able to enlarge and highlight the space and to give it lightness and plasticity.
It's an ideal solution for several spaces such as:
– houses and lofts
– offices
– exhibition premises
– showrooms
– commercial areas
– museums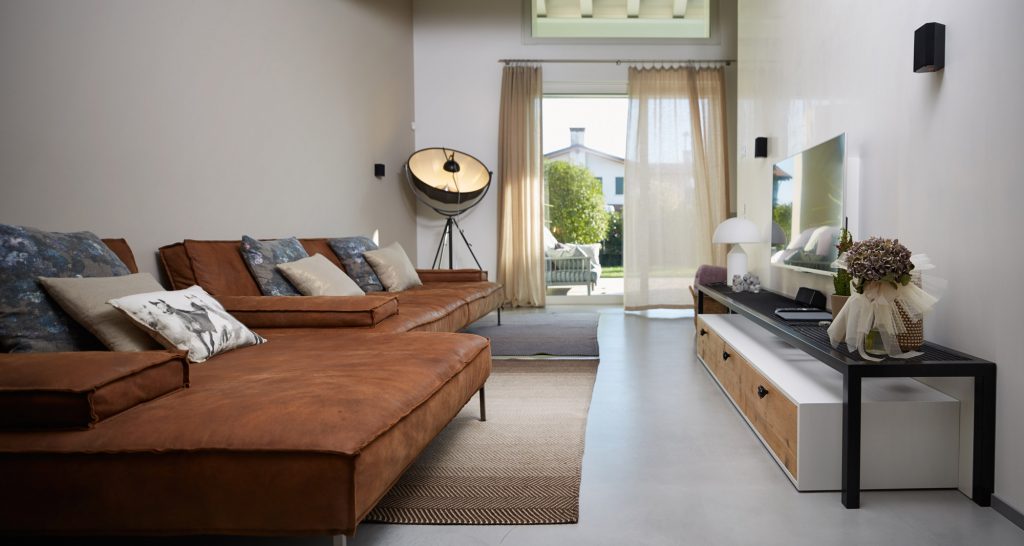 Thin Venetian floor (Lixio) for original interior spaces
Lixio® is a series of absolute trendy floors: "marble effect", pure shininess and preciousness in a thin floor, only 5-6 mm thick. The concrete seamless floor Lixio guarantees a high resistance and a long durability.
Lixio® is composed of a concrete base, mixed with a high-quality Italian marble aggregate which allows endless combinations of colours and decorations. The available shades for this decorative surface are many and all charming: from the virginal Carrara White to the seductive Ebony Black 100, through the romantic Terracotta Red.
It is also possible to choose the finishing:
– Shiny
– Satin
– Slip-resistant
– Bushhammered
The thin Lixio floor makes indoor current or historical spaces finer; it matches both modern and classic furniture.
Ideal to cover and renovate:
– houses and private villas
– hotels
– restaurants
– stores
– commercial areas
– museum and public buildings

Cloud-effect floor to enrich the interior
The Cloud-effect Architop® series celebrates the most authentic and "brutalist" beauty of concrete, which is why it has been chosen for an important project by the great architect Tadao Ando. With a thickness of just 3-4 mm, Cloud-effect Architop is a thin floor suitable for interior spaces: it overtakes the thickness and weight limits of traditional concrete, of which it keeps the solidity and the look, but in a fine context of high aesthetic and chromatic value.
The decorative Architop floor is greatly customizable with several finishes and 29 standard colours, caracterised by the typical cloud-effect (dynamic shades) more or less homogeneous according to the client's taste: from the scratchy Zinc grey to the trendy Redwood and the alluring Sky Blue.
This concrete floor is perfect to characterise the interior space of a modern house or of an industrial style loft, where it perfectly matches a steel decor, some rough wooden elements or on-sight concrete. It's suitable also for:
– public places
– exhibitions
– commercial areas
– all high-traffic area.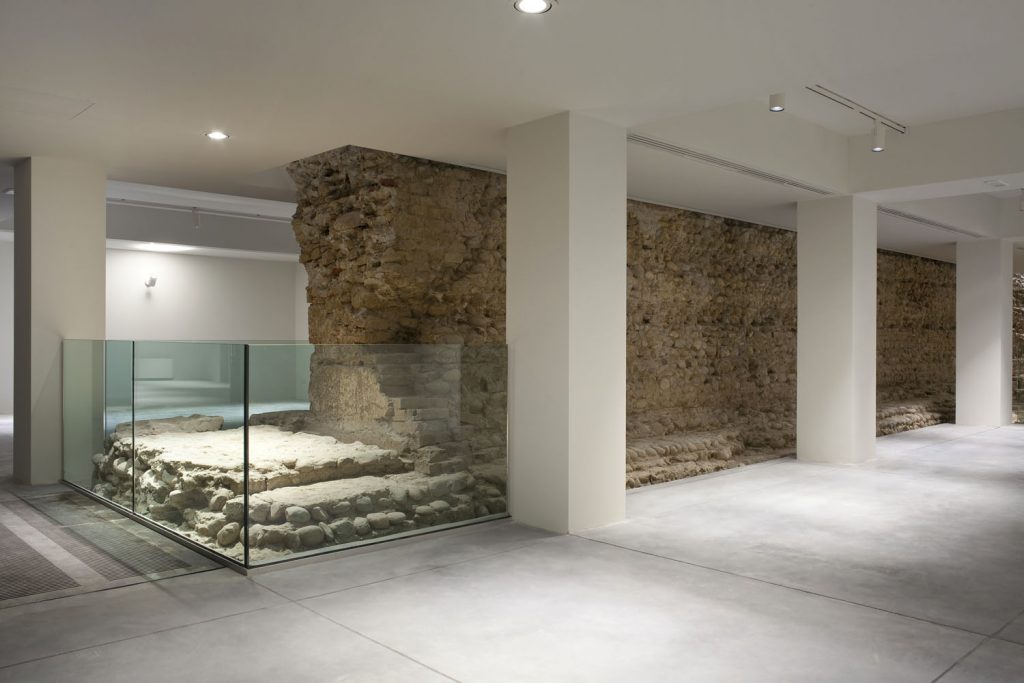 Acid-stained concrete floor for modern unique interiors
The Acid-stained floor series is a synonym of uniqueness, originality and high aesthetic impact. The Acid-stained floor is a unique decorative thin floor thanks to the metallic salts that penetrate in the concrete, become part of it and change its colour forever.
The colour effects resulting from this process are variable, diverse and translucent; for a very natural aspect or, on the contrary, a "lived-in" effect. The obtainable shades are a lot: from the intense Turquoise to the warm brown, to the elegant Ebony.
Scenic and practical: the Acid-stained floor is a very resistant and easy-to-maintain concrete low thickness coating.
It's ideal for several internal spaces:
– houses
– public places
– wine cellars and tasting places
– attorney offices
– stores
– showrooms, hotels and shopping malls
It matches warm materials such as corten, wood, bricks and stone.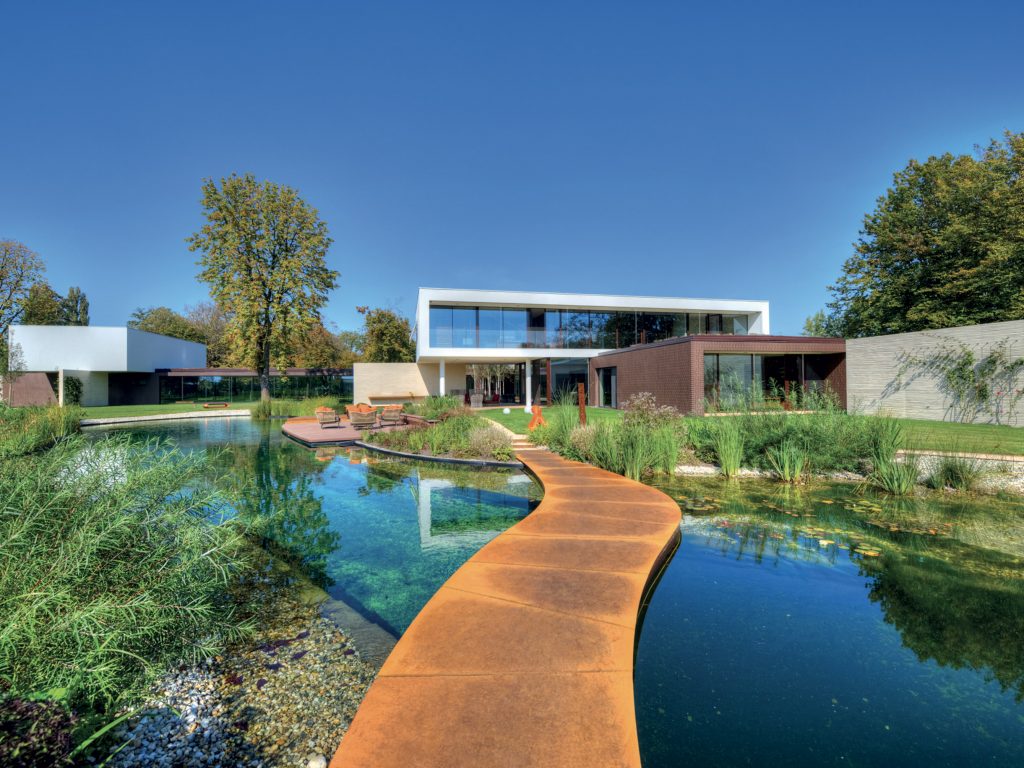 THE ADVANTAGES OF A LOW THICKNESS FLOOR
Choosing a decorative low thickness concrete floor implies a series of important advantages. In case of renovation of an internal damaged or old-fashioned floor, a low thickness guarantees:
– the possibility of working on already existing surfaces
– the reduction of inconveniences
– the reduction of the building site's duration and costs
– a lower environmental impact
– a quicker installation
All of this without having to shorten the doors. In case of creating a new internal floor there's the advantage of making the screed (the floor's concrete base) first thing, to continue with the work and to create the thin floor (2-3 mm) only at the end of the whole installation process.
Coating the old internal floors without demolition
Changing the floor without dismantling the old one is now possible with low-thickness concrete floors. Thin floors are ideal to renovate the interior of a space; they allow to cover ceramic tiles without removing them or to coat other types of floor (made of wood, concrete or marble) without any demolition. They give you the possibility to turn any environment into a modern unique and trendy space, by choosing among endless combinations of colours and effects.
Renovating a heated floor in a simple way
No problem in case of under floor heating. Indoor low-thickness concrete floors can be applied over the heating system without damages nor the risk of breaking the system. Ideal Work's decorative concrete floors also have an excellent thermal conductivity, which means they guarantee a perfect passage of the heat from the floor to the inner space.
A quick installation time
A low-thickness floor has a quick installation time and it's ready right away!
Since it's so thin, it requires a small amount of material, plus it doesn't require the removal of the existing surface and therefore the elimination of debris. With Ideal Work solutions, in particular, it's possible to obtain an indoor new design concrete floor in a quick, clean and quiet way, at a lower price and without the unease of a demolition work.
Almost any surface can be covered
Low thickness concrete floors can be applied to almost any pre-existing material:
– on old ceramic tiles
– on wooden floors
– on stoneware floors
– on marble surfaces
– on glass surfaces
These indoor concrete floors adhere to any kind of surface. The important thing is an attentive evaluation of the substrate and an adequate preparation of the support.
Customizing a concrete floor with colours and effects
Choosing low-thickness concrete floors for an inner space means having the possibility to fully express one's own taste, style and personality. These decorative coatings are available in endless colour variants:
– from the classic and neutral colours such as white, beige and grey
– to more complex and particular colours such as Jada green, Coral rose or Olive grey.
Not to mention the various effects:
– shiny
– matte
– on-sight concrete
– metal
– cloud-effect
– marble
– bushhammered
Renovating and restoring internal spaces is easy with Ideal Work's solutions, because with a thin concrete coating it's possible to revolutionise your internal surfaces quickly and without the unease of a long building site.
Contact Ideal Work's experts; they will recommend you the best solution for your desires and needs!