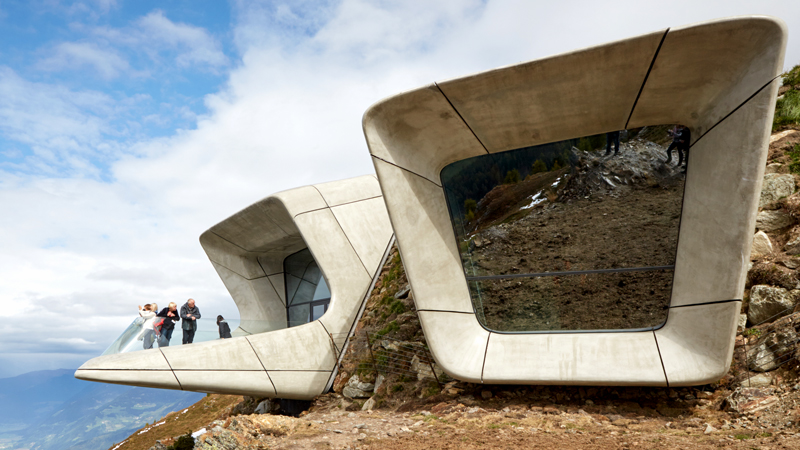 The Messner Mountain Museum Corones was designed by Zaha Hadid, a renowned architect with a great passion for concrete.
The outstanding feature of the Museum, dedicated to mountaineering, is the fact it is embedded in the upper part of Monte Plan de Corones (at 2,275 metres above sea level) with a marvellous, evocative panorama of the Dolomites.
Concrete is the predominant material throughout the imposing construction, which takes its colours from the local geology; the material was used to create three large volumes with sinuous and irregular geometrical shapes, in glass fibre reinforced concrete. With the effect of an original complex of futuristic design, it is perfectly integrated into the surrounding landscape. The whole design was created from the perspective of reducing the visual impact and safeguarding the local biodiversity. Large panoramic windows connect the exterior and interior and make the display spaces extremely bright.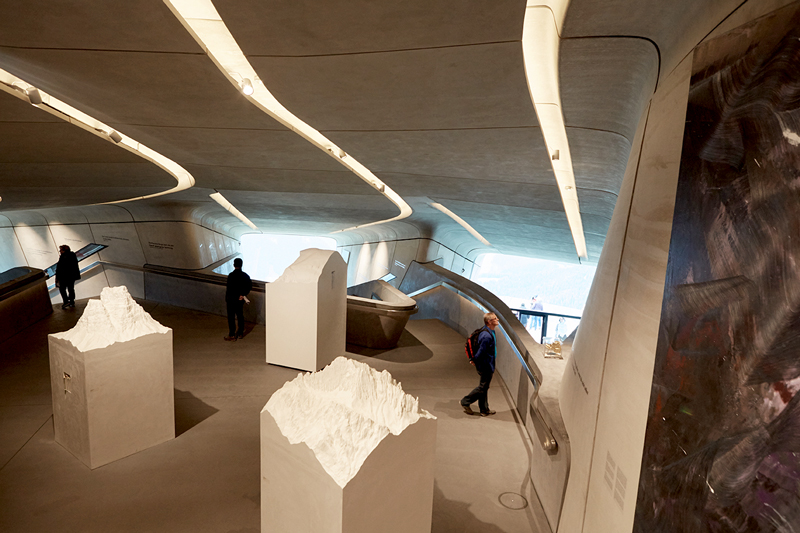 For the interior, exposed concrete was again used, both for the walls and the ceilings; in line with the style of the room, a concrete floor was required with a finish that was not completely smooth in order to better reflect the material effect of the surface. The Ideal Work company was selected for the interior floors because it specialises in the use of decorative concrete and due to significant references in the artistic-architectural sphere. For this project, a traditional Nuvolato Floor was created (8-12 cm thick) for which various shades of grey were sampled.
To obtain a concrete effect, Ideal Work produces several cementitious systems that can be laid at minimal thicknesses, down to 3-4 mm. This is perfect when required in restoration works as this negates the need for existing surface removal.
To make the surface more durable, certain protective treatments were applied. Specifically: Colour Hardener, a solution that doubles the normal resistance to abrasion and wear compared to normal concrete; Ideal Hard is a densifier that increases the surface resistance of concrete flatwork subject to pedestrian and vehicular traffic by up to 127% compared to untreated slabs. Floors treated with Ideal Hard last longer and are guaranteed dustproof for 10 years; as a final coating, the use of Petrotex-s makes concrete surfaces resistant to water and oil.
Date: 2015
Place: Plan de Corones, Italy
Designer: Arch. Zaha Hadid
Ph: Wisthaler Harald
Solutions chosen for Messner Mountain Museum