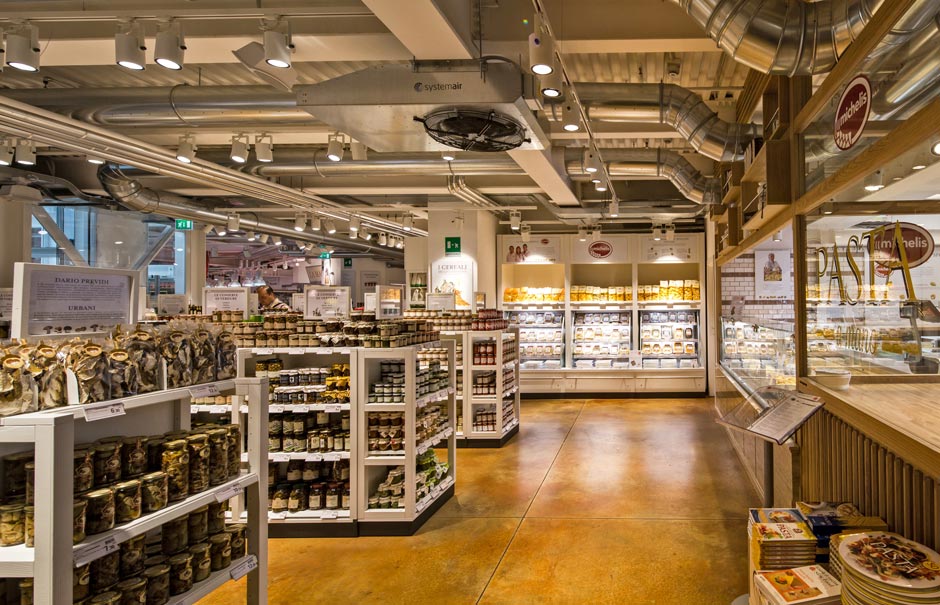 Our Acid-Stain Flooring highlights the Italian excellence on show at Eataly
One of Ideal Work's most original and striking products, our Acid-Stain Flooring, is making an impact in the world of quality Italian food and wine: it will now feature in three Eataly outlets. With its variegated patina of colour effects, Acid-Stain Flooring can make any room unique, accentuating whatever happens to be on display there.
One is in Milan, in Piazza Venticinque Aprile, where Italy's largest food hall restored the former Teatro Smeraldo, creating a priceless new architectural and cultural gem for the city.
Another, in Piacenza, Eataly is housed in the charming old Cavallerizza (riding school) on Stradone Farnese, one of the city's oldest and widest streets.
It was also used in the heart of the historic centre of Forlì where, in Piazza Saffi inside the old Palazzo Talenti Framonti, stands a store that pays tribute to Romagna, its culture and its rich food and wine traditions through a mixture of shops, restaurants and classes.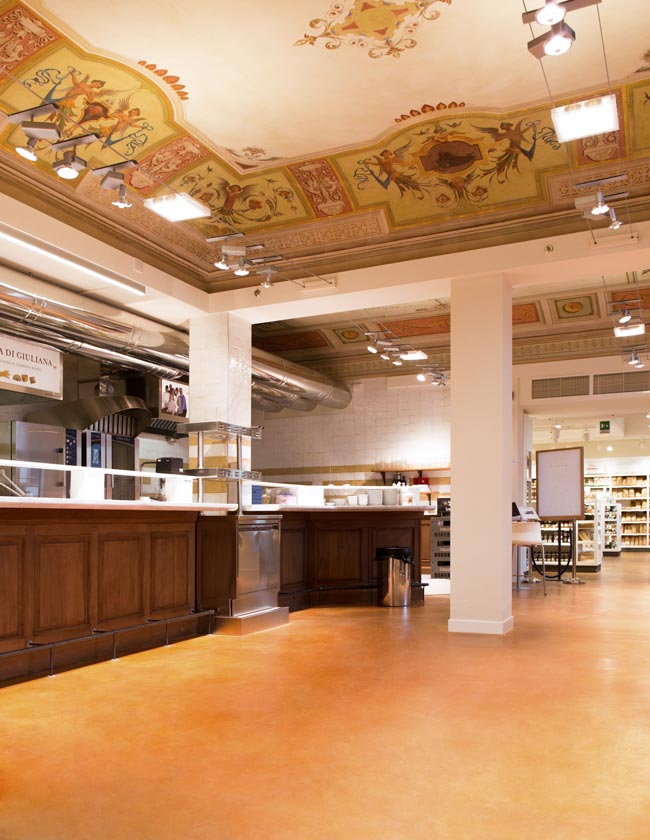 The locations are historic, beautiful and prestigious, but the unexpected artistic touch is provided by the floors where Ideal Work offered its most eye-catching solution: thanks to its aesthetic and scenic characteristics, our Acid-Stain Flooring is ideal for shops, showrooms, exhibition halls and any large spaces that require original and elegant flooring which is also durable and easy to maintain.
Our Acid-Stain Flooring can sustain heavy foot traffic without damage as the material is not a coating but permanently alters the colour of the concrete itself, it does not fade, deteriorate, crack or peel, increasing durability and abrasion resistance.
Warm and vibrant tones were chosen for the surfaces of the three Eataly stores, which feature unique and irregular patterns similar to leather. The shades and textures give the spaces a vivid personality, highlighting the gastronomic delights on offer and the surfaces are totally safe for use with food.
Date: 2015
Place: Milano, Italy
Solutions chosen for Eataly Milano