Eataly London
Unique effects and exceptional durability characterise the flooring surfaces at Eataly's new store in London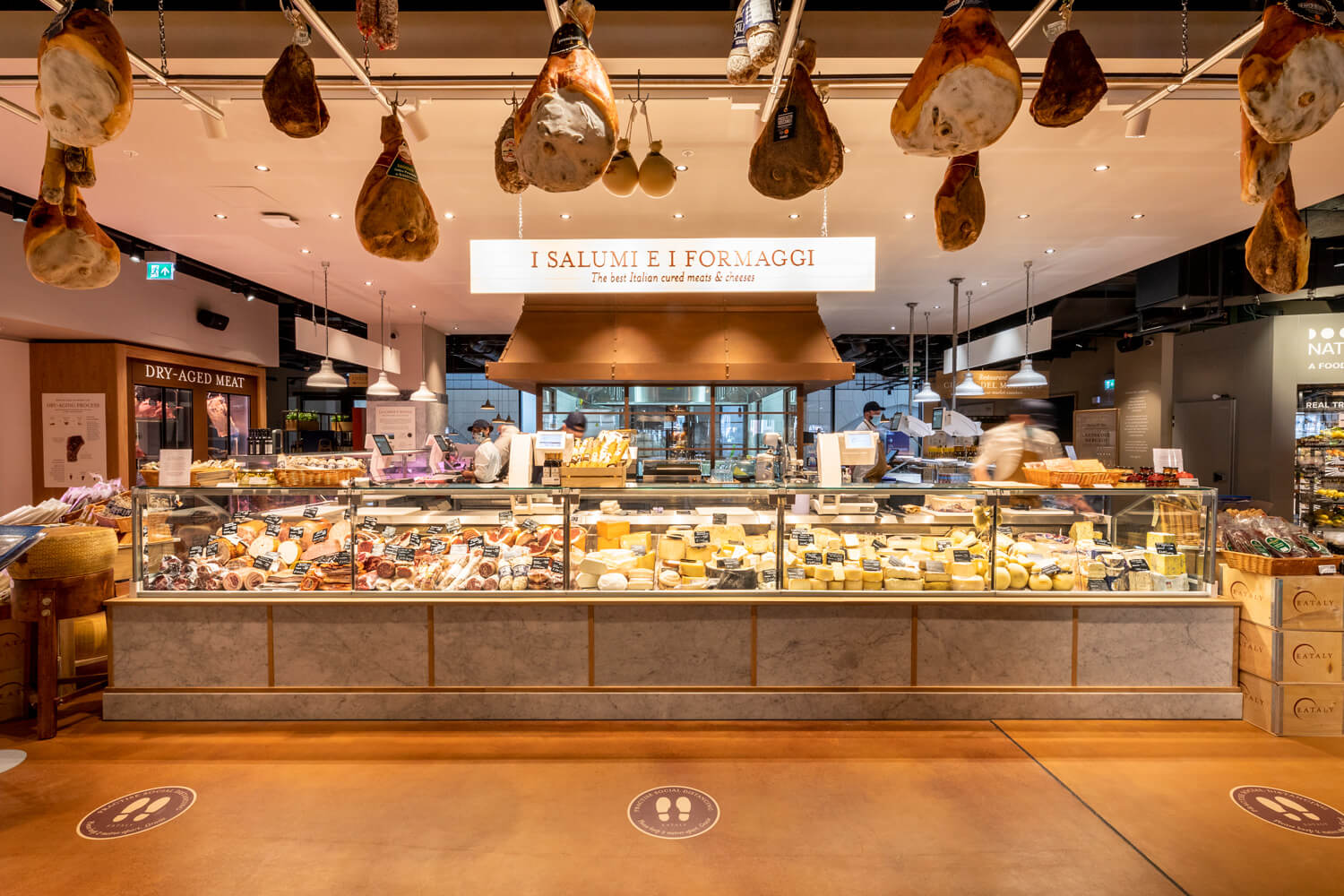 Amber tones and original textures combine with a contemporary, brutalist look – Acid Stain and Nuvolato Architop® welcome you to Eataly's new store in London. Characterised by beauty, exceptional durability and high technical performance, Ideal Work's surfaces highlight the products on display with elegance and style.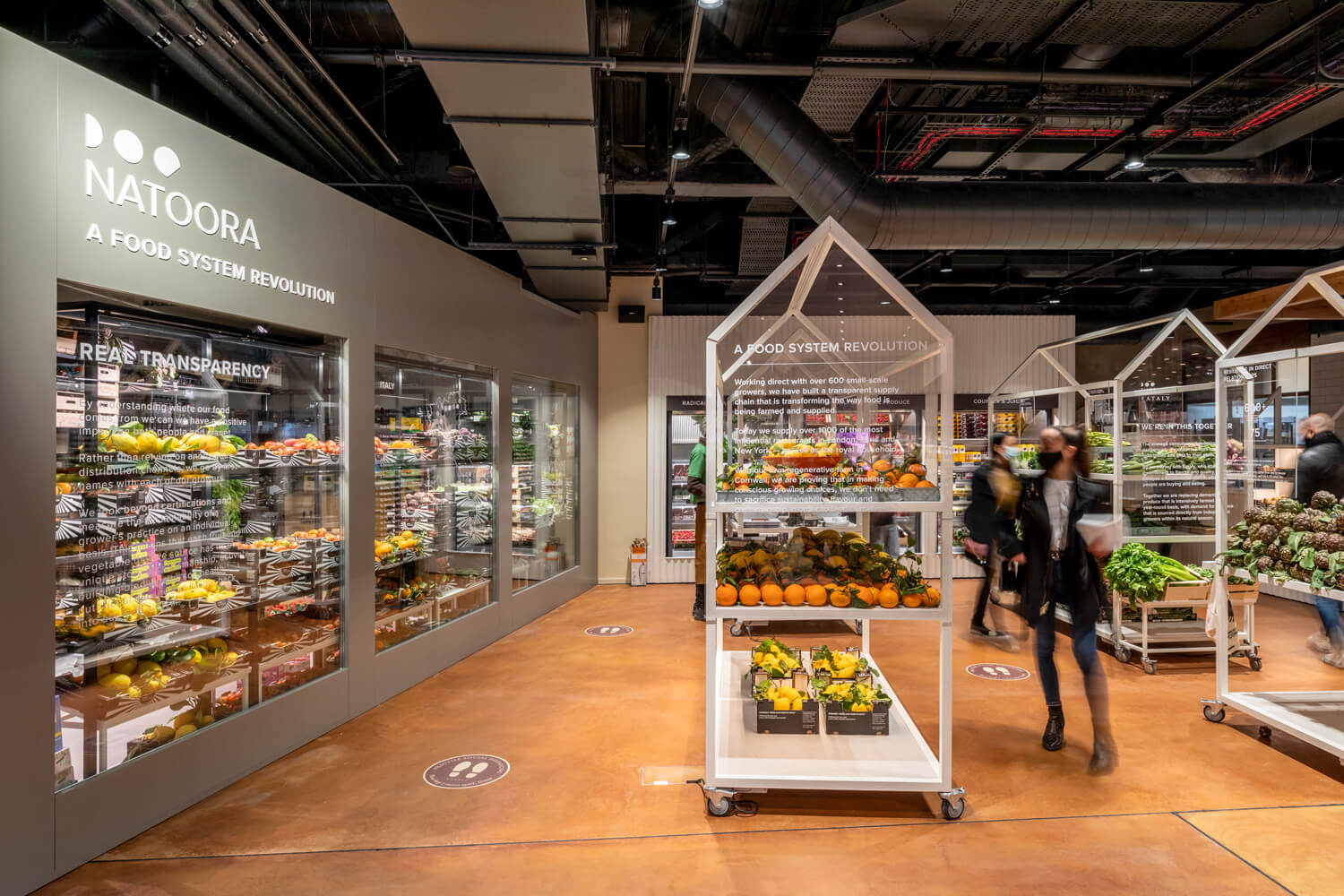 A new Eataly store was recently opened in London. Eataly – the world famous chain of stores distributing and selling Italian typical food – offers its delicatessen items arranged over 4000 m2 incorporating 4 restaurants, 6 tasting areas, 3 bars, 5 production labs, a cellar with the greatest selection of Italian wines in the United Kingdom and a cooking school. The spaces have a clean, simple and elegant appearance which makes them an excellent place to meet and share Eataly's slow food experience.
When you enter Eataly's new London store you are welcomed by a minimalist, warm and elegant atmosphere that perfectly conveys Italian glamour. At the entrance you can taste an excellent espresso at Gran Caffe Illy's large, round counter. Via del Dolce is a special area dedicated to dessert lovers, where shimmering chandeliers and coloured lights reminiscent of Southern Italy's flamboyant culture introduce the visitor to a paradise made of fresh pastries, cannoli, chocolate and ice-cream. Pasta Fresca Lab and the retail area follow. At the top of the escalator you will find the market, Mozzarella Lab, additional restaurant areas and the wine bar, decorated with a profusion of lights and colours.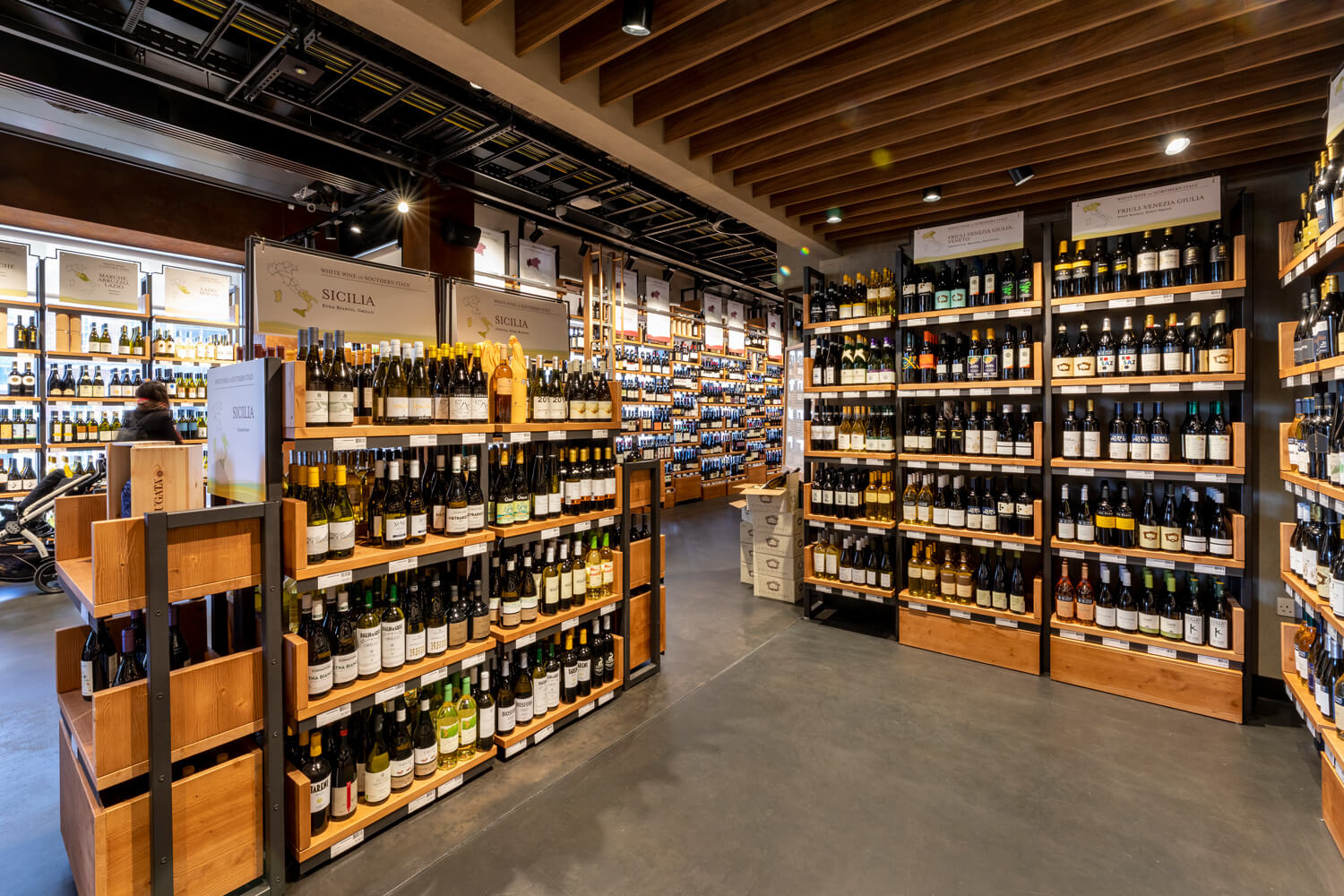 In London's Eataly store the combination of different materials and colours creates charming contrasts that highlight the products on display. The lines are simple and neat, giving the space elegance and essentiality. The architectural firm has succeeded in making the most of the space; machines and utility systems were concealed in order to highlight the one and only centrepiece: Italian food products.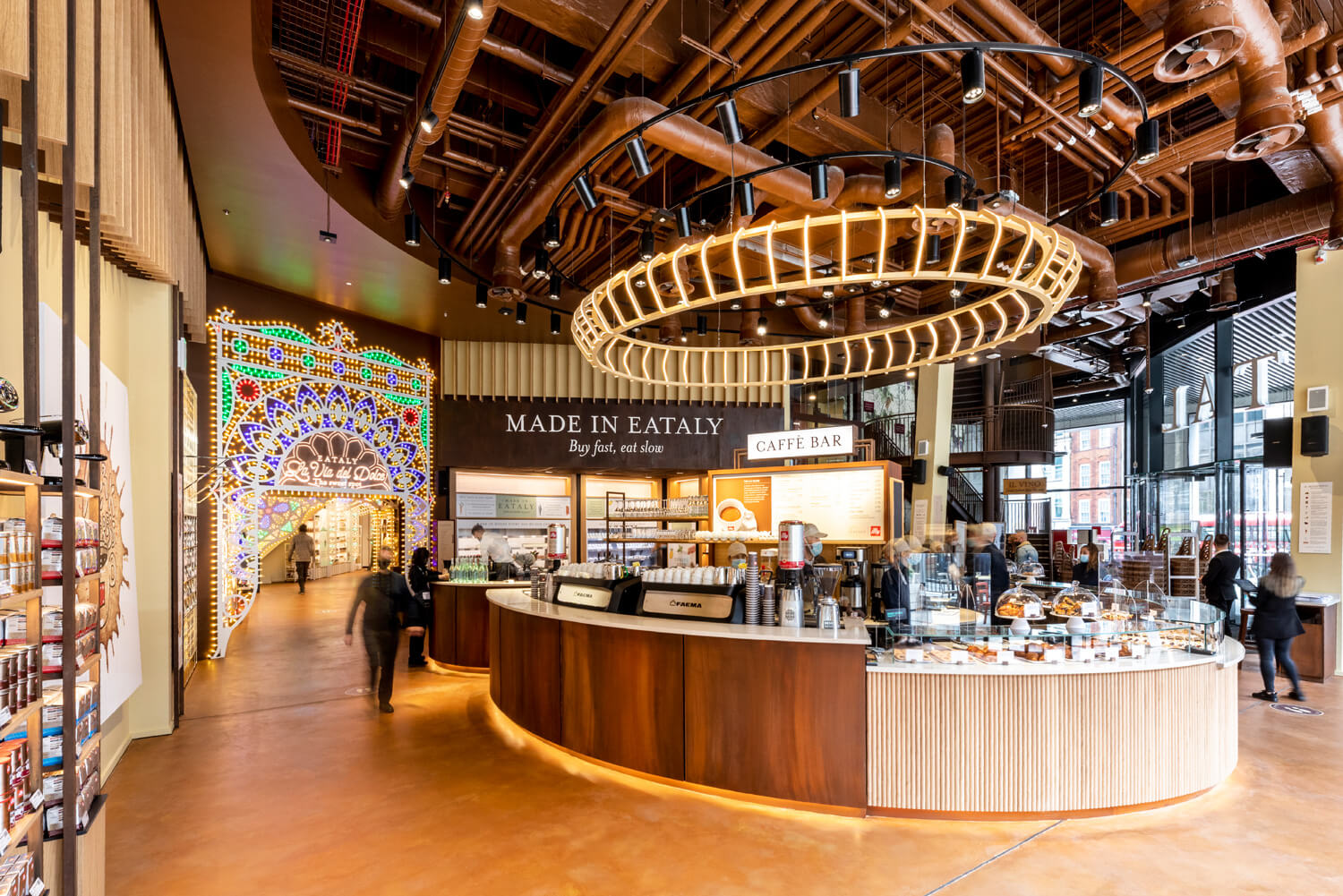 A truly original touch comes from the store's flooring solutions: Ideal Work's Acid Stain and Nuvolato Architop. Acid Stain is especially suitable for stores, show-rooms and all those spaces that require durable surfaces with a refined appearance and easy maintenance. Created through the use of carefully selected acids derived from metallic salt compounds which penetrate into the concrete and chemically change its colour, Acid Stain produces unique and permanent variegated effects, making each environment unique and eclectic. Consistent with Eataly Teatro Smeraldo in Milan and Eataly in Avenues Mall in Kuwait, Acid Stain was also chosen in the Amber shade for Eataly London. Its warm texture, reminiscent of leather, makes the space both cosy and elegant. In addition to being an aesthetically original solution, Acid Stain is durable and resistant to intense foot traffic; Ideal Work® colouring systems become part of the surface, protecting it from fading, cracking, peeling and abrasion. Acid Stain is particularly suitable for restaurant areas as, through its seamless nature, it is easy and quick to clean, requiring little maintenance whilst providing a safe,hypoallergenic, nontoxic surface.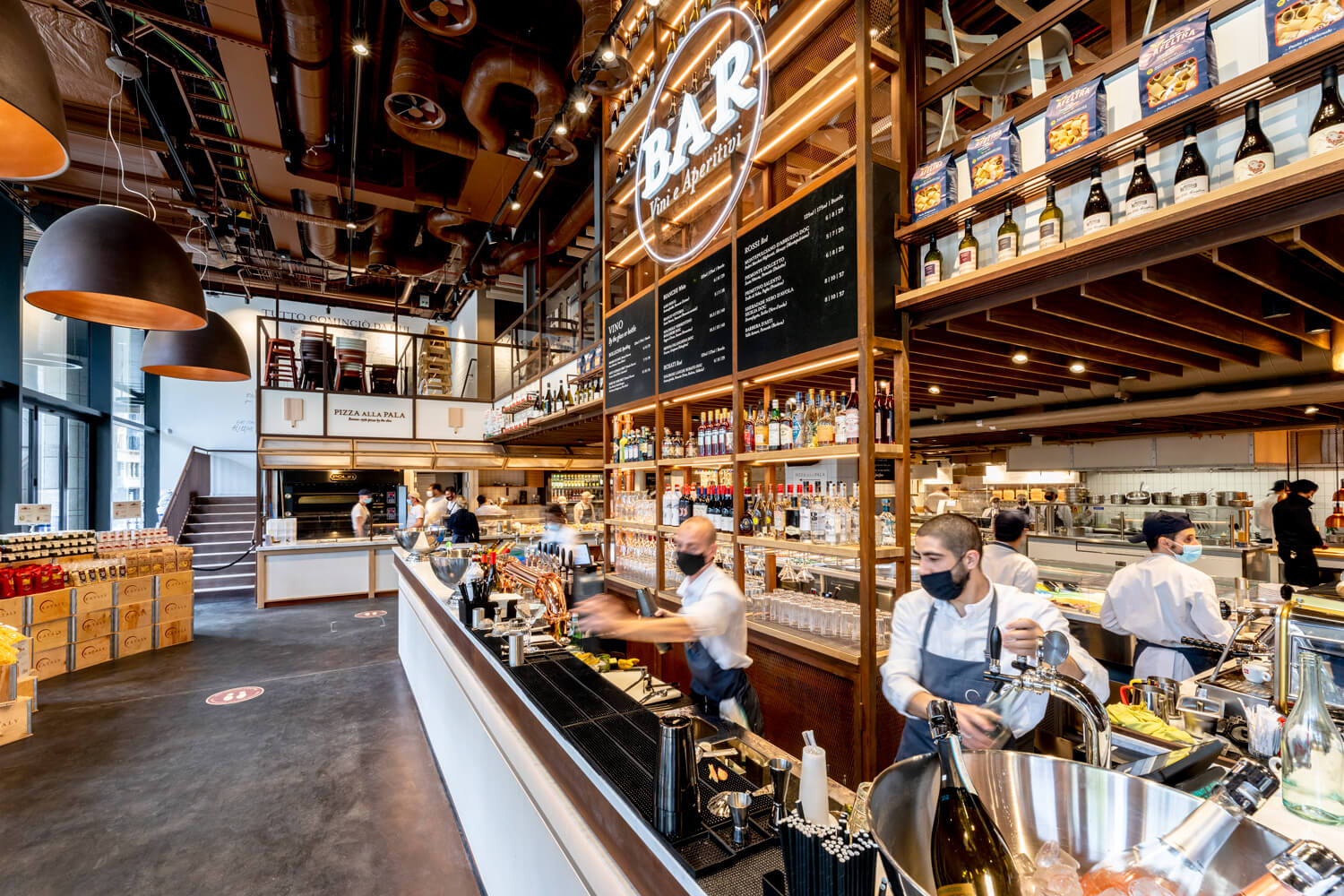 Nuvolato Architop® and Acid Stain in its Ebony shade cover the Pasta Fresca & retail areas. Nuvolato Architop®'s technical performance allows it to exceed, in just a few millimetres, the thickness and weight limitations of traditional concrete whilst retaining its advantages of sturdiness and beauty. On this project it is combined with Acid Stain's unique appearance to create a beautiful and durable surface.
Date: 2020
Place: London, UK
Solutions chosen for Eataly London