Concrete is the new frontier of indoor coatings. It is no longer used only outdoor and in industrial buildings, warehouses or factories: nowadays it's a modern material with a fine and unique style.
Indoor concrete floors represent the best solution for those who look for a long-lasting resistance without giving up on aesthetics. The various installation techniques match different types of materials such as microcement, trowel-finish or stamped concrete and industrial acid-stain concrete.
Ideal Work creates unique concrete floors that involve a number of advantages.
What are concrete floors?
Concrete and microcement floors are made of a mix of liquid polymers and cement-based materials that can be transformed through different methods.
Concrete is an originally rough and tactile material, which can however be transformed into an esthetically pleasant and innovative coating.
Particularly suitable for a minimalist style, a concrete floor guarantees a high resistance to heavy loads and foot traffic, an easy maintenance and the complete customization of the final outcome, thanks to its infinite combinations of colours, styles and effects. It is also able to perfectly match the existing decor.
Extremely versatile, concrete can be used for:
– Houses and lofts
– Offices and commercial areas
– Show-rooms and exhibitions
– Museums
– Hotels and much more
It is possible to create a custom-made coating according to the concrete thickness by choosing between:
– Ultrathin (2-3 mm)
– Very thin (3-4 mm)
– Thin (5-6 mm)
The combinations of colours and textures for concrete floors are infinite: thanks to some specific installation techniques it is possible to obtain a unique and at the same time elegant effect perfectly matching one's own needs and desires.
You can choose your favourite texture among the wide range of options offered by Ideal Work and obtain such effects:
– Rough
– Glossy
– Mat
– Silken (cloud-effect)
– Antique
– Marble
It will also be possible to create coloured concrete floors in the most diverse combinations of colours and patterns: from the most classic and neutral shades such as grey, white and beige to the brightest and more vibrant colours such as coral pink, brick red and green. You can decorate your bedroom, bathroom and kitchen with unique concrete coatings able to perfectly match the whole existing decor. Ideal Work's concrete coatings are not only suitable for floors but also for vertical surfaces and they create a perfect harmony in the whole environment.
Along with the excellent esthetic features we've seen above, concrete floors also offer the great advantage of being seamless and therefore without joints or any kind of interruption where dirt could accumulate and spoil the floor's beauty.
With a seamless surface cleaning gets extremely easy while the space acquires a smoother and visually enlarged look.
How are concrete floors installed?
All Ideal Work concrete floors are created with a great attention to detail and through handcrafted techniques able to obtain endless combinations, conceived and customized according to the project and the client's needs.
The concrete floor installation's main advantage is the possibility to obtain a uniform seamless surface without demolishing the existing floor. In fact, after specific processes of sanding and preparation of the substrate, the concrete coating is installed directly over the old floor, giving to the space the desired style.
This coating technique that avoids all demolitions is suitable for any kind of existing floor such as:
– Wood
– Ceramic tiles
– Marble
– Earthenware
– Concrete and much more.
Moreover, this kind of floor's installation is a quick procedure that avoids long building sites and long periods when the floor is unwalkable. The final result is a thin and uniform concrete coating able to embellish the space in a smooth and harmonious way.
Indoor concrete floor types
According to the desired final result, Ideal Work offers various types of concrete floors made of different materials and applied with different installation techniques. Let's check out the different types of indoor concrete coatings Ideal Work offers and their applications.
Microcement floors
Microcement floors are the perfect solution for those who want an ultramodern design floor able to overcome the highest standards of ductility, resistance and quality. Ideal Work's Microtopping® line has been designed to create an ultra-thin, completely customizable coating with a thickness of 2-3 mm only.
With Microtopping you can cover and modernize the old floor without removing it.
With Microtopping you can create either a modern and minimalist look or a rougher and more rustic microcement coating; thanks to a wide range of colours, finishes and styles, Microtopping can be customized according to your own personal taste. The colour choice varies from classic neutral colours to brighter shades, with the possibility to create patterns, inserts and unique veins.
The installation technique will be designed by Ideal Work's professionals according to the desired result and to the kind of surface to coat.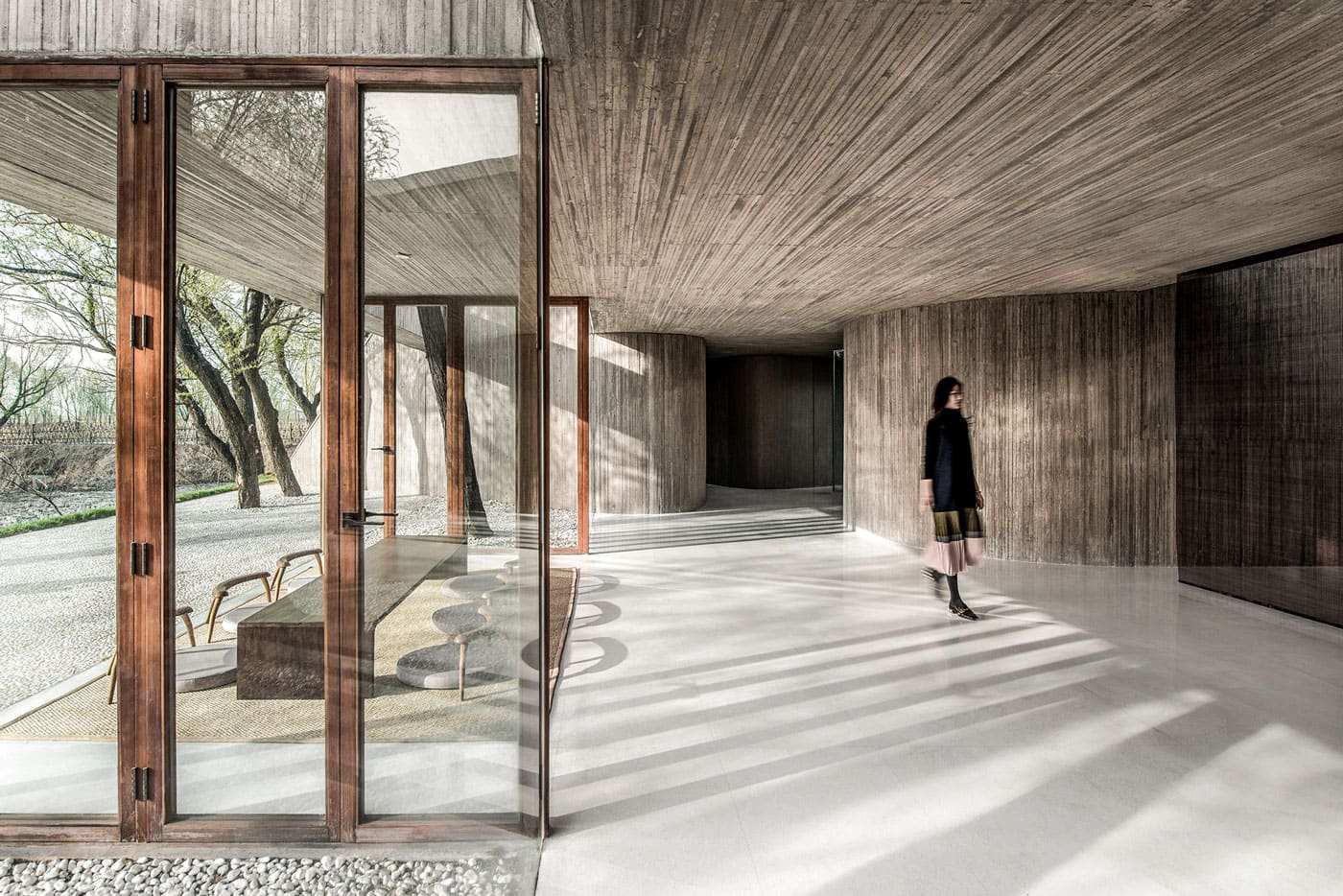 Trowel-finished concrete floors
Trowel-finished concrete floors are a particular kind of coating made of a quartz-based cement mix and a water-based polymer. Ideal Work's professionals apply it by the use of a trowel to create a unique and detailed effect.
For a floor with a unique character. This handcrafted technique represents the best solution for those who want to coat their surfaces with a dynamic material in a short time. Trowel-finished concrete offers free rein to customization and design along with a surface of a great durability with the least maintenance.
Not to mention its other important features: it's fall arrester and slip- and weather-resistant.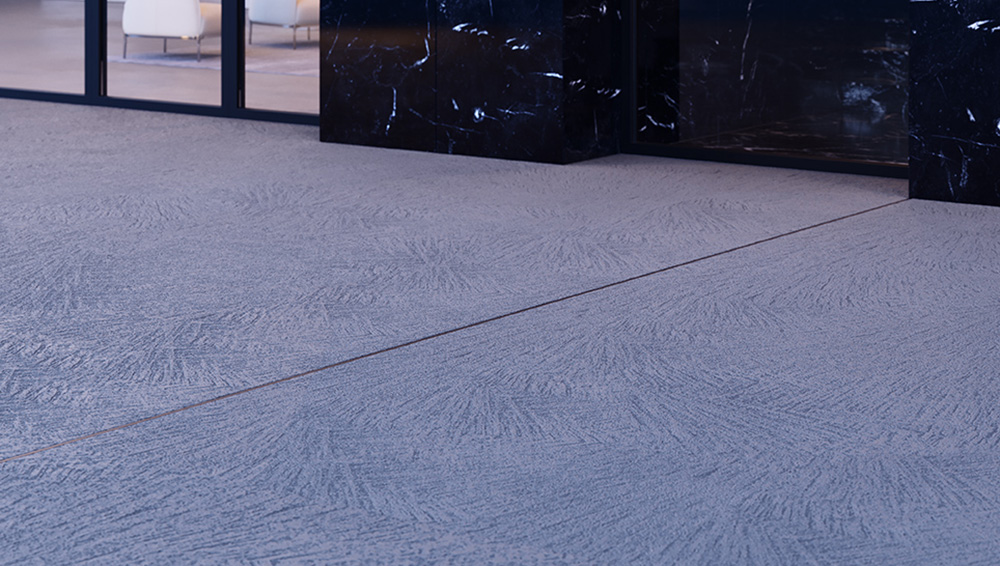 Stamped concrete floors
The stamped concrete floor is a particular coating that recreates other surfaces in a natural and accurate way: rocks, bricks, wood, ceramic and much more. Suitable for both indoor and outdoor surfaces, stamped concrete allows to create unique textures and decorations with geometrical shapes, rosette designs and sundials completely customizable according to one's own needs and time.
With more than 500 combinations of colours and shades, the final result will maintain its splendour over time. Thanks to the specific materials and resins it is made of, in fact, this floor is resistant to wear, heavy loads and weather conditions.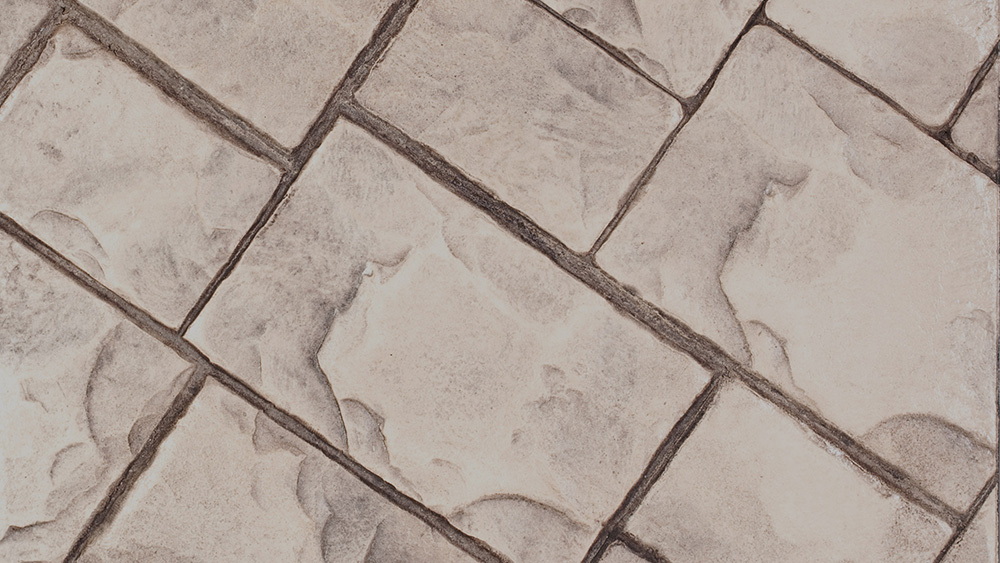 Industrial acid-stained concrete floors
Acid-stained concrete floors are a kind of concrete coating created by mixing concrete with particular acids from metallic salt compounds which penetrate into the concrete and react with the free lime, chemically changing the colour to produce unique and permanent variegated effects. Ideal for any kind of interior space such as houses, lofts, public buildings, stores and showrooms, Acid-stain floor is a ductile and practical coating able to undergo any kind of load and stress.
Perfectly resistant to abrasion, scratches and other possible damaging factors, it keeps its beauty intact over time.
Ideal Work is ready to design and implement with care and attention to detail your own flooring solution, whether it is an industrial coloured cement surface or a more neutral concrete coating.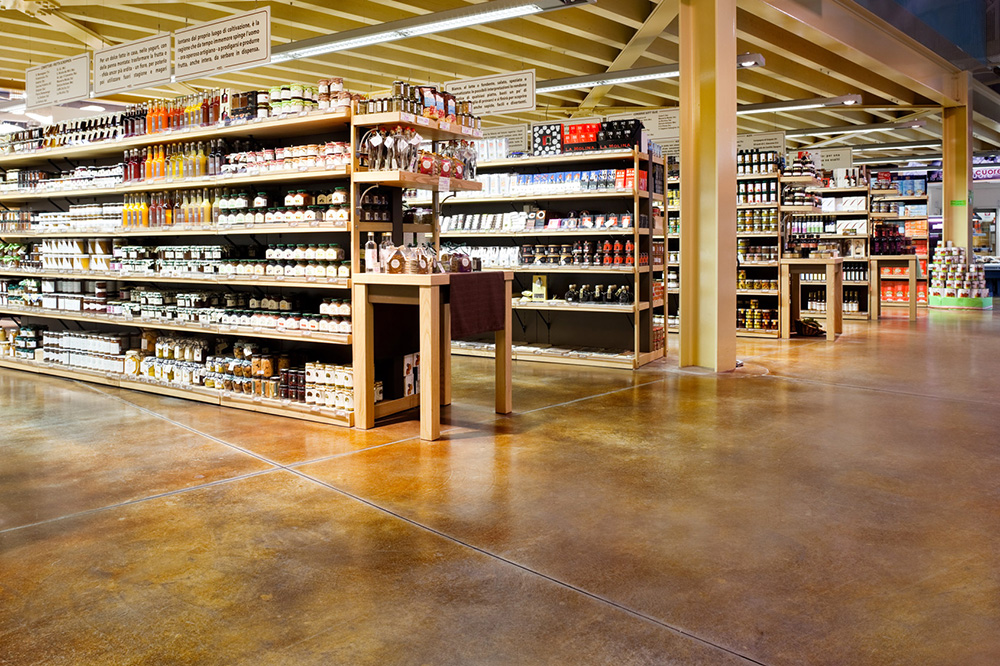 Ideal work's concrete floors advantages
Ideal Work offers some specific lines for any kind of floor coating, such as Microtopping® for microcement coatings, Rasico® for trowel-finished coatings and the dedicated lines of stamped concrete and acid-stained. In addition to the installation process and to the desired final outcome, choosing a concrete coating for the internal floors is an excellent choice from a number of angles.
The main advantages are:
– The possibility to cover the existing floor or to create a new floor from scratch
– The quick and precise installation
– The complete freedom of customization and the uniqueness of the final outcome in terms of textures, colours and finishes
– The seamlessness
– The long-lasting resistance
– The low maintenance
– The convenient cost and the short installation time compared to other kinds of indoor floors
Renovating your own interior with concrete and microcement floors and coatings is a fine modern solution that combines functionality with resistance, innovation and aesthetics.
Rely on Ideal Work's professionals for a competent advice on the most appropriate coating for your needs and you won't be disappointed!