"Il tempo di Giacometti da Chagall a Kandinsky. Capolavori dalla Fondazione Maeght" at Verona's Palazzo della Gran Guardia.
The exhibition "Il tempo di Giacometti da Chagall a Kandinsky. Capolavori dalla Fondazione Maeght" can be visited in Verona till April 5th: a great opportunity to admire more than a hundred artworks including sculptures, paintings and drawings in a unique setting, Palazzo della Gran Guardia. The exhibition's main focus will be the monographic section dedicated to Alberto Giacometti: more than 70 of his works of art will presented to the public and displayed along with those of artists active in Paris between the two wars and in the following decade, such as Kandinsky, Braque, Chagall and Mirò.
"Giacometti was one of my very first passions in the field of art, back in my early twenties. I would look for him in books, exhibitions and museums all around Europe. I fell in love with his drawings, some of which I managed to bring to the Gran Guardia Palace. Then there are his syncopated paintings, especially the shapes and still lifes, also on display in Verona and, ultimately of course, his famous sculptures"– explains Marco Goldin, founder of Linea d'Ombra and curator of the exhibition – "I am happy to pay tribute to Giacometti here in Italy with such a great exhibition, where his artworks show a lifelong career, from his youth in Switzerland to the sculptures he made in his teens, to the surrealist works and his more mature adult production, now part of the collective imaginary."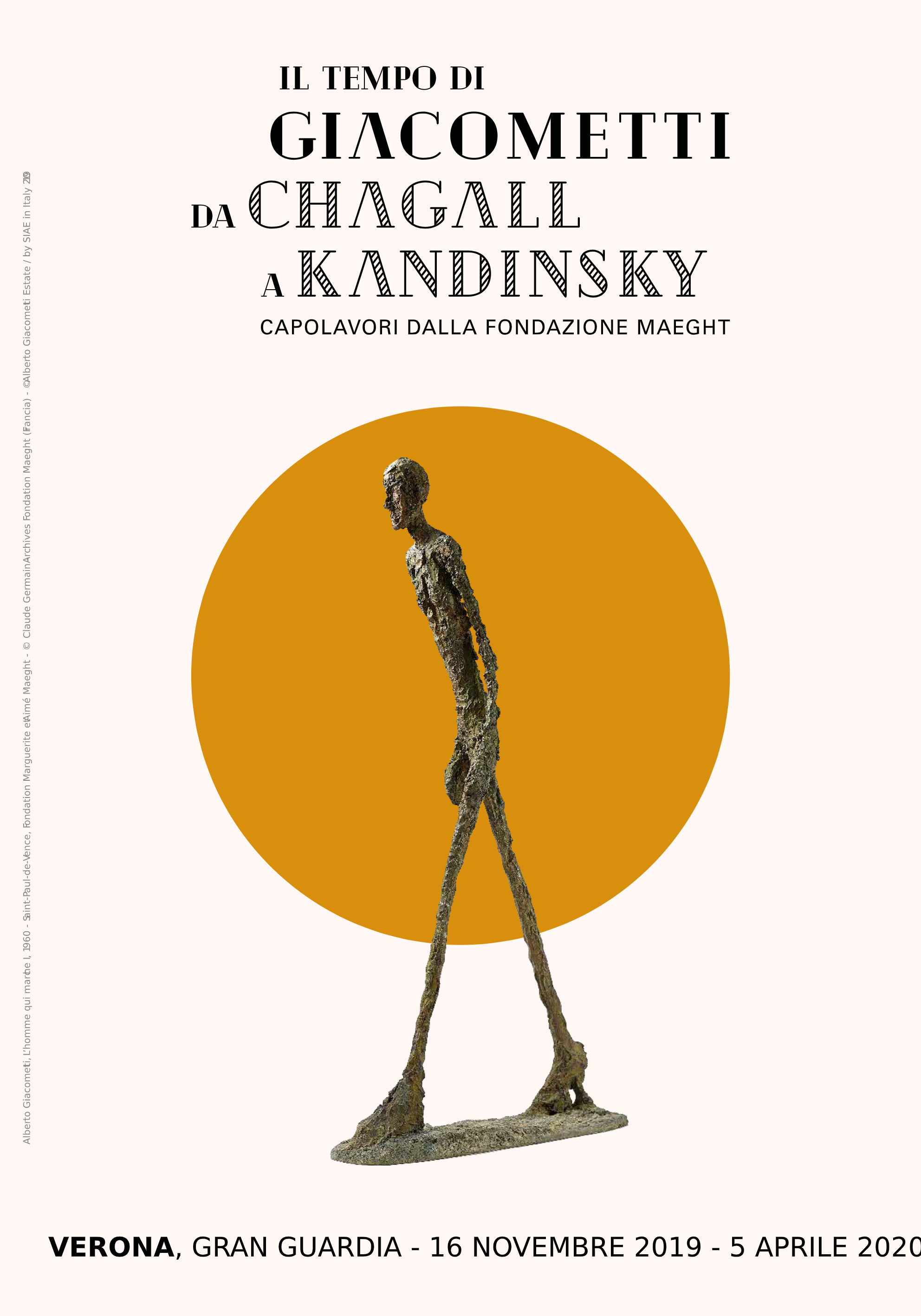 The exhibition is also a great opportunity to tell a significant story in the world of culture: that of Aimé and Marguerite Maeght. The story dates back to the time before World War II, when their art gallery was founded in Cannes; then it developed in Paris, where the International Exhibition of Surrealism, in collaboration with Duchamp and Breton, was presented.
The Maeght Foundation was inaugurated in 1964 in Saint-Paul-de-Vence and has one of the most important collections of paintings, drawings, graphic works and sculptures of the XX century.
Goldin continues: "It is fascinating, not only to imagine, but also to admire the great Standing Woman in the middle of the Gran Guardia's central room, a spindly sculpture almost 3 metres tall, as well as Giacometti's most famous sculpture: Walking Man, visible in the same room. Between the two artworks, you can explore the precise reconstruction of Giacometti's poetic life through drawings, paintings and sculptures, from the busts to his brother Diego's heads, dogs, cats and forests made of almost liquefied figures. There is also the 1956 well-known feminine figure called Woman from Venice, shown at that year's Biennale di Venezia, where it achieved resounding success. The Maeght Foundation owns all nine variations of that sculpture which are now on display in Verona for a comparison that has rarely taken place, anywhere in the world."
"Il tempo di Giacometti da Chagall a Kandinsky. Capolavori dalla Fondazione Maeght" is a project by the Municipality of Verona and by Linea d'Ombra, along with the Marguerite and Aimé Maeght Foundation with the contribution of Gruppo Baccini, main sponsor of the exhibition.
"Il tempo di Giacometti da Chagall a Kandinsky. Capolavori dalla Fondazione Maeght" has been curated by Marco Goldin.
Verona, Palazzo della Gran Guardia
16th November 2019 – 5th April 2020