Eco House: the architect Vibeke Lichten's house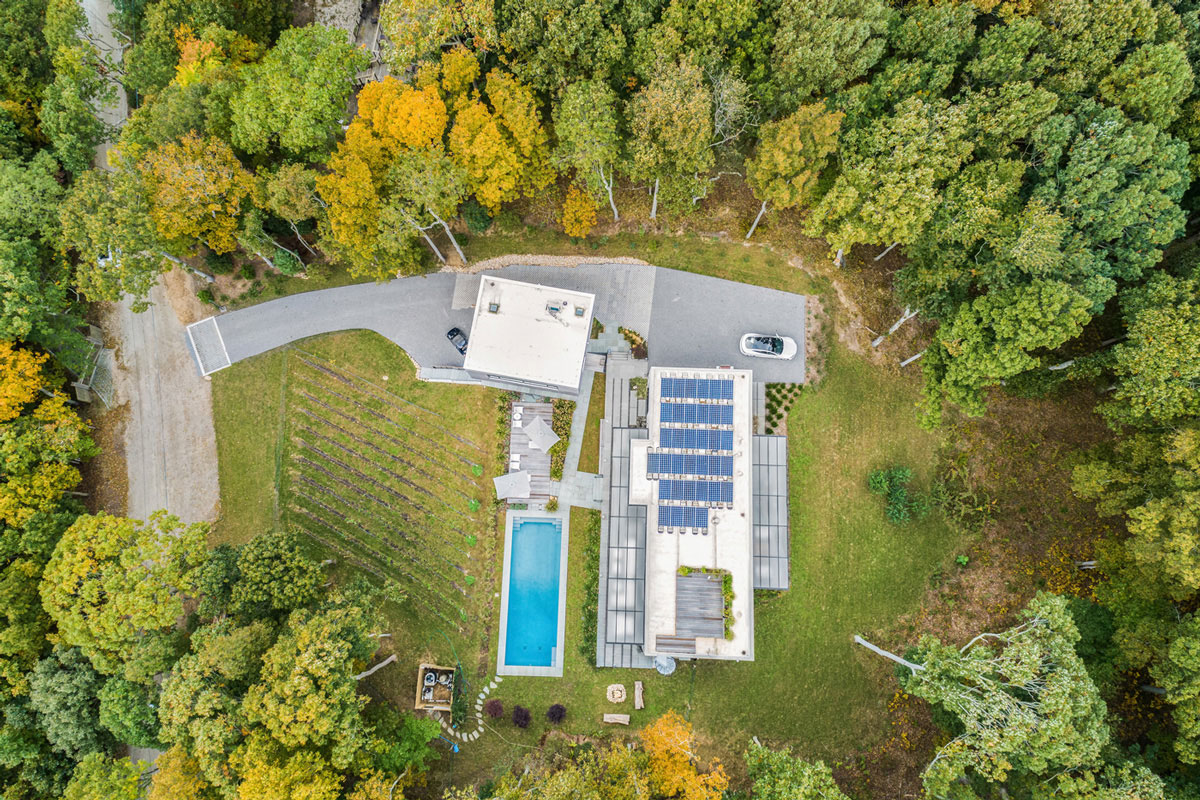 On Shelter Island, located between the north and south of Long Island (NY) and which can only be reached by boat, New York architect Vibeke Lichten has designed his concrete Eco House.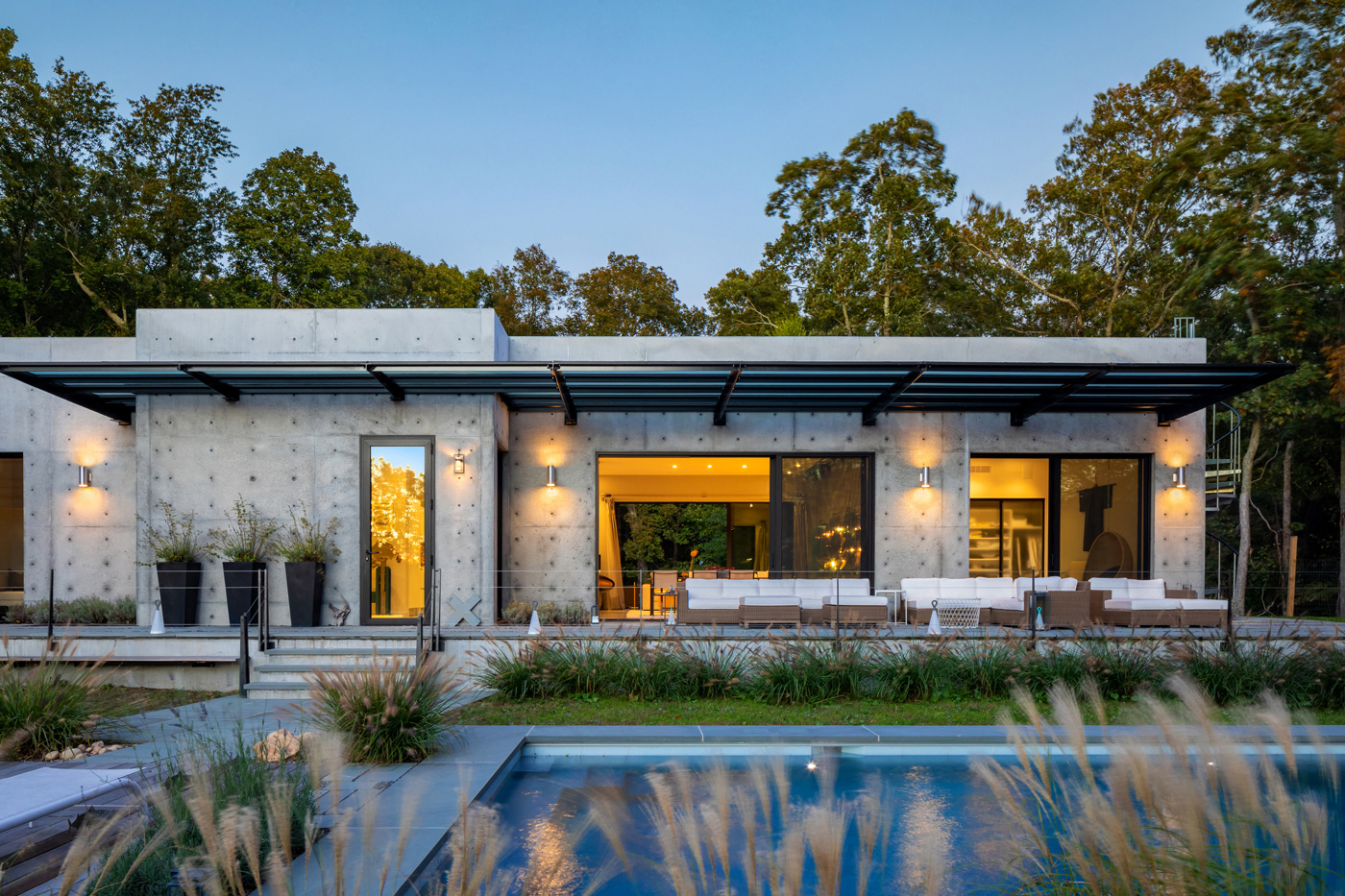 This small island, chosen as the location for the architect and his family's house, offers a beautiful view of the Atlantic Ocean and its breathtaking sunsets. The beauty of the natural landscape surrounds the villa and enhances its architectural structure.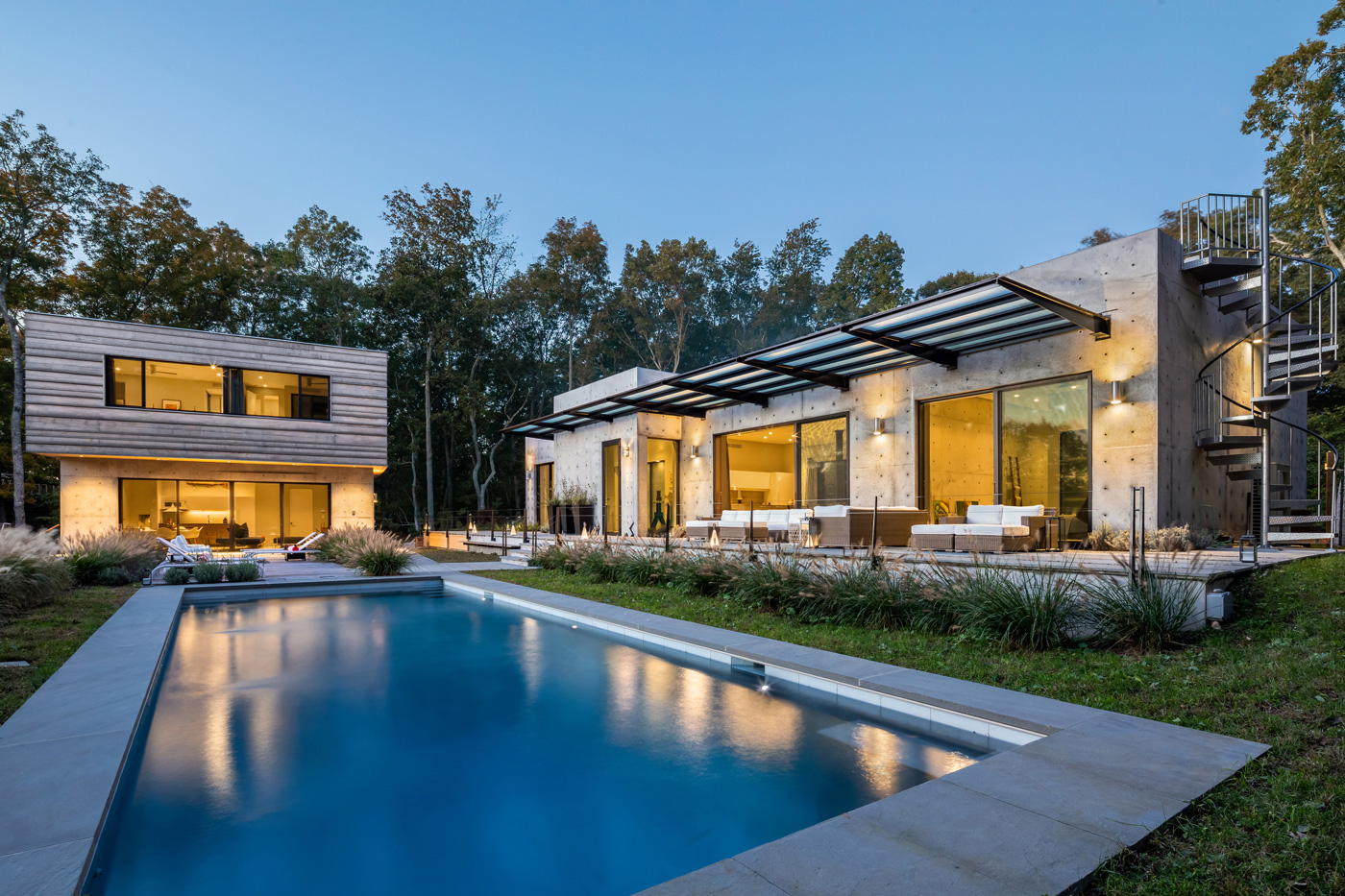 Concrete has been chosen as the main construction material for its durability and as it is easy and quick to install. The project's main purpose is to reduce carbon emissions by the use of solar energy and advanced construction techniques which are able to facilitate the structure's conservation over time.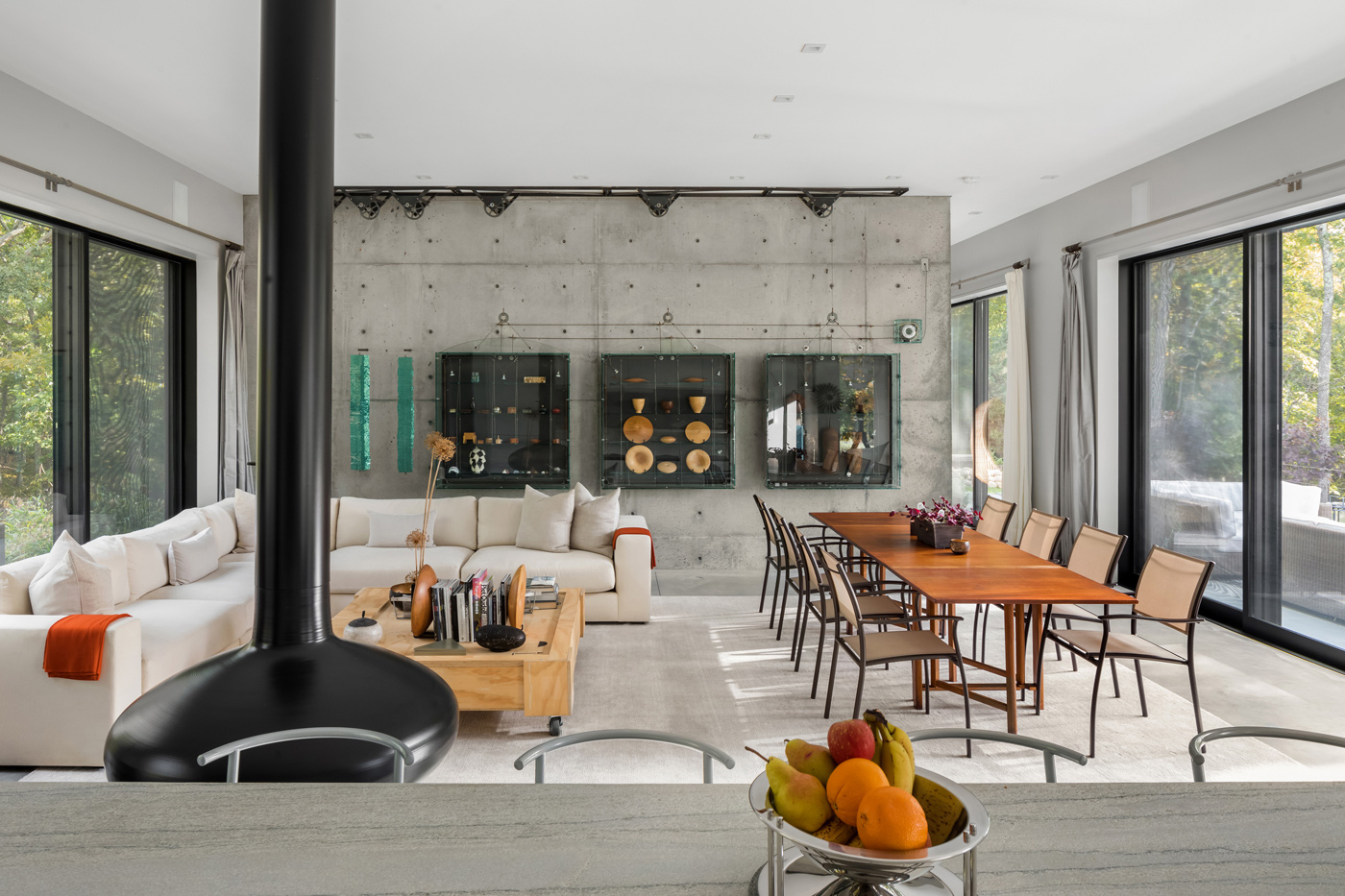 A surface of 381 square meters is divided into two independent structures connected by two external terraces. These terraces form a common area to socialise and relax on the salt water pool deck.
Eco House is the main structure and includes a living room, kitchen and dining room. The facade from east to west is made of sliding glass doors that let natural light in and offer a beautiful view of the lush garden. The double room and the bathroom are located in the northern area of the house, best suited for privacy. The other two bedrooms, with en-suite bathrooms, are located in the southern part.
The internal walls are made of rough concrete, whilst the floors are made of polished concrete. The house hosts a number of artworks and pieces of furniture made by the architect himself, his daughter and his mother.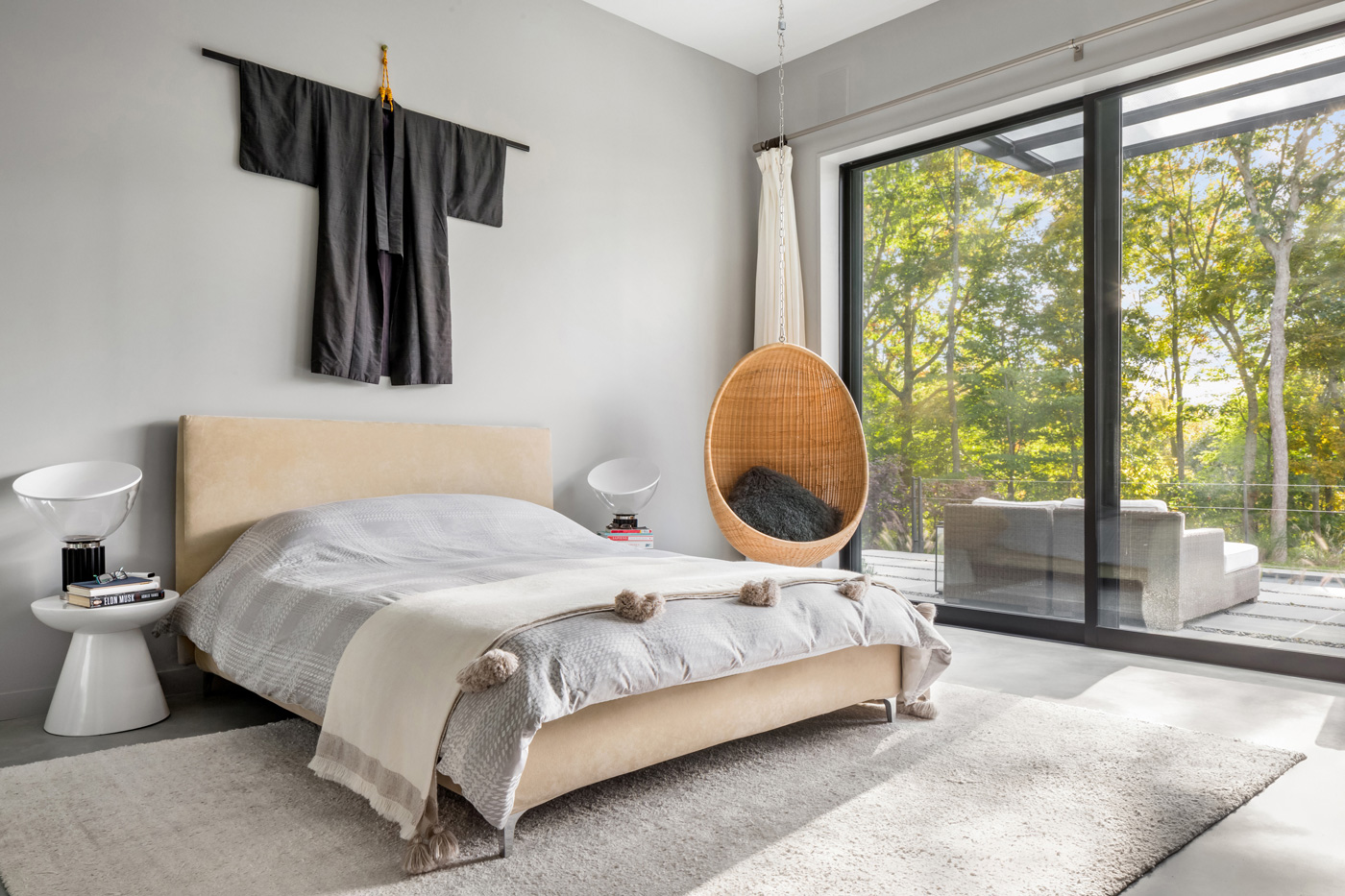 Unlike the main house, the Pool House, the second structure of this villa, is on two floors. Two spacious bedrooms with en-suite bathrooms are on the top floor, whilst the living room with the kitchenette and sauna are on the ground floor. The villa is full of details following the principle of eco-sustainability such as charging stations for electric vehicles, solar panels and reservoirs to harvest rainwater for the garden's irrigation.
On the rooftop, a vegetable garden is used to provide fresh vegetables throughout spring, summer and autumn.
Several types of trees, such as pines, maples and beech, have been planted in the property in order to replace those removed during the construction process.
The images have been kindly provided by Vubeke Lichten
Photographer: Evan Joseph