How to create a bathroom without tiles
Renovating the bathroom without removing the old tiles and therefore avoiding expensive interventions is now possible: today the market offers various innovative solutions that overtake the traditional tiles in both performance and aesthetics. The advantages of a bathroom without tiles are several, whether the space is new or in case of restructuring.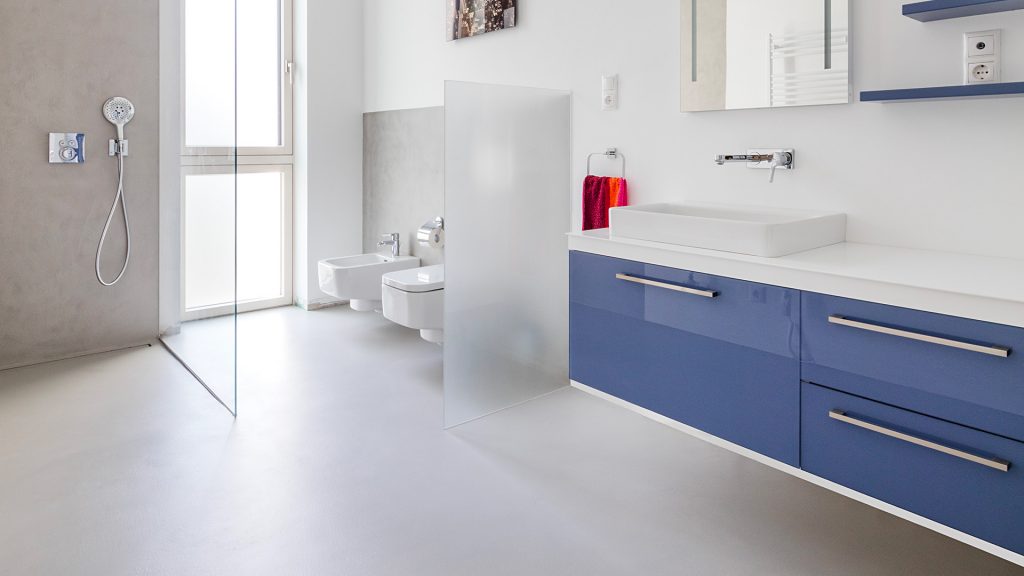 These are some of the available solutions:
– Synthetic varnish or restructuring paint: renovating the bathroom with synthetic varnish or waterproof paint coatings is an economically convenient choice. The wide range of colours and effects is an additional advantage; however, these solutions lead to an only partial renovation, because they don't allow for an aesthetic change.
– Covering the old floor with thin stoneware tiles guarantees e low thickness, a high abrasion- and wear-resistance, a good durability over time, a reduced maintenance and a wide range of formats and finishes. This material is not porous and is therefore good in terms of hygiene and cleanliness.
– Coating the bathroom with an epoxy resin guarantees a high humidity resistance and a good hygiene of the material. The great possibility of customization with colours and decorations along with the contemporary appeal defined the success of this solution in the past few years. It is however necessary to replace any broken or missing tile.
– Wood coatings: very nice and warm from an aesthetic point of view, but this material hardly withstands humidity and is therefore not appropriate for the bathroom area. In case of direct contact with water, a quick wipe is necessary.
– Microcement (microtopping): coating the bathroom with Ideal Work®'s Microtopping® microcement allows you to obtain a seamless contemporary space characterised by a unique and customized design. Thanks to the manual application, it is greatly customizable through a wide choice of colours and effects. It's also a very versatile solution; it matches many different decor styles and its seamlessness visually enlarges the spaces; microcement is therefore suitable for small bathrooms too. Attentively designed, Ideal Work®'s Microtopping® microcement is resistant to wear, water and chemical agents. Compared to traditional tiles, it's practical and easy to clean.
Why choosing a bathroom without tiles?
Choosing a bathroom without a ceramic tiles coating is convenient for several reasons:
– TREND: the innovative bathroom has no tiles; tiles represent in fact the traditional bathroom and are therefore old-fashioned. Modern bathrooms are characterised by a new idea of space.
– SEAMLESSNESS AND HYGIENE: a seamless floor visually enlarges the space and allows a better cleanliness; joints tend to blacken and to accumulate dirt if not properly and frequently cleaned. A bathroom without tiles, coated with a seamless surface is easy and quick to clean.
– STOP TO DEMOLITIONS: renovating the floor without removing the old tiles is now possible; with Ideal Work solutions it's possible to cover the old tiles and therefore to avoid annoying and expensive demolition works. This way the renovation works are shorter and the environment is kept cleaner. Moreover, the risk of damage (such as pipe breakdowns) is minimum.
– SHORTER RESTAURATION TIMES: Covering the bathroom without removing the tiles optimize the building site's time; in a few days it's possible to obtain a new modern bathroom without major problems.
– EASY RENOVATIONS AND REFURBISHMENTS: a bathroom with tiles needs some spare tiles in case some of them are damaged, for replacement. However, sometimes it happens that those tiles are no longer available on the market. A bathroom without tiles is easy to renovate and doesn't need any replacement part.
-MINIMUM APPLICATION PROBLEMS: tiles require to be cut and applied. This may lead to inaccuracies and flaws in the perimeter next to the wall; in case of incorrect cut, in fact, tiles may result too big for the space to fill, causing unpleasant visual effects.
In summary, microcement modern solutions represent a convenient choice because they are humidity and wear-resistant, long-lasting and easy to clean.
Why coating a bathroom with microcement
Coating a bathroom with microcement implies several advantages compared to more traditional solutions.
Microcement is a decorative and extremely ductile concrete-based material with a minimum thickness of 3 mm, which allows to create innovative seamless surfaces: floors, walls, ceilings but it can also be used to coat shower stalls, tubs and pieces of furniture. Thanks to some specific treatments, it is stain-, impact- and abrasion-resistant and, more importantly, it's waterproof and humidity-resistant, which makes it perfect for a bathroom application. Ideal to renovate the bathroom without removing the old tiles, this material allows you to avoid any damage to the bathroom fixture that may occur in case of demolition. Thanks to the absence of joints it's very easy to clean and extremely hygienic (dirt doesn't accumulate in the joints). Easy to install, it adheres to any surface and give the space a new, modern look.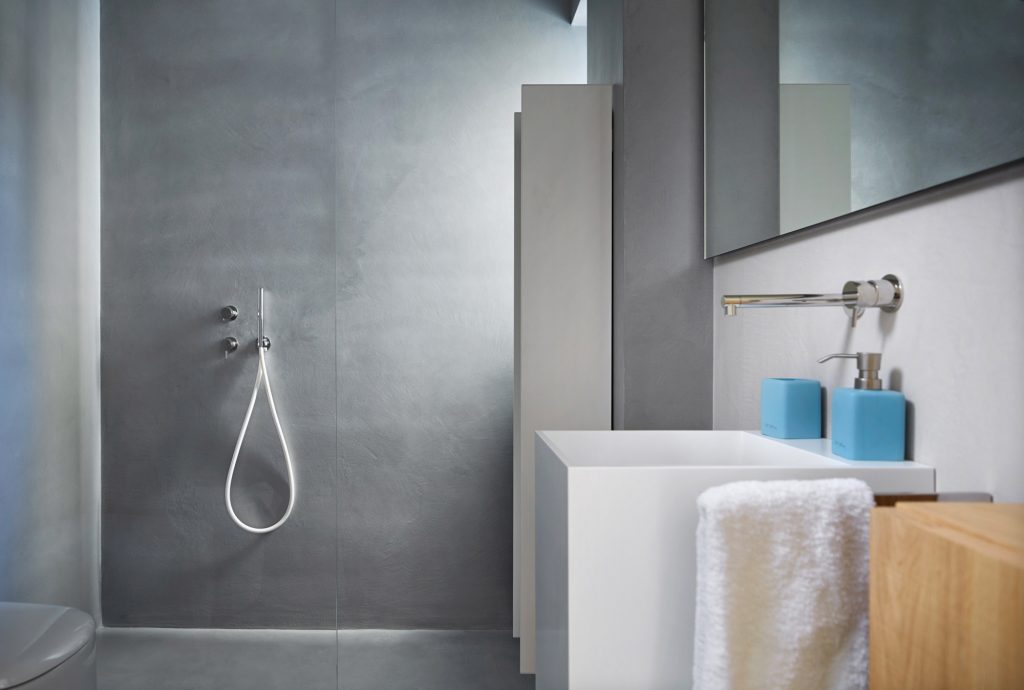 Ideal Work®'s Microtopping® microcement allows a bathroom renovation in a short time and without major problems, with a new, modern final look. Finely designed, thanks to its seamlessness this product is able to make your bathroom look bigger on one hand and to guarantee a more hygienic and easy-to-clean space on the other.
How to coat a bathroom with microcement
Renovating a bathroom without removing the old tiles is now possible, easy and quick with Ideal Work®'s Microtopping® microcement; to make the work done to the letter, the application has to be made by an Ideal Work's authorized applicator.
To coat an entire wall with microcement there are some steps to follow: first the surface has to be cleaned and prepared for the installation; then, a first base coat is given. Once the surface has dried, it is sanded and cleaned; a first coat of finish follows, and if necessary a second coat of finish is also applied. After a few days a coat of protective resin is applied to finish the job. With just a few steps and in a few days the work is done!
Partial coatings
There are many ideas for an original bathroom renovation. One of those could be to match a modern facing such as microcement with tiles. For example one could cover just a wall, creating an interesting contrast between different styles and techniques. Thanks to its dynamism, microcement is a versatile material, perfect for unusual combinations and able to satisfy any aesthetic taste.
How to choose the colour of a bathroom without tiles
Microcement's aesthetic advantages are another important factor to consider in case of bathroom renovation.
In comparison with tiles, when the right colour is not always easy and quick to find, microcement is suitable for a wide chromatic exploration whose aim is to create one's own desired shade. Not to mention the possibility to choose the colour up to the very last moment before the application, unlike the tiles choice, which has to be made in advance.
The possibility to customize the bathroom space is therefore very wide: Ideal Work®'s Microtopping® microcement coatings offer a wide range of combinations of colours and effects, where shades and intensity can be customized too. This is possible thanks to Ideal Work®'s authorized applicators' manual installation. From white to grey and brighter colours, with a rough concrete, a wood or a polish effect. Possibilities are endless with Ideal Work®'s Microtopping® microcement. This material of a high visual impact can also be applied to other parts of the house to create a smooth continuity among its different spaces.
Here are some examples. To give the bathroom a great brightness and finesse, along with a visual enlargement effect, pure white is the ideal colour. With a wooden decor or some metal details, silver gray is perfect. Black gives the bathroom an elegant touch, sky blue is suitable for a beach house or, combined with white, for an ocean style interior. Terracotta highlights a classic or rustic environment and lavender makes unique a shabby-chic bathroom.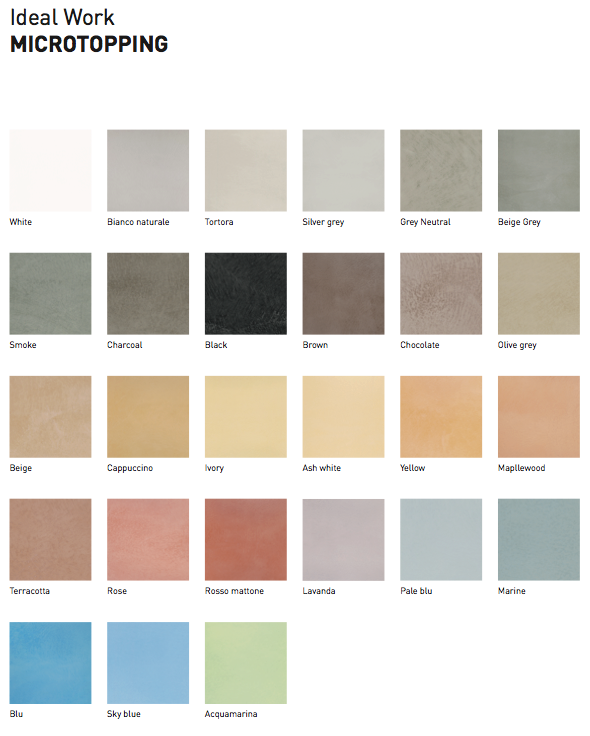 A bathroom completely without tiles
Here is a practical example of how to renovate your bathroom without removing the old tiles. A bathroom with pink tiles of a private house in Castelfranco Veneto (TV) needed to be restored. Without demolishing the old tiles, the bathroom has been completely coated with Ideal Work®'s Microtopping® microcement in a grey shade, an innovative coating with a high aesthetic value, able to give continuity to interiors, to enlarge the space and to make the environment brighter.