what are industrial floors?
The term industrial floor indicates the seamless concrete floors used in the industrial field; a traditional industrial concrete floor offers several features such as durability and resistance to abrasion, heavy traffic and heavy loads, but its aesthetic look is not alluring. When in the States the industrial style became popular so did the industrial effect floors, some decorative surfaces that create a visual reference to the real industrial floors. The main difference between industrial floors and industrial effect floors has to do with their application and technical features: in fact, industrial effect floors have a low thickness and can therefore cover any kind of surface without joints.
Modern and decorative floors
Ideal Work® offers several solutions for decorative concrete floors, modern floors with a high performance, easy to maintain, impactful and greatly customizable. With Ideal Work®'s decorative floors it's possible to embellish any kind of space and to customize it thanks to a great choice of effects and colours. Concrete, brick, stone, cloud or scratchy are just some of Ideal Work®'s decorative surfaces' effects, able to perfectly match any indoor or outdoor area.
Where to apply an industrial floor
Ideal Work®'s industrial floors can be applied both indoor and outdoor, on both small and large surfaces and in any context, from commercial to residential areas. Ideal Work® offers different types of modern industrial floors, all different in the look, but all solid, long-lasting and wear-resistant. If you're looking for an industrial floor with a strong character and a rough, scratchy look, Cloud-effect Architop® is perfect. Acid Stain floor, on the other hand, can embellish every space with an original and unique design for those who look for an eclectic style thanks to colour veins of different shades and shimmering metallic effects.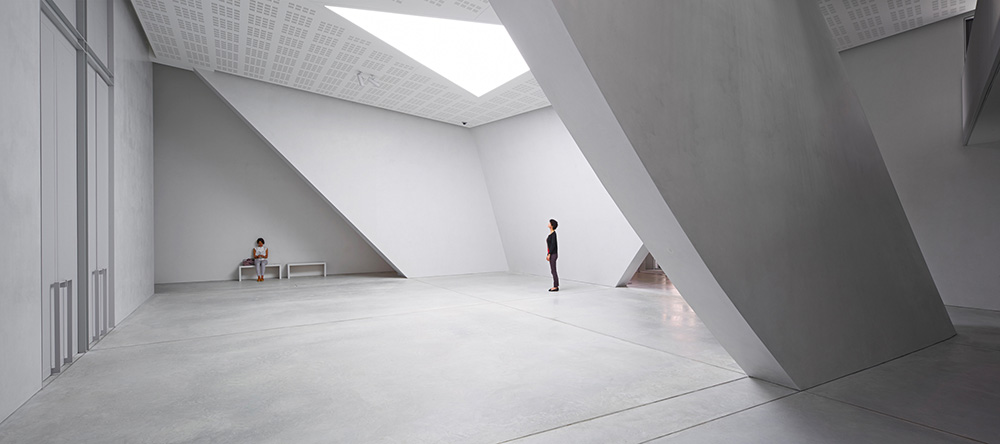 What is the minimum thickness of an industrial floor?
An industrial floor's minumum thickness can vary: generally an industrial concrete floor is 5-10 mm thick. It consists of a reinforced concrete slab which is then refined through a surface treatment in order to obtain a definitive finish. It's an uneven surface, so it requires the use of dilatation joints.
In case of Ideal Work®'s industrial floors, the designer has to estimate the thickness and the kind of concrete to use according to the weight loads the floor will have to withstand. Cloud-effect Architop® can be applied with just a 3-4 mm thickness, overcoming the traditional concrete's limits of thickness and weight and yet guaranteeing a great performance of robustness and traffic-resistance.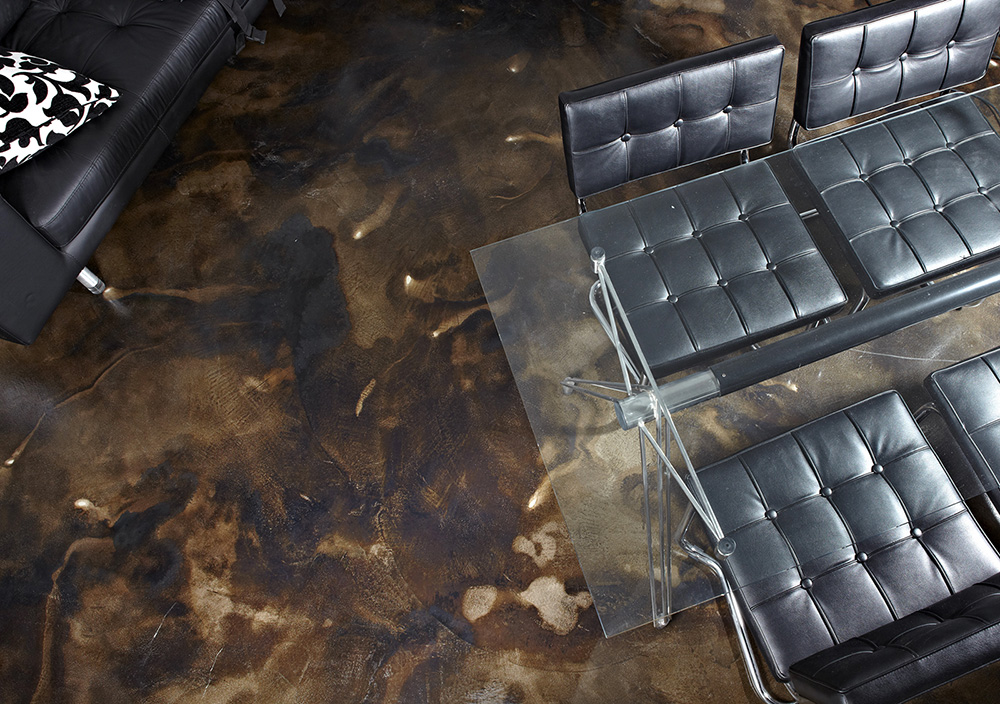 How to clean the industrial floor
Ideal Work®'s industrial floors and in particular Cloud-effect Architop® and Acid Stain, are easy and quick to clean. Rubbing the surface with a wet cloth and a bit of a neutral floor detergent such as Ideal Work®'s PERFETTO! will do the job. It might turn out useful to periodically treat the floor with some self-polishing wax-based products to be diluted in water (like Ideal Care) or beeswax (like EASY WAX). Soap, acid, ammonium, chlorine or any other abrasive product-based detergents are not to be used. Only PH-neutral detergents are recommended.
Floor's maintenance and renovation
Ideal Work®'s solutions are ideal for the renovation of industrial floors. Thanks to their seamless nature and their low thickness, they allow you to obtain a new industrial floor by being applied directly over the existing surface and thus providing several advantages in terms of costs and time.
Ideal Work®'s industrial concrete floors don't require much maintenance. The main factor to consider is the traffic they have to withstand: the heavier the traffic is, the more frequent the cleaning for maintenance should be done. For low-traffic zones, after the first treatment for industrial floors, washing the floor once a week and applying a protection every 8-12 months will be enough. For high-traffic zones, the cleaning is recommended at least 4 times a week and the protective treatment every 3-6 months.
Ideal Work® provides all the means for keeping the floor unchanged over time.
– PERFETTO-CF: a concentrated detergent for a non agressive action
– IDEAL CARE: instant protection powder for regular maintenance
And to guarantee the best technical performance Ideal Work® offers a number of treatments for industrial floors among which:
– PETROTEX-S, a solvent-base product to make concrete surfaces oil and waterproof
– AQUAPEL-S, a product that penetrates concrete and thanks to a chemical reaction makes the surface highly resistant to humidity and salt.
Some concrete examples of idel work's industrial floors
Ideal Work®'s industrial floors are designed to match any kind of context, from residential to commercial areas. Thanks to their seamless nature, they visually enlarge the space while also giving it a sober elegance. Able to harmonise with all kinds of materials such as recovered wood, marble, stones or particular textiles. They are wear- and abrasion-resistant, for a long-lasting beauty.
Ideal Work® offers three types of industrial floor:
– Cloud Effect Architop® is a blend of cement and other ingredients which, with an applied depth of just 3-4 mm, allows you to overcome the thickness and weight limits of traditional (smooth/sleek) concrete, whilst maintaining its beauty and robustness. This is possible yet still allows care and attention to detail, creating a high aesthetic value in a range of colour options. It is suitable for modern minimal houses, industrial style lofts, but also public, exhibition and commercial spaces. Thanks to its high resistance and adhesion, it is an ideal solution for the renovation of great industrial floors and for all the areas subjected to heavy traffic. It's particularly indicated for outdoor industrial floors, but it guarantees an excellent resistance to chemical agents, weather conditions, frost and cracking.
– Acid Stained floor is created using particular acids from metallic salt compounds which penetrate into the concrete and react with the free lime, chemically changing the colour to produce unique and permanent variegated effects. Ideal Work® acid stains create variable, diverse or translucent effects that are very similar to the nuances of natural stone or the aged appearance of a weather worn coating. The result is unique for each surface and can not be duplicated with other dyeing materials. Concrete loses its banal appearance and takes on a rich and natural beauty. This solution is waterproof and weather resistant, perfect also for an outdoor use.
A decorative floor for a shopping center
An old building which formerly hosted a number of services such as a car wash, a tyre shop and a parking garage has been renovated and turned into a shopping centre. Ideal Work®'s Acid Stain industrial floor has been chosen to match the existing materials with the new design; thanks to its great aesthetic impact it highlights the structure's peculiarity.
Chosen in different shades of colour, Acid Stain has been treated with the colour hardener Ideal Floor Pewter and protected with Ideal Hard to increase its resistance and to guarantee a dust-resistance for 10 years.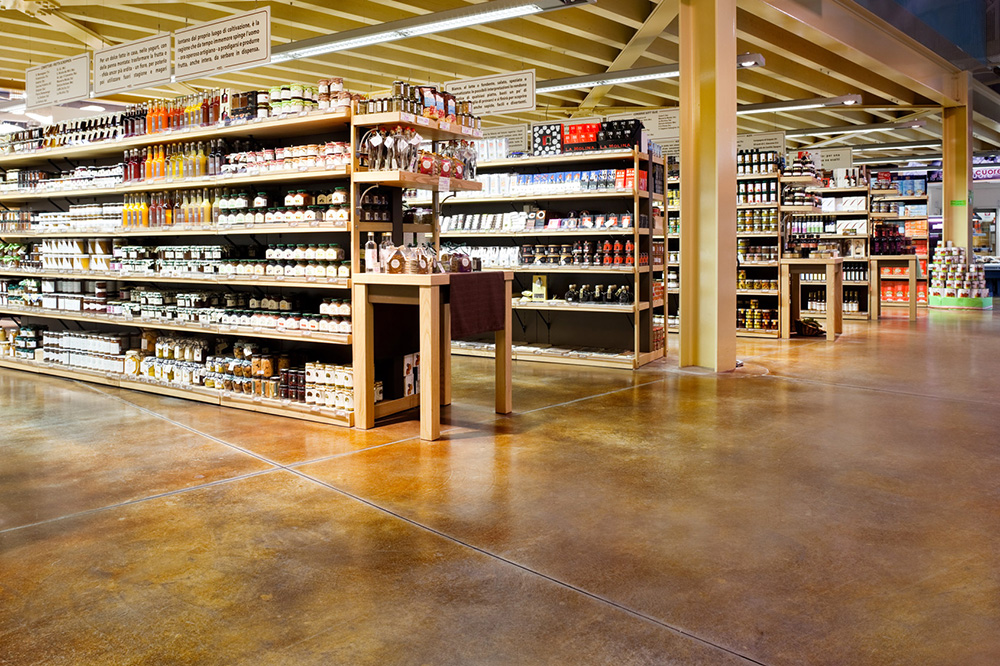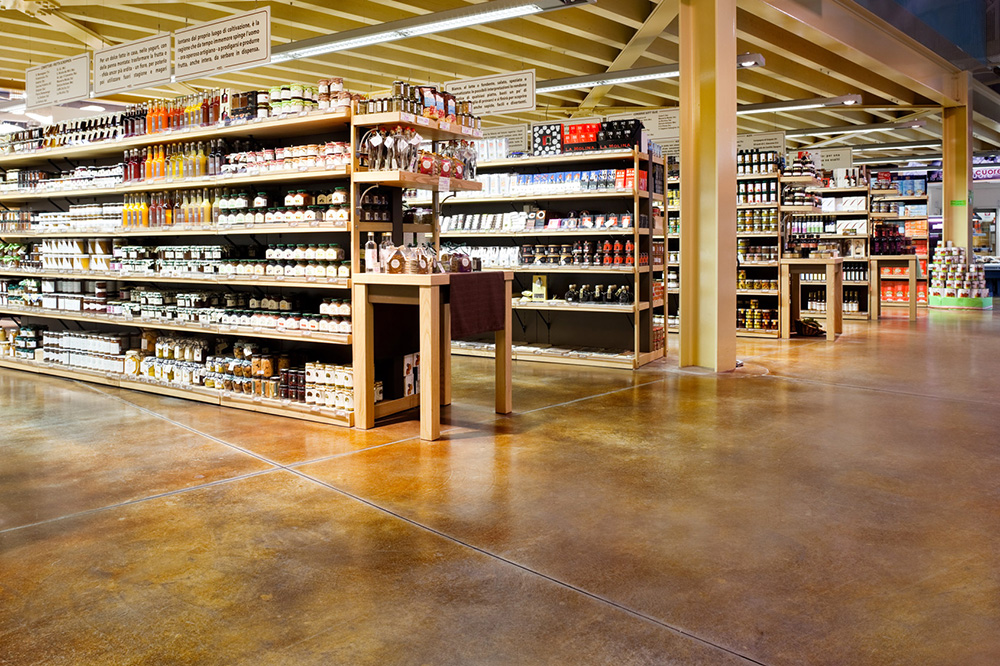 An industrial style private house
From the outside it looks like a train station, but inside it's an industrial style modern house: an open space where recovered materials coexist with objects of an essential modernity, sober, clean lines and just a few colours. The floor has been renovated with Ideal Work®'s Microtopping®, an innovative surface able to visually enlarge the space, to give continuity and to intensify the spaces' brightness.