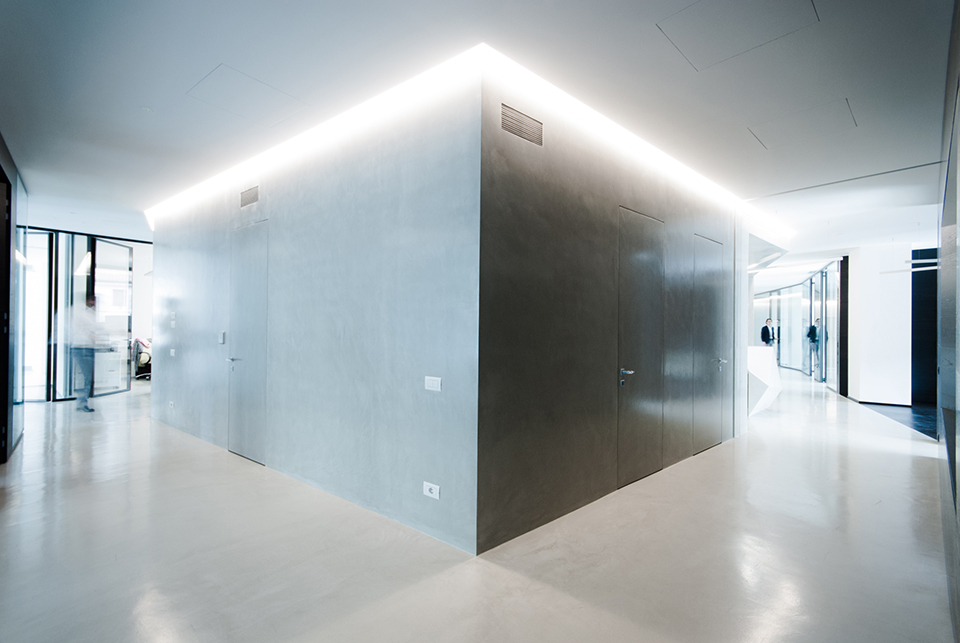 Microtopping® chosen as the bridge between modern, minimalist style and vintage architecture.
Located in a 1960's apartment block in Piazza Borsa, in the heart of Treviso, the Boffa office was recently fully renovated: the entire first floor of over 800 square metres (over 8,600 square feet) was totally redesigned and rearranged from both an aesthetic and functional standpoint.
The office is now laid out along a segmented central axis, a place for connecting and coming together. This striking feature breaks up the layout, sending the visitor's gaze in several directions, creating unusual spaces and vistas that interact thanks to the continuity provided by Microtopping®.
Once an outdated commercial office, the Boffa studio was transformed into a unique and original space made of geometric lines and elongated perspectives. It was then necessary to identify a material that could bring together the spaces as part of a visual continuum, allowing the fragmented lines that mark out the pathways and offices to stand out in sharp focus: Microtopping, the innovative coating patented by Ideal Work, was the natural choice.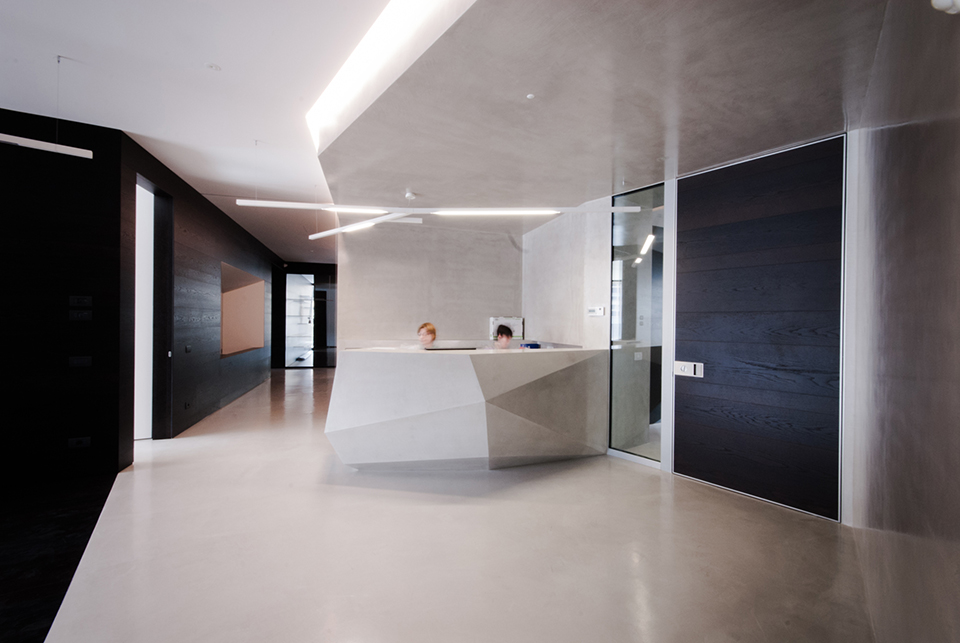 The designers felt that Microtopping® came closer to their design concepts than other products, mainly due to it's visual and tactile "materiality" which, when combined with our craftsmanship, can make any surface original and distinctive. Microtopping® can be applied to any type of hard surface, with no limits or joints, with a thickness of just 3 mm (a tenth of an inch). This makes it the perfect continuous coating for an airy, large-scale design and for creating the optical illusion of extra space.
For the Boffa office, a variation of our silver grey was perfect for the required texture, blending seamlessly with the premises' modern furnishings. Steel and glass are the predominant materials, whilst the undisputed stars are the seats, mainly made from leather. The resulting interior design is minimalist, but never cold or impersonal.
Date: 2014
Place: Treviso, Italy
Designer: B+B Associati, Arch. Renato Bredariol, Arch. Marco Bonariol
Solutions chosen for Studio Boffa & Associati