A Japandi style villa
A contemporary, warm-coloured villa in Japandi style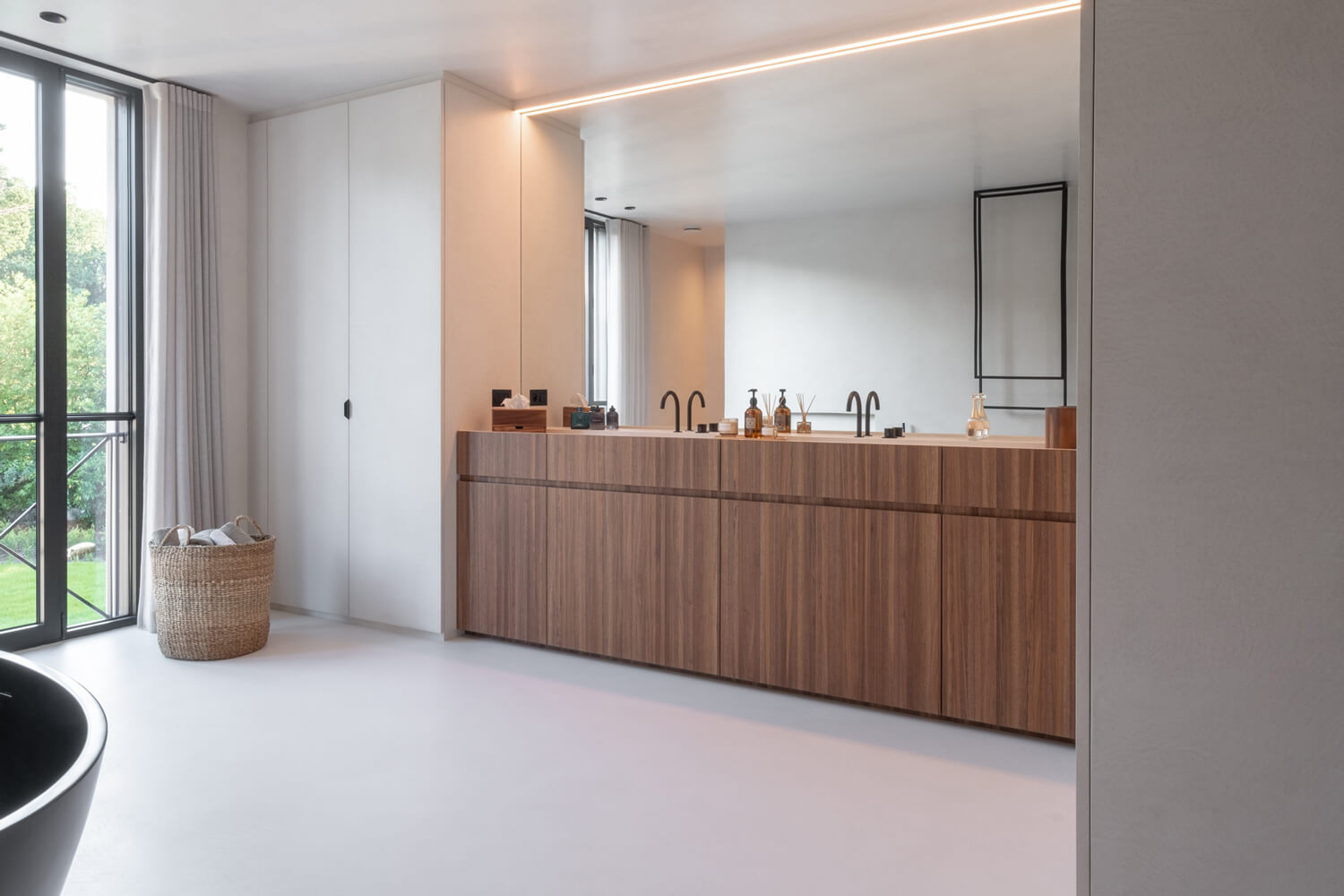 Simplicity, neutral shades and a touch of pink characterise the minimalist style of this villa. Ideal Work® Microtopping® brings together the different spaces, making the interior even more contemporary.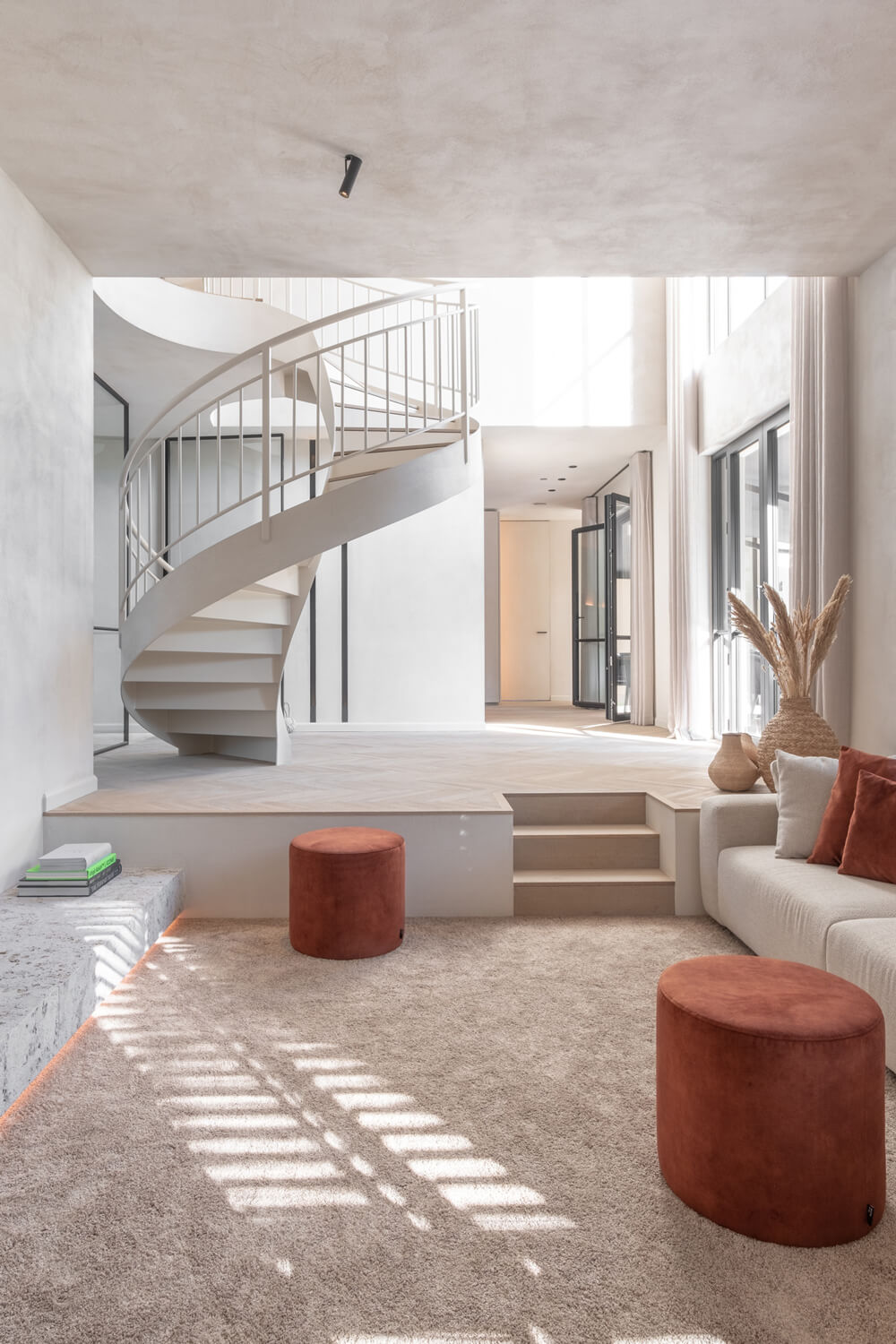 Japandi is a combination of Japanese and Scandinavian styles that favours functionality and a warm minimalism to convey a positive atmosphere of tranquility and calm. In this residence, the neutral tones of the finishes and décor blend with colourful textiles in shades of brown and pink, giving the environment a warm, welcoming ambience.
Divided into two floors connected by a white spiral staircase, the residence features a large living space where it is possible to relax in a convivial atmosphere. Adjacent to the staircase is a wine cellar incorporating a majestic shelving system. The kitchen is equipped with an island that also includes seats and the dining room consists of a large round table with enveloping chairs. The room is surrounded by immersive glass windows overlooking the lush garden. On the second floor are the bedrooms and two bathrooms, one a white and black en-suite in the master bedroom and a smaller house bathroom in shades of pink.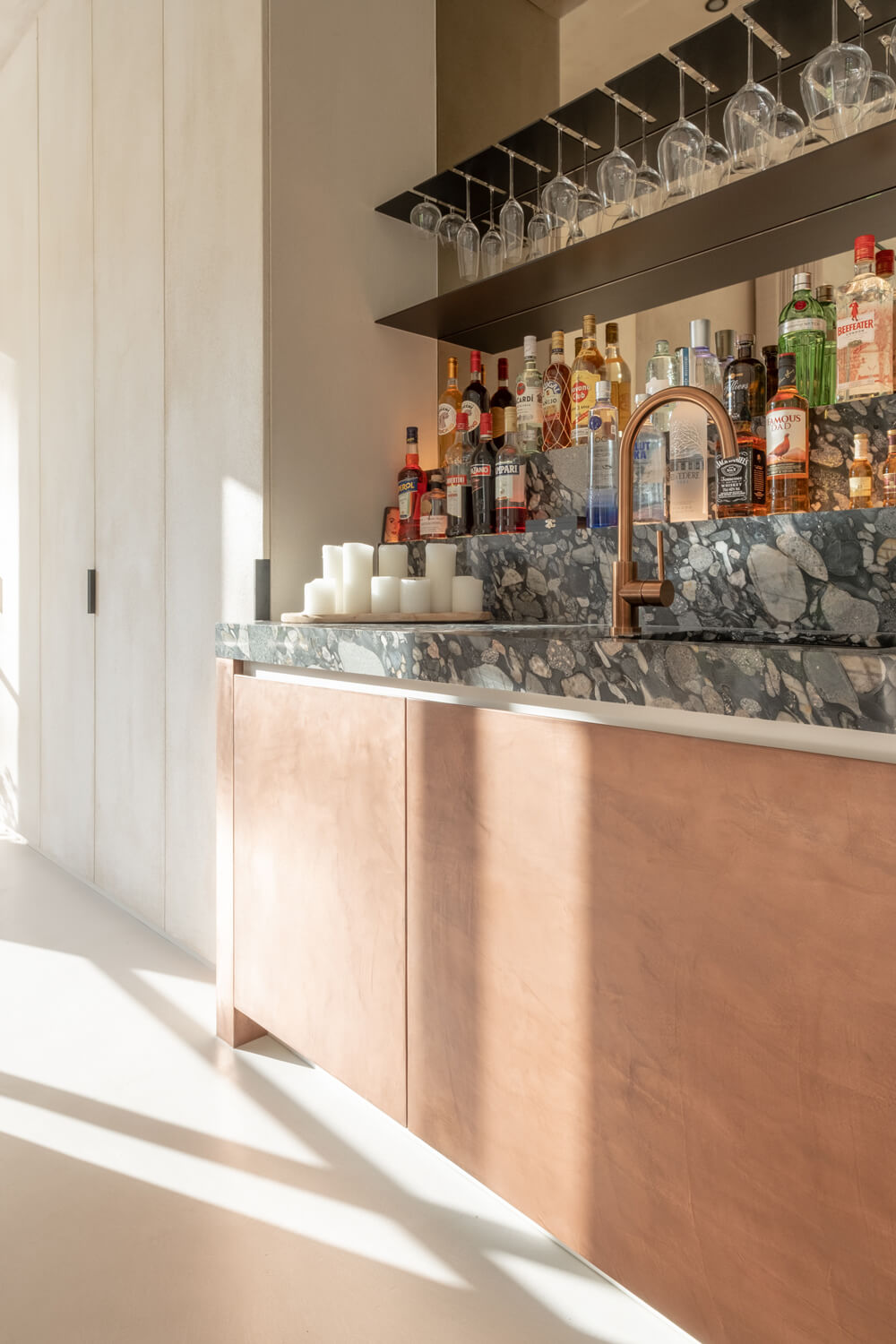 Materials are skilfully combined to create pleasant contrasts. The dominant colours are grey and white, complemented by wooden chairs, chrome accessories and furnishings with pink or gold details, making the overall atmosphere cosy and warm. Bathrooms are zen-style; the master is dominated by white, providing the room with the utmost brightness. At its centre is a large black bathtub which, by contrast, immediately stands out. The smaller bathroom is presented in elegant pink shade and a minimalist style. Everything looks neat and well-balanced.
Ideal Work® Microtopping® was used to connect the spaces and to bring together their various elements. Microtopping® is a cement solution characterised by seamless continuity and a modern aesthetic. It can be applied on any solid surface, whether horizontal or vertical, in just 3 mm thickness. Although a neutral shade was chosen for most of the residence, a velvety, pink was preferred for the bathroom, providing unparalleled aesthetic value as well as high-quality performance in terms of waterproofing and durability over time.
Date: 2021
Place: Belgium
Designer: Segers Interieur, Intens interieur en smeedwerk
ph: CVB fotografie
Solutions chosen for A Japandi style villa