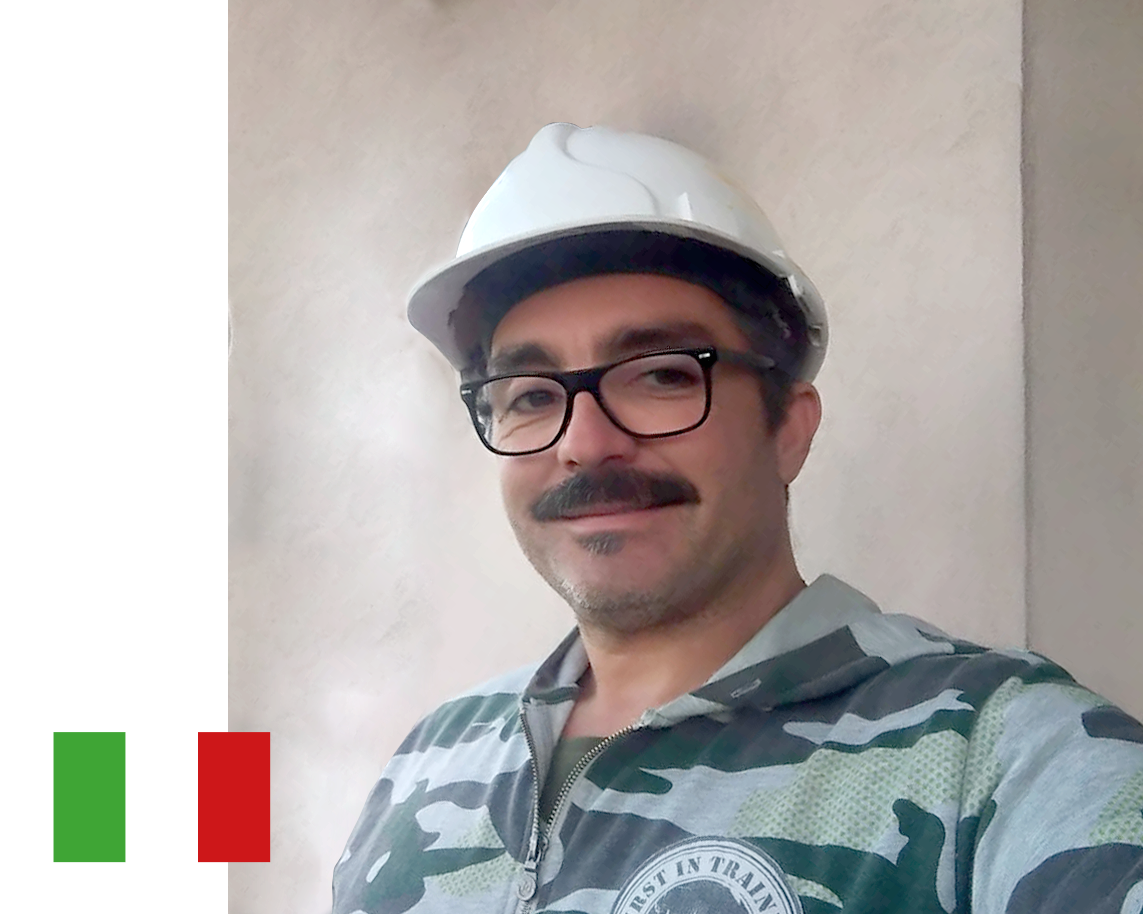 Concrete People: Loris Cairati
–
LORIS CAIRATI and his company TEKNO BETON based in Somma Lombardo (VA) have been partners of IDEAL WORK since 2007, with a team exclusively dedicated to MICROTOPPING, ARCHITOP and LIXIO.
"I never thought there could be so many shades of grey."
"At this rate we'll even find a few more"
"Which one do you think is more grey? This or that?"
"I don't know."
The two stare at the desk in front of them: it's covered with Microtopping samples, about a dozen, all different shades of grey. Loris is holding two of them and is examining their colour in the lamplight.
"They all look grey to me."
"This is going to be the right time, I can feel it!" says Loris.
It wasn't. It took them three more attempts to find the perfect grey. The formula? 10 gr of Smoke, 2.37 gr of Charcoal, a pinch of Silver Grey barrique from 2010 and a few drops of authorised applicator.
The team is looking at the bare loft, work has yet to begin, Microtopping is still in the buckets.
"Shall we use a joint?"
"No, let's do it without." Loris asserts with a fire in his eyes.
The colleague laughs out loud, then he looks at Loris, who remains indifferent to that burst of hilarity and silence falls.
"Are you serious? On a surface of 120 square metres?"
Loris slowly nods: in his mind, Rocky materialises and repeats 'it doesn't hurt, it doesn't hurt!'. He concludes:
"Over ten years of experience with Microtopping have led us here. All the talking about seamless surfaces, yet there is always a joint in the way. Not this time though! This time we're doing it my way: no interruption, no joints, all smooth and seamless!"
"Well, it was definitely worth it!"
A few months after the work was completed, Loris managed to go back to the Bonaveri showroom to inspect and enjoy the result of his hard effort. He's speechless as he looks around in awe. The room and the loft are both covered in wood and Microtopping; a number of dummies set in different positions are illuminated by the spotlights, which convey an atmosphere of strange light effects and visual sensations.
"So much for those who claim concrete is soulless. This place now has at least two: with the lights on – a high fashion environment; with the lights off ­– a horror movie set!"